I noted last week how the Scanlon Foundation's mouthpiece, professor Andrew Markus, rubbished most recent opinion polling, from a variety of sources, supporting lower immigration into Australia, including:
Instead, Markus talked up the Scanlon Foundation's latest survey, which found that only 43% of respondents believed the migrant intake was "too high".
However, as explained by the Australian Population Research Institute, the Scanlon Foundation's surveys capture the views of migrant non-citizens that are ineligible to vote, rather than only Australian citizens. Hence, they are very likely biased in favour of mass immigration.
Regardless, running alongside Markus' article in SBS News was a straight forward reader survey asking "Do you think Australia's current intake of migrants is 'too low', 'about right' or 'too high'"? Tellingly, SBS readers overwhelmingly rejected Markus' claim that Australians overwhelming support the current 'Big Australia' migration program, with 77% of respondents voting that Australia's immigration intake is too high: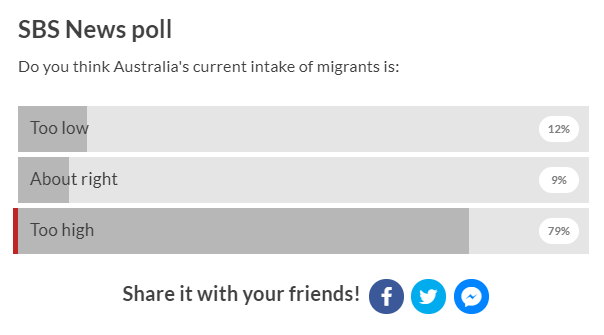 If that's not a rejection of Markus' claims, I don't know what is.
Over the Weekend, the former editor of The Canberra Times, Crispin Hull, also called-out the Scanlon Foundation's polling, while arguing that maintaining immigration at such extreme levels is placing at risk the very multiculturalism that the Foundation holds dear:
A SURVEY on immigration published this week seems to fly in the face of all other indications showing that more Australians are objecting to high immigration…

The survey result is puzzling until you read that it was done by the Scanlon Foundation which, according to its website, "aspires to see Australia advance as a welcoming, prosperous and cohesive nation particularly related to the transition of migrants into Australian Society".

So it is a pro-immigration organisation, unlike the pollsters used by media companies and some other organisations' polls, which are independent…

I prefer the pollsters used by media companies because over the years they have been tested by polling on voting intentions which invariably are replicated by the actual vote within a couple of percentage points.

There clearly has been a shift in public attitude towards saying that Australia's migrant intake is too high.

That should not be a surprise. Indeed it should be obvious. The Howard Government (source of so many of our woes) ramped up immigration from a bracket of around 70,000 to 100,000 to a bracket of 150,000 to 200,000. So respondents who thought that 70,000 to 100,000 was "about right" would obviously move into the "too many" group when immigration is ramped up to the 150,000 to 200,000 bracket.

There is bound to be a change of opinion as rising immigration catches up with us and overtakes our capacity to build the infrastructure for the extra population and starts to adversely affect the environment.

Until quite recently the major parties were happy with high immigration because their donors profited from it.

… the stresses caused by higher immigration might result in that very reduction in support for multiculturalism, refugees and a non-discriminatory immigration policy.

There is a real danger in Australia that some voters fed up with congestion and infrastructure take it out on multiculturalism, refugees and non-Christian, non-white immigrants.

Indeed, the sensible position for people who support multiculturalism, refugees and non-discrimination should be to support lower immigration…

As politicians respond to calls for lower immigration… support for multiculturalism; the recognition that migrants have made Australia a much better place; and a non-discriminatory immigration policy will remain as resilient as ever – something the Scanlon Foundation has found to date.

Indeed, the main thing that threatens them is setting immigration levels too high.
Very well said, and also reflects the views of MB perfectly. The growing backlash against immigration has arisen because the intake has been ramped-up to such extreme levels, in the process crushing liveability. The answer, then, is to lower immigration back to the historical levels, thus taking the pressure off housing, infrastructure and the environment.
My only minor gripe with Crispin Hull's analysis is that he was too polite when mentioning the Scanlon Foundation's bias. The truth is that founder, Peter Scanlon, is a major property investor and developer who benefits financially from mass immigration, as explained by John Masanauskas in 2009:
MAJOR investor and former Elders executive Peter Scanlon hardly blinks when asked if his conspicuous support for a bigger population is also good for business.

Mr Scanlon, whose family wealth is estimated to be more than $600 million, has set up a foundation with the aim to create a larger and socially cohesive Australia.

It also happens that Mr Scanlon has extensive property development interests, which clearly benefit from immigration-fuelled high population growth.

"My primary driver in (setting up the foundation) is if we don't have growth we are going to lose all our youth because the world is looking to train people around the world," he explains. "Instead of having stagnant growth, we're going to have a serious decline."

Mr Scanlon believes that governments aren't doing enough to sell the benefits of a bigger population so he has put his money where his mouth is…
The Scanlon Foundation is just another Big Australia lobby group and any 'research' coming out of it must be viewed in this light.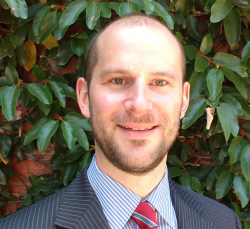 Latest posts by Unconventional Economist
(see all)