Why is it that only the conservative ("Right") side of the media and politics seems capable of having a debate on Australia's future population?
Over the past year, we have seen conservative commentators like Judith Sloan, Terry McCrann, Adam Creighton, Andrew Bolt, and Mark Latham, Quadrant Magazine, as well as federal politicians like Cory Bernardi, Pauline Hanson, and Tony Abbott all question the merits of Australia's 200,000 strong permanent migration program, which is the primary driver of Australia's population growth and the projected 'Big Australia' of 40 million people mid-century.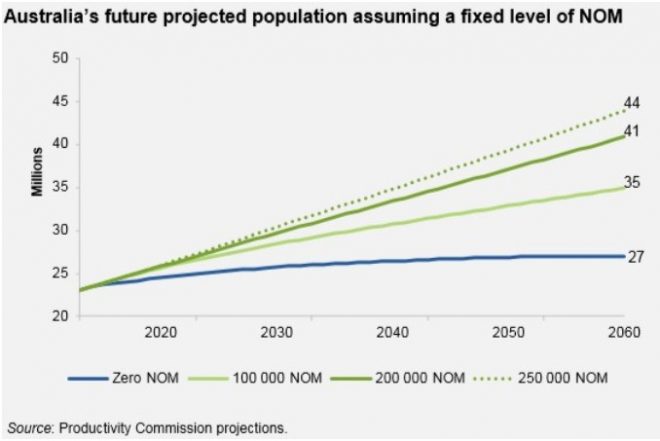 I have also been asked to commentate on this issue by the conservative side of the media, including the Bolt Report, News.com.au, and Radio 2GB, but have been ignored entirely by the left-leaning media.
Meanwhile, the bulk of the Left-leaning mainstream media continues to pump out endless propaganda on why never-ending mass immigration is both necessary and beneficial from the likes of Fairfax's Peter Martin, Jessica Irvine and Michael Pascoe, The New Daily's Rob Burgess, The Guardian's Tom Westlandlake, as well as numerous commentators at The ABC. Only, Fairfax's Ross Gittins has voiced strong concerns over mass immigration and a 'Big Australia' from the left.
This week has delivered yet another example of the left/right divide over the whole immigration/population debate. While left-leaning media commentators continued to ignore the issue entirely, commentators over at the Murdoch-owned Sky News have attacked the issue with gusto.
Here's  Jones & Co on Tuesday night:
Here's Mark Latham:
"The historic rate [of immigration] used to be 70,000 through the 20th Century. It's now gone up to nearly three times that level. So, of course you get uncontrolled urban sprawl, massive expenses for infrastructure – costs that are heavy on the Budget, and you get competition in the labour market that's keeping wages low and the population pressure causes the housing affordability crisis. You've got massive demand for housing in Sydney and Melbourne, and limited supply, so the prices go up"…

"The elites that support Big Australia all live in areas that are unaffected by the sprawl and the congestion. I sat in a minute traffic jam travelling south from Leppington trying to get to Camden. This is away from the city towards the edge of the city this morning. 40 minutes because the roads are shot to pieces and the volume of houses being built in South-West Sydney is extraordinary. I've lived out there for 50 years and I've never seen congestion like it".
And here's Peta Credlin:
"You know why they do it?.. It's done because putting a high immigration forecast into the Budget numbers pumps primes the forward estimates because it gives you an artificial growth number. So every treasurer who says going in to being treasurer that they want to drop the immigration number gets mugged by the reality of the Treasury forecast that says unless you put in these unrealistic and unsustainable increases in immigration, year on year on year, your growth numbers will fall away, and if your growth numbers fall away it affects your broader Budget. So, it's done for Budget trickery and the problem is, the people are coming. They are coming into big cities like Sydney and Melbourne… And it's unsustainable growth. But it will not stop until it's called out".
On the same night, Paul Murray Live also attacked the issue:
Here's Paul Murray:
"You want to talk about a political issue that is not discussed by major parties? Not discussed by big media? It's about population… This is the big issue…  Today, it literally took 90 minutes to get from my place to pick up my daughter at childcare…  This stuff matters. Every time they build a road, they have to get a private company to do it. The private company doesn't build a four lane road, they build a two lane road and then they put a damn toll on top of it.  And then they just add more people, and more people, and more people, and more people. And if you blow up about it, you're a racist.

This is not on. How can we continue to have the same policy of Big Australia? Well, we have it to make sure that the Budget keeps growing and the country always keeps growing economically. As Dick Smith says about a Big Australia, it's a Ponzi scheme. You need as many people as possible paying tax now for all of the benefits that are at the back end for other people. Somebody should confront this, but again, if you talk about it you are racist"…
Sadly, it seems that only the conservatives in Australia are capable of having a mature discussion on the whole immigration/population issue. The Fake Left, by contrast, are missing in action, pushing endless propaganda in favour of mass immigration and abandoning the working classes, youth and environment that they purport to represent.
The Left would do well to take a leaf out of Bernie Sanders playbook and rethink their advocacy of 'open borders', which is playing directly into the hands of the capitalist elites that they supposedly oppose.