In the wake of yesterday's stunning figures showing the blow-off of population growth into our two major states: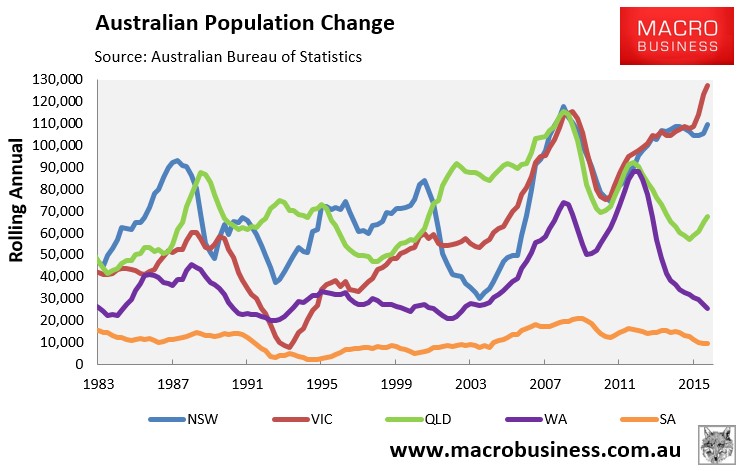 The Australian's Adam Creighton has penned a good piece today on the population "squeeze" afflicting Melbourne and Sydney:
"Such [population] growth means we need five new hospitals, 31 new schools and 35 new childcare centres every three months", said Rob Tyson, an economist at Price­waterhouseCoopers, noting the growth was concentrated in Victoria and NSW.

"Their big cities are already ­experiencing the challenges of ­accommodating a rapidly growing population such as strongly and persistently rising house prices, more congestion and strained infrastructure''…

Meanwhile, Victoria's population is booming, increasing 127,000, or more than 2.1 per cent, over the year… "That's adding a city larger than Ballarat or Bendigo every year," Mr Tyson said.

Matt and Jo Luscombe, of the Mornington Peninsula, said they feared Victoria's rapid population growth would have adverse consequences for their one-year- old son Jack.

"With the prices of housing now, it's a bit crazy if you're a first-home buyer. So when he grows up, it's going to be a lot harder for him to buy a house," Ms Luscombe said.

Jack's parents agreed immigration needed to be kept to a sustainable level. "If everyone keeps coming in, there is not going to be enough infrastructure for all these extra people," Ms Luscombe said…

Gareth Aird, a Commonwealth Bank economist, said strong population growth was giving a misleading indication of Australia's economic performance. "The economy doesn't look as strong on a per capita basis as it appears on an aggregate GDP growth basis," he said.
It's all commonsense stuff, isn't it? Ramming 80,000 to 100,000 extra people into Sydney and Melbourne each year creates immense pressures on housing, infrastructure, congestion, and overall livability – who would have thought! And yet our federal politicians – living in the least densely populated city in Australia (Canberra) and insulated from the effects – continue to run a mass immigration 'Big Australia' program without a thought given to the deleterious impacts on incumbent residents' living in these two cities.
The fact of the matter is that there is no way that Australia can provide enough infrastructure to keep up with the immigration deluge.
The Productivity Commission's (PC) final report on An Ageing Australia: Preparing for the Future projected that Australia's population would balloon to 38 million people by 2060 (since revised up to 40 million) and warned that total private and public investment requirements over the 50 year period are estimated to be more than 5 times the cumulative investment made over the last half century: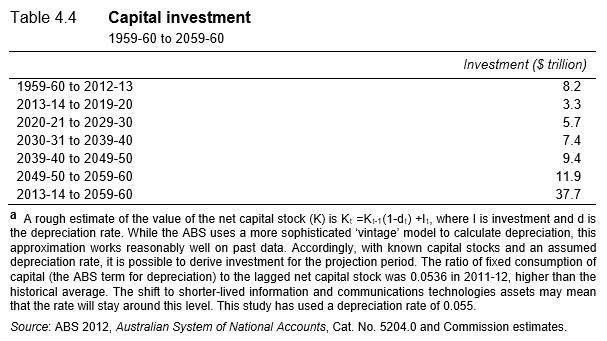 Then in its recent Migrant Intake into Australia report, the PC warned that:
Governments have not demonstrated a high degree of competence in infrastructure planning and investment. Funding will inevitably be borne by the Australian community either through user-pays fees or general taxation.
Anyone with half a brain can see that running one of the world's biggest immigration programs requires massive investment and costs a lot. Australia's governments have failed dismally on this front, preferring to take the sugar hit from added demand while leaving the problems to be solved down the track on somebody else's watch (i.e. never).
Reducing immigration back to the long-run average of 70,000 people annually, as advocated by the Sustainable Australia party, is becoming critical. This would see Australia's population stablise at around 32 million mid-century, rather than the current projection of around 40 million.
Because as it stands, Australia cannot possibly hope to build enough infrastructure to supply a Canberra-worth of new residents each and every year for decades to come, which is what we are facing under current immigration settings.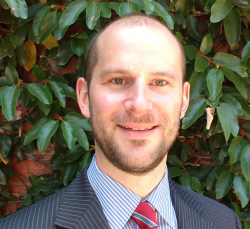 Latest posts by Unconventional Economist
(see all)