The Department of Home Affairs has released temporary visa data for the September quarter of 2023, which shows that a record 664,178 student visas are currently on issue in Australia: an all-time high: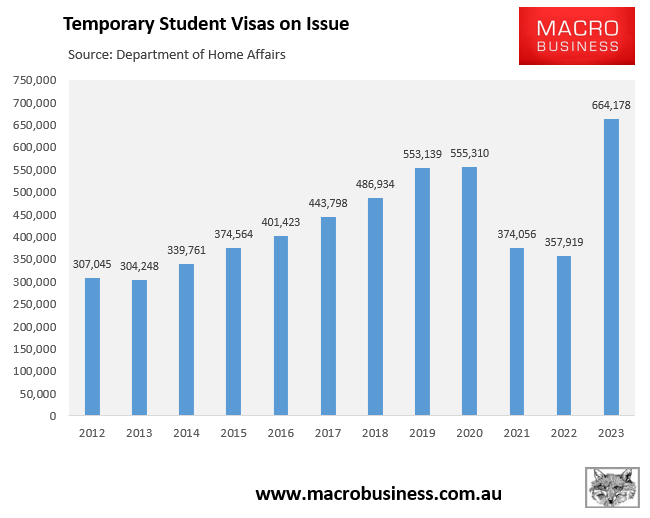 The number of student visas on issue in Australia is around 110,000 higher than its 2020 pre-pandemic peak after surging by 306,000 in the past 12 months.
This explosion in students is also the main driver of Australia's record net overseas migration, which saw around 500,000 net migrants land in Australia in 2022-23:
Advertisement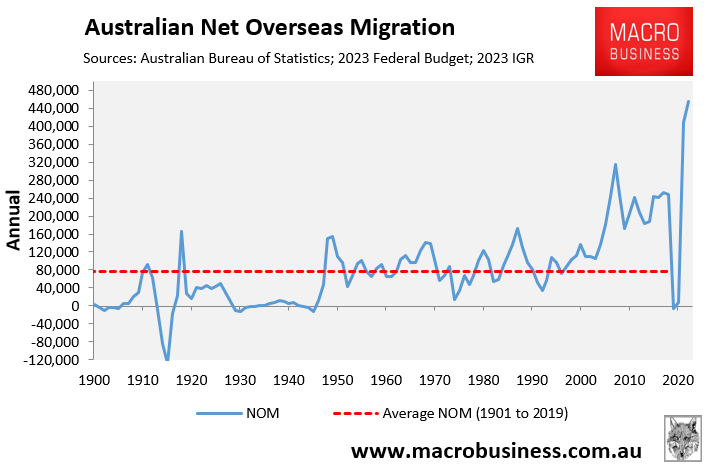 The impact of this record net overseas migration (in particular international students) has been felt most strongly in the nation's rental market, which has seen the number of rental listings collapse to all-time lows:
Advertisement
In turn, the national rental vacancy rate has also collapsed to an all-time low 1.0% across the combined capital cities:
With anger building in the community and the Albanese government falling behind in the opinion polls, Labor backbenchers are now calling for the flow of international students to be curtailed via a focus on quality over quantity.
Advertisement
Leading the charge is Labor MP Julian Hill, co-convenor of the Council for International Education.
Hill previously described Australia's international student trade as a "ponzi scheme" for enticing non-genuine students through migration pathways.
"International students shouldn't be blamed for the housing crisis, which is predominantly a supply crisis built over many years. But aggregate demand is an issue that has to be addressed", said Hill, as reported today in The AFR.
Advertisement
"That means Australia needs to pursue quality over quantity which may mean tough decisions to cut back on lower quality students, especially in the lower end of the private vocational education market".
Hill also raised concerns around so-called "permanently temporary migrants" – i.e., people who move from one visa to another in order to remain in Australia long-term.
Pollster Kos Samaras believes the immigration-fueled rental crisis could come back to bite Labor at the next election.
"Housing is going to be a flashpoint at the next federal election. There is no doubt about it", he said.
Advertisement
"It's an underarm bowl, so to speak, for the Coalition which can just dog whistle the whole situation".
The Albanese government only has itself to blame for the migration surge and resulting housing crisis.
As noted by The AFR, "as recently as September, education minister Jason Clare introduced changes to encourage more international students to stay in Australia following graduation with the specific aim of moving into permanent residency status".
"The more generous visas were… seen as a key selling point to get students to choose Australia over other destinations such as Canada, the UK or US".
Advertisement
"Under the changes, bachelor degree graduates can stay for four years, up from two. Master's graduates visas increased from three to five years while PhD graduates will be able to stay six years, up from four".
The truth of the matter is that the Albanese government has pushed through a range of migration policy changes aimed at turbo-charging the intake, especially via international students. These changes included:
Extending post-study graduate visas by two years, in turn making student visas more attractive.
Committing $42 million and 600 staff to clear the so-called "one million visa backlog" and rubber stamping as many visa applications as possible.
Raising the permanent non-humanitarian migrant intake by 30,000 to 190,000, thereby increasing the chances of temporary migrants gaining permanent residency.
Approving 66,000 "pandemic event visas" and waiting too long to close the rort down.
Prioritising offshore visa applicants over onshore.
Removing a requirement that international students acknowledge that they are not applying for a student visa to migrate to Australia.
Signing radical migration agreements allowing Indian students and workers to live in Australia long-term.
The Albanese government purposely opened the immigration floodgates and has driven temporary and permanent migration to unprecedented levels.
In doing so, it has created a massive visa 'backlog', thereby ensuring that net overseas migration will remain at historical highs and Australia's rental crisis will become permanent.
Advertisement