Before the pandemic hit, we saw numerous media reports about private 'ghost colleges' providing bogus qualifications to students from India, just as international student numbers were peaking.
"Indian students are being exploited to the hilt.. out of which a large proportion was from Punjab", Chandigarh-based education agent Avtar Gill told SBS News.
Gill claimed the increased privatisation of the sector was behind the rorting.
"To be honest privatisation does not suit the VET sector. At the very least, the government must ensure the gaps in the system are sealed and that is only possible when they start conducting repeated physical raids on the premises of such private to ensure they are not operating as ghost colleges", Gill said.
Advertisement
"Otherwise, scammers like Mr Singh would continue to ruin the future of students".
Around the same time, former High Court justice Ian Callinan alleged that the increase in bridging visa applications to the Administrative Appeals Tribunal (AAT) was being fuelled by organised criminals using "ghost colleges" offering "fake vocational training programs".
Callinan's view was then backed up by the Australian Skills Quality Authority (ASQA), the higher education industry's regulator.
Dr. Bob Birrell of the Australian Population Research Institute also accused private "ghost colleges" of building "shopfronts" in Melbourne "effectively selling access to jobs and ­permanent residence" to South Asian students.
Advertisement
Fast forward to 2023 and student visa arrivals have reached all-time highs, driving Australia's unprecedented net overseas migration: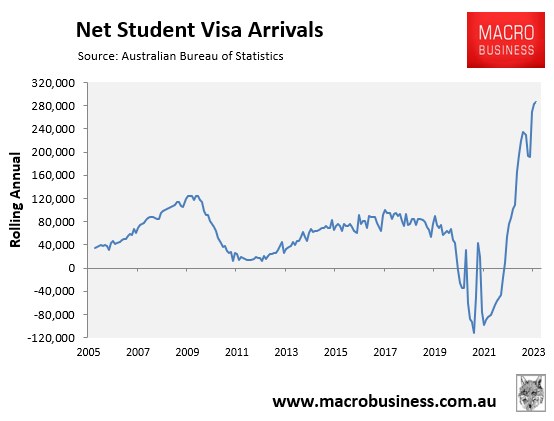 This increase in overseas students is being led by Indians who are taking advantage of Australia's improved work rights and longer period of residency after graduation.
Advertisement
History doesn't repeat but it sure does rhyme.
Earlier this year, The AFR revealed that half or more of new Indian students enrolling at several universities are either ghosting them by failing to show up for class or are being poached by rival private colleges soon after arrival, leaving these universities out of pocket and damaging their reputations.
A parliamentary inquiry last month likewise heard evidence of private VET providers working with unregulated education agents to steal students from prestigious public universities for large commissions, to sell work visas, and build "ghost colleges" where students do not attend classes but are awarded degrees.
Basically, a student who enters Australia can drop out of their university course before being charged for their first semester, then study only at a vocational college.
Advertisement
Many students then do not even attend the cheaper course, despite having paid for it, instead using their time to work.
Menelaos Koumides, managing director of the Australian Academy of Vocational Education and Trades, told the inquiry that the existing regulatory framework is failing.
"We see institutes that we think really should not be here … they're highly competent in licensing requirements [and they're] gaming the system", Koumides said.
Advertisement
"[There are] blow-outs in agent's commissions … 98% of students are going through agents … these are all consequences of a regulatory system … that was never fit for purpose."
Koumides claimed these "ghost colleges" were automatically passing students.
"It's not fit for purpose when it comes to quality, it never was".
On Monday, The SMH provided more details on the rorting, noting leaked federal government memos showing huge numbers of international students taking advantage of a loophole in Australia's visa system allowing them to switch from university to cheaper private colleges and then work instead of study.
The documents also show that, although admitting it was a severe problem at least 18 months ago, the federal Education Department had taken little action on the issue.
This follows an unreleased investigation conducted by former Victoria Police chief commissioner Christine Nixon, which discovered extensive corruption in Australia's multibillion-dollar overseas education industry, as well as pervasive maltreatment of visa holders and a lack of enforcement.
Advertisement
"It's a rort that turns a high-quality student visa into a low-rent work visa", said Julian Hill, a federal Labor MP who was once the Victorian government's head of international education and is a member of the parliamentary inquiry.
International Education Association of Australia CEO Phil Honeywood also recently labelled Australia's international education system a "Ponzi scheme" for enticing non-genuine students through migration pathways.
More than a decade ago, Australia saw a large boom in the number of Indian students enrolling in dodgy VET courses like hairdressing and cookery, many of whom went on to obtain permanent residency.
Advertisement
Private colleges and agencies acted as 'middlemen' for Australia's immigration system back then, as they do now, profiting from those seeking to use student visas to get work rights and permanent residency.
Back then, as now, the Indian cohort was both a major consumer and a victim of this broken system.
The Albanese Government last month signed the Australia-India Migration and Mobility Partnership Agreement, which includes the following provisions:
Advertisement
Five year student visas, with no caps on the numbers of Indians that can study in Australia.
From 1 July this year, Indian graduates of Australian tertiary institutions on a student visa can apply to work without visa sponsorship for up to eight years.
The Mobility Arrangement for Talented Early Professionals Scheme allows 3000 of India's top graduates and early career professionals to work and stay in Australia for up to two years. They can apply for a permanent skilled visa, and spouses will have unlimited work rights.
Three-month visitor visas available to Indians for family or business purposes (no caps on numbers).
Universities Australia Chief Executive, Catriona Jackson, is salivating at the tidal wave of Indian students expected to land in Australia.
"We congratulate the Prime Minister for taking a front foot approach to strengthening these ties, through which we all stand to benefit".
Advertisement
"Universities are key to maximising the economic potential of the relationship with India".
"The Australia-India Migration and Mobility Partnership Arrangement will support the flow of more students".
"We already have more Indian students studying in Australia than before the pandemic, but it is in our interest to build on this".
Now watch as record volumes of Indian 'students' flood into Australia to scam study for work and residency.