Earlier this month, Treasurer Jim Chalmers lied in claiming that "the recovery in migration that we're expecting right now" is "not a government lever or a government target or policy. It's a demand-driven thing".
Chalmers also claimed that Australia's record high net overseas migration (NOM) has been driven by fewer Australians moving overseas "because it's a net figure net overseas migration is actually fewer Australians leaving to work overseas".
I responded by noting that the Albanese Government has taken deliberate policy actions to turbo charge immigration into Australia. This includes:
Extending post-study graduate visas by two years, in turn making student visas more attractive.
Committing $42 million and 600 staff to clear the so-called "one million visa backlog" and rubber stamping as many visa applications as possible.
Approving 66,000 "pandemic event visas" rather than closing the rort down.
Prioritising offshore visa applicants over onshore.
Signing migration agreements allowing Indians to work and live in Australia long-term.
Advertisement
Accordingly, net visa arrivals have soared to all-time highs, driven by international students: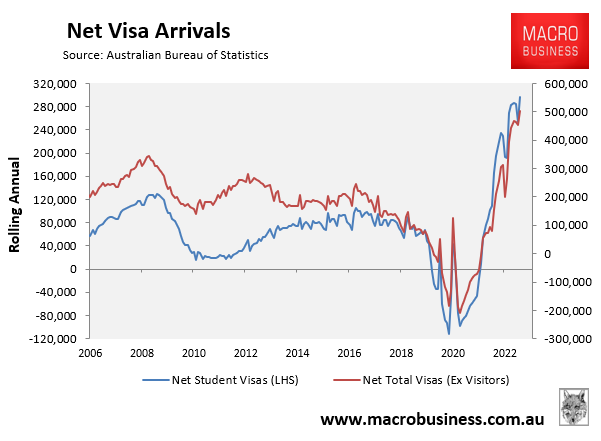 On Tuesday, The Australian reported that the Albanese Government has removed a requirement that international students acknowledge that they are not applying for a student visa to migrate to Australia:
Advertisement
"International students will no longer be penalised for revealing that they want to migrate to Australia as part of their visa application, under reforms by the Albanese government that further benefit overseas arrivals who want to become residents".
"The change is part of the move from the Genuine Temporary ­Entrant requirement to a Genuine Student Test, after a push from the higher education sector".
"Under the current test international students are required to submit a 300-word statement outlining their plans to study in Australia to prove they are a "genuine temporary entrant"".
"Labor's new policy platform backed at national conference last week "favours permanent over temporary migration, to create a nation of people with equal rights and a shared interest in our ­national success"".
International Education Association of Australia CEO Phil Honeywood has welcomed the news, claiming the change would encourage high-value international students to 'bolster' the Australian workforce and overcome "crippling workforce shortages".
However, shadow immigration minister, Dan Tehan, says the change will ramp immigration higher and put further strain on Australia's housing supply, given there is already a record 610,000 student visa-holders ­already in the country:
"Under Labor, 1.5 million ­people will arrive over five years and there is no plan for where they will live or how to manage the impact on government services and the environment", Tehan said.
Advertisement
"Labor's solution to the multitude of problems on their watch is to make it more attractive and easier for international students to come to Australia and seek permanent residency".
Prime Minister Anthony Albanese lied to the Australian public in December 2021 when he suggested that if elected, he would run a smaller immigration policy:

Instead, Albo's Labor has lifted immigration to record levels.
Advertisement
Labor are clearly a party of open borders, Big Australia nuts.
Under their reckless immigration, Australian living standards will be crushed while they wax lyrical about 'housing affordability', 'net zero' and other secondary issues.