It has become evident that Anthony Albanese's Labor government will make life more crowded and congested for Australians.
The March quarter population data from the Australian Bureau of Statistics (ABS) reported that net overseas migration (NOM) reached an all-time high of 454,300 for the year, increasing the population by 563,200: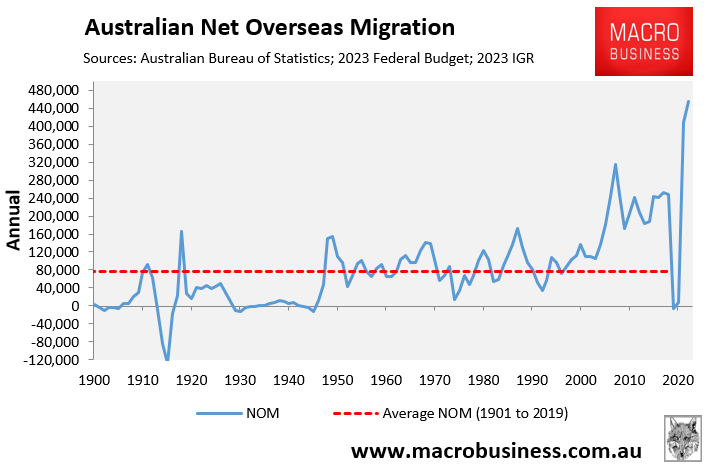 According to the June quarter national accounts, Australia's population increased by 626,000 in the fiscal year 2022-23, driven by NOM of around 500,000:
Advertisement
This population explosion was purposefully engineered by the Albanese government, which has taken deliberate policy actions to prime the immigration pump. These include:
Extending post-study graduate visas by two years, in turn making student visas more attractive.
Committing $42 million and 600 staff to clear the contrived "one million visa backlog" and rubber stamping as many visa applications as possible.
Raising the permanent non-humanitarian migrant intake by 30,000 to 190,000, thereby increasing the chances of temporary migrants gaining permanent residency.
Approving 66,000 "pandemic event visas" and waiting too long to close the rort down.
Prioritising offshore visa applicants over onshore.
Removing a requirement that international students acknowledge that they are not applying for a student visa to migrate to Australia.
Signing migration agreements allowing Indian students and workers to live in Australia long-term.
Advertisement
Last month, The AFR reported that the Albanese government will cancel or postpone funding for dozens of infrastructure projects after a $33 billion overrun made the current pipeline and new projects "in the next 10 years" prohibitively expensive.
According to an independent audit presented to Infrastructure Minister Catherine King, the cost of 700-plus projects has risen by $32.8 billion and is expected to rise further due to workforce shortages and rising material costs.
This week, The AFR reported that infrastructure spending was cut by over $12 billion in real terms this year as a result of skills shortages, cost overruns, and a rationalisation of federal government payments, which has forced premiers to simplify project pipelines.
Advertisement
According to state and territory budgets, just over $256 billion in spending is expected over the next four years, an increase of $1.8 billion over last year. But when adjusted for high inflation, the value of spending decreases by $11.7 billion in real terms.
The latest quarterly spending report from Infrastructure Partnerships Australia shows that this is the first time that expected spending on roads, rail, schools, and hospitals has stagnated since 2015-16.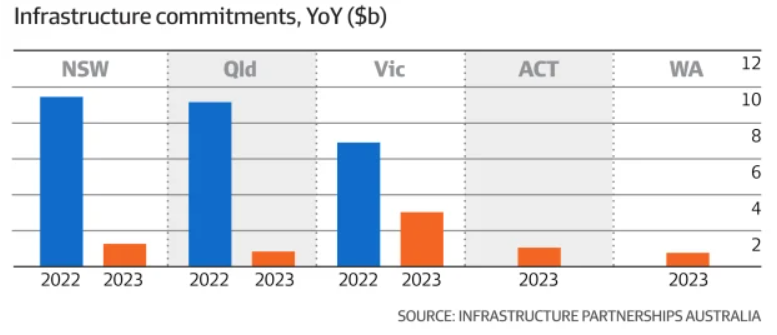 Advertisement
The real fall comes after the Albanese government instructed states to cut or postpone billions of dollars in spending due to a 41% overrun in the cost of 700-plus federally funded projects.
Cutting infrastructure spending at a time when the nation's population is growing at an unprecedented rate via mass immigration inevitably means increased congestion and diminished liveability for residents.
That is another reason why it makes sense to reduce immigration to historical (early 2000s) levels, alleviating the need to invest so heavily in infrastructure and relieving pressure on the housing market.
Advertisement
The metrics surrounding the Albanese government's 'Giant Australia' immigration program do not add up. And life in Australia will become increasingly crush-loaded as a result.