It is becoming clear that life will become increasingly crowded and congested under Anthony Albanese's Labor government.
The Australian Bureau of Statistics (ABS) revealed last week that net overseas migration surged to an all-time high 454,300 in the year to March, driving the population up by 563,200: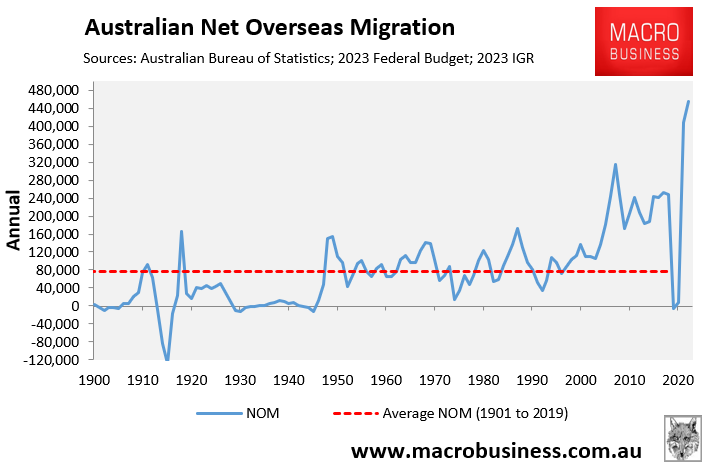 The June quarter national accounts also estimated that Australia's population increased by 626,000 in the 2022-23 financial year:
Advertisement
This population deluge has been deliberately engineered by the Albanese Government, which has taken explicit policy actions to pump prime immigration, including:
Extending post-study graduate visas by two years, in turn making student visas more attractive.
Committing $42 million and 600 staff to clear the so-called "one million visa backlog" and rubber stamping as many visa applications as possible.
Raising the permanent non-humanitarian migrant intake by 30,000 to 190,000, thereby increasing the chances of temporary migrants gaining permanent residency.
Approving 66,000 "pandemic event visas" and waiting too long to close the rort down.
Prioritising offshore visa applicants over onshore.
Removing a requirement that international students acknowledge that they are not applying for a student visa to migrate to Australia.
Signing migration agreements allowing Indian students and workers to live in Australia long-term.
Advertisement
On Monday, The AFR reported that the Albanese government will cancel or postpone funding for dozens of infrastructure projects after a $33 billion blowout made the present pipeline and new projects "in the next 10 years" prohibitively expensive.
According to an independent audit delivered last month to Infrastructure Minister Catherine King, the cost of 700-plus projects has risen by $32.8 billion and continues to grow due to labour shortages and rising material costs.
States have committed to large infrastructure pipelines in recent years, putting substantial pressure on the construction industry by absorbing labour and resources, contributing to inflation, blowing out state budgets, and causing delays.
Advertisement
Projects that are already under construction and Labor election promises were not scrutinised, including a $2.2 billion pledge for the Victorian Andrews Labor government's Suburban Rail Loop boondoggle, which has been widely panned by infrastructure experts.
Cutting infrastructure investment when the nation's population is growing like a science experiment through mass immigration obviously means increasing congestion and reduced liveability for residents.
That's why it makes sense to lower immigration to sensible historical levels, thereby ameliorating the need to invest so much in infrastructure and taking the pressure off the housing market.
Advertisement
Moreover, if the government cannot afford to build the infrastructure, how does it magically expect that its 1.2 million homes target will be met?
The entire metrics surrounding the Albanese government's Big Australia immigration policy are a farce.