Last week, we witnessed coordinated lobbying efforts by Australia's three main housing groups – the Property Council of Australia (PCA), the Housing Industry Association (HIA) and Master Builders Australia (MBA) – calling for subsidies to stimulate new home construction alongside a quick return to mass immigration.
This came after the HIA forecast that new dwelling commencements would collapse to around half of peak levels: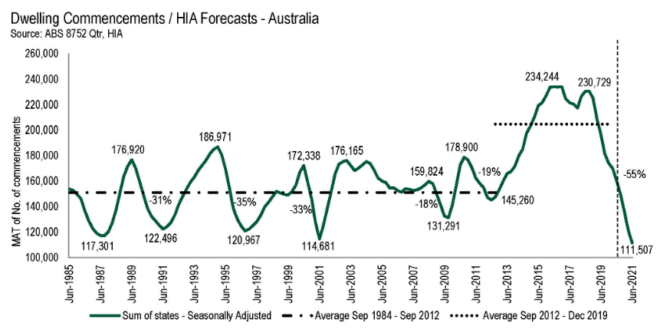 Unsurprisingly, Prime Minister Scott Morrison – a former general manager at the PCA – has been quick to oblige, flagging a massive housing stimulus package:
The federal government is working up a multibillion-dollar scheme to construct residential housing…

The scheme, confirmed on Tuesday by Prime Minister Scott Morrison, is being developed by Treasurer Josh Frydenberg and Assistant Treasurer Michael Sukkar…

"If you've got a job in the residential construction industry, Michael Sukkar's here, and Josh [Frydenberg] has been working on plans here," he said…
Scott Morrison also flagged a quick resumption to mass immigration once COVID-19 is under control:
"We're looking at net overseas migration falling to 34,000-odd next year. When you think that – it was the great Professor McDonald who set a figure of between 160,000 and 210,000 as being what you need in this country to maintain GDP-per-capita growth – then there's obviously a big gap there," Mr Morrison said.

"That's a short-term gap, but it's going to be one of the real impacts of this crisis because our borders aren't opening up any time soon."
Never mind that Professor McDonald's "160,000 and 210,000" net overseas migration (NOM) target has been comprehensively debunked, and that McDonald himself previously argued for no more than 80,000 NOM in order to maximise Australia's wellbeing (see here and here).
We all know what will happen. The federal government will stimulate the construction of thousands of extra homes and then import hundreds of thousands of migrants to fill them. This is how Australia's Ponzi economy works.
That said, as demand-side stimulus it makes sense and so long immigration remains low it'll weigh on prices.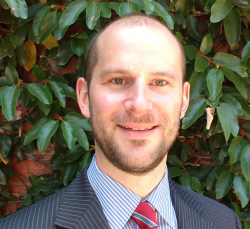 Latest posts by Leith van Onselen
(see all)