International students have demanded that the Morrison Government provide them with emergency welfare support amid the coronavirus outbreak:
The Council of International Students Australia (CISA), the peak body representing international students in Australia is calling for welfare packages with financial support for international students in Australia.

Its Education Officer Domi Dana Johnson says international students are amongst the highest contributors to Australia's economy and as such, their contributions should be used in providing support to them.

She also says the education cost should be lowered as the courses have moved to an online model…

The organisation also has urged the stakeholders to strongly consider welfare packages for international students stating the "unprecedented circumstances" are causing a lot of distress…

Catriona Jackson, Chief Executive of the peak body representing Universities in Australia – Universities Australia (UA), says UA will continue to pursue the issue of support for international students with the Government… her organisation wants the government to provide the necessary assistance to international students.
I have mixed feelings about having the federal government provide temporary financial support to international students.
On the one hand, Australia is facing an unprecedented medical emergency fighting a virus that can spread quickly person-to-person. Therefore, the last thing it wants is thousands of international students possibly running out of cash, becoming homeless, and wondering the streets in search of work. We want them to stay quarantined at home and providing them with temporary financial support would help them do so, as would helping them to return home (if possible). I discussed these points yesterday.
On the other hand, international students are supposed to come to Australia with adequate funds and health insurance to support themselves. In the first instance, they should tap these funds as well as seek assistance from their own families and governments back home.
Remember that just over one month ago, the Council of International Students Australia was demanding the federal government loosen up restrictions on international students entering Australia, claiming it was racist and that many of these students are "children of "important and powerful influencers". The federal government obliged.
Secondly, Australia's universities should be called on before taxpayers for financial support. The universities have swelled their coffers from the multi-year boom in international students, as illustrated clearly below: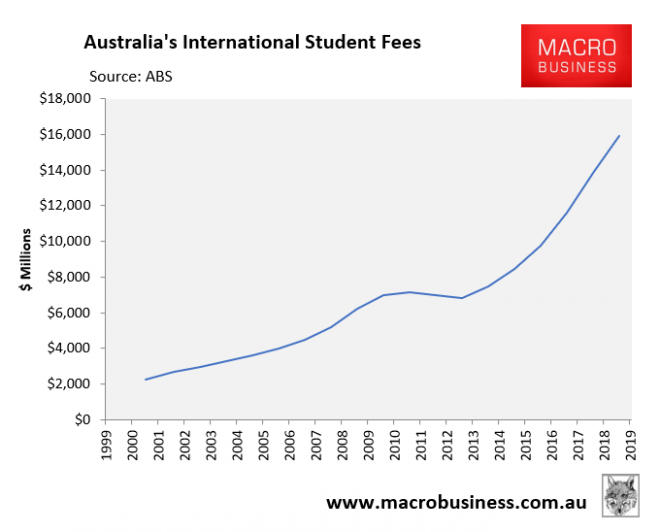 The universities also lobbied hard for the government to keep Australia's international border open, as well as provided financial incentives of up to $7,500 for Chinese students to evade Australia's travel ban via entry though third countries like Dubai and Thailand.
In the process, our universities very likely exacerbated the spread of the coronavirus and made the situation worse.
Australia's greedy universities have displayed classic 'moral hazard' behaviour, whereby they have sought to privatise the gains from any international students evading the travel bans via extra fee revenue, while socialising the welfare and health costs on the Australian taxpayer.
The universities, not Australian taxpayers, should therefore be forced to pick up the financial costs of supporting international students through this crisis.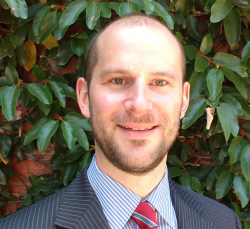 Latest posts by Unconventional Economist
(see all)