Billionaire founder of Westfield Shopping Centres and key member of Australia's 'growth lobby', Frank Lowy, used last night's Lowy Institute speech to attack Australian's growing unease towards mass immigration and to push his support for a 'Big Australia'. From The SMH:
"I note that for the first time in the history of Lowy Institute polling, I am in the minority. In the 2018 [Lowy Institute] Poll, 54 per cent of Australians say the total number of migrants coming to Australia is too high.

"There is a rising crescendo of opinion from columnists and politicians saying we should reduce our immigration intake.

"And in the past year our immigration intake has declined. We have gone from migration targets to migration caps. I think we are moving in the wrong direction."
I simply say to Sir Frank that it is possible to have too much of a good thing. Immigration is now the number one hot button issue in the country and for good reason. It is no longer a complement to the economy, people's standards of living and society. It is a (the?) key driver of all three as we continue to drive huge inflows of temporary and permanent migration into a demand-depleted and over-supplied economy.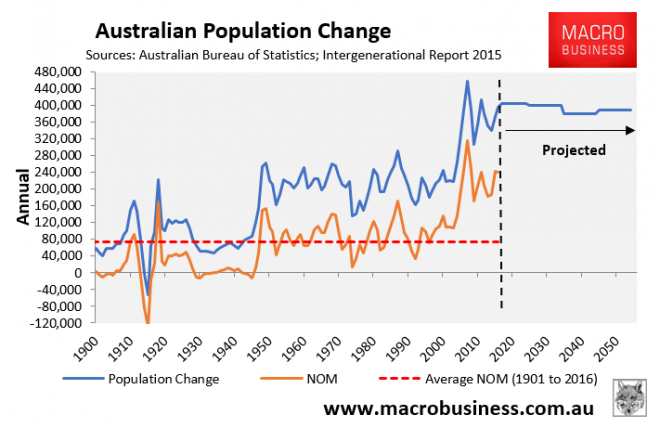 This is creating very obvious winners and losers that our ruthless political class are now vacuuming up on all sides, fracturing the multicultural consensus along the way. On the racist Right by attacking irrelevant but emotive symbols in specific minority groups. While on the Left, refusing to discuss the very real downsides of the mass influx of people, thus leaving the playing field open to the real racists.
The fact is, Australia's mass immigration 'Big Australia' program has clearly outstripped the ability of the labour market to absorb a permanent supply shcock, as evidenced by the elevated labour underutilisation rate despite the one million "jobs boom". Two-thirds of all new jobs have gone to migrants (see next chart). Wage theft is at epidemic proportions.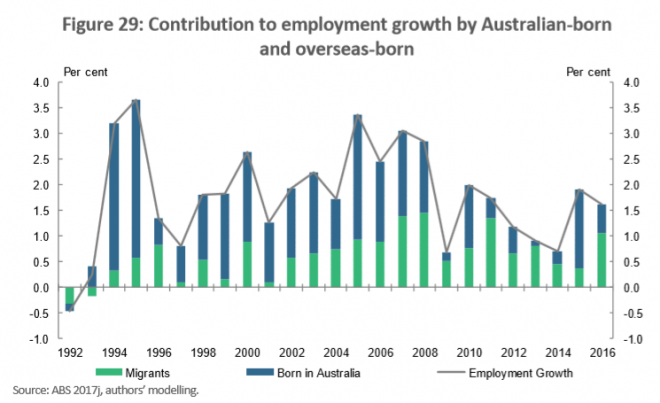 Infrastructure is at breaking point, evidenced by rising traffic congestion and overloaded public transportation, hospitals and schools. The outcome is a spiralling infrastructure deficit that will never be dealt with so long as 4,000 migrants a week continue to pile into Australia, concentrating in Sydney and Melbourne.
Then there is the concurrent housing crisis with no end in sight, adversely impacting low-income households the most, especially in our major migrant hotspots of Sydney and Melbourne.
Basically, residents of Australia's major cities are being treated like electrons in a poorly played game of Sim City, watching tides of people flood in without the infrastructure and services to match. We've got 15 years of empirical evidence showing that the 'Big Australia' mass immigration experiment is too powerful for our institutions to cope. To build-out the infrastructure deficit, repair the housing market and stabilise wages will take root-and-branch reform of the Federation, the financial system and industrial relations. We can't even keep a PM in place for a year.
Hence, the five most recent opinion polls all show overwhelming voter support for lower levels of immigration:
Stripped of political motivations and stuck with the lived experience of turbo-charged immigration levels, the pubic knows it will necessarily make housing affordability, congestion and infrastructure worse, dilute workers' bargaining power, enrich the capital owners, and erode living standards even further.
Delivering those outcomes will jeopardise the very multicultural consensus that we all admire and that supported Sir Frank Lowy's success.