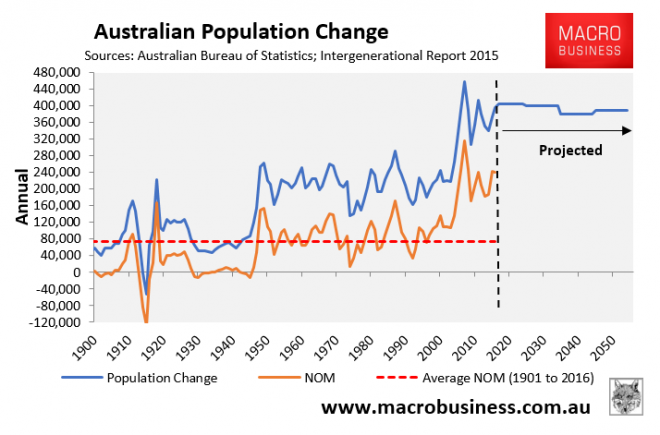 Australian voters want Australia's immigration intake to be lowered back towards historical norms. We know it because the five most recent opinion polls all show majority support for lowering immigration:
Cutting immigration is also a no-brainer politically for the new Prime Minister, Scott Morrison. Not only would it take the wind out of One Nation and help bring conservative voters back to the Coalition, but it would help unify the conservative and moderate arms of the Coalition, possibly ending the civil war that is tearing the party apart.
Lowering immigration would also wedge Labor. It would lower demand for housing and improve affordability, making negative gearing reform more difficult and possibly less popular. It would help to lift wages of ordinary workers, reducing inequality. It would take the strain off infrastructure in the major cities, improving liveability. And it would lower the Aussie dollar, helping Australian businesses to compete globally.
Cutting immigration is not just great policy politically, but is also in the national interest.
Yet, despite everything that has transpired: the civil war within the Coalition, 30-plus losing opinion polls (including yesterday's disaster), and the loss of several key Coalition MPs, Scott Morrison refuses to learn. Instead of taking the sensible and popular path of lowering immigration, he has instead deployed another decentralisation smokescreen, pretending that migrants can be shifted to the regions:
Australia's new minister for population says the nation's growing pains are caused by migrants choosing to live in Melbourne and Sydney and a backlog in major infrastructure rather than historically high immigration levels.

Alan Tudge, who will take responsibility for cities, urban infrastructure and the new population portfolio, says his two greatest challenges will be finding the right incentives and conditions to encourage more migrants to settle in smaller capital cities and regional areas, and accelerating national infrastructure.

A day after being handed the population portfolio, Mr Tudge said he was less wedded to a formal population target than the need to entice more migrants into cities such as Adelaide and regions "crying out for any warm body'' to fill vacant jobs.
Here's what the desperate search for warm bodies looks like in SA: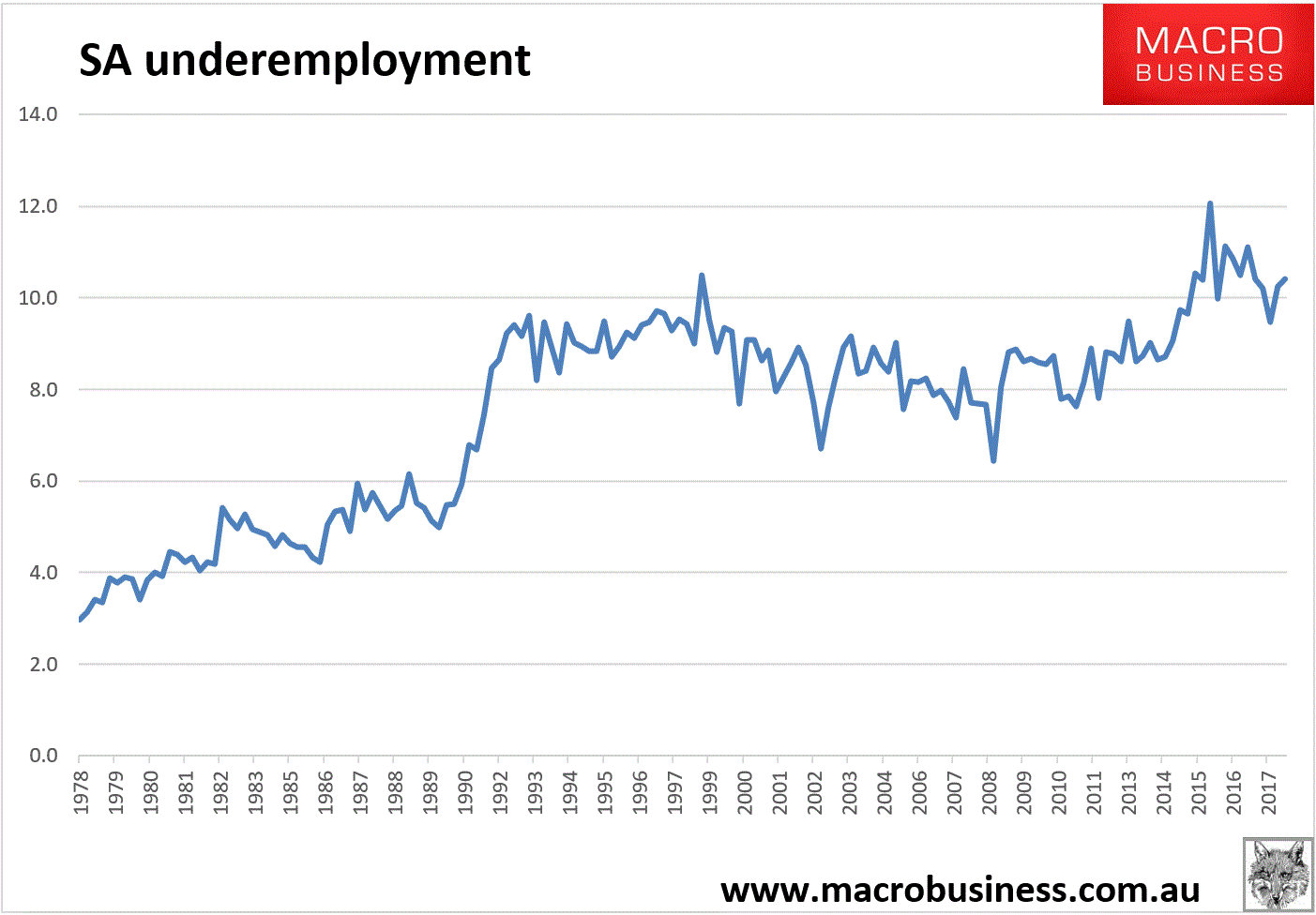 More Federal public servants will also be shifted to the regions, despite the Productivity Commission explicitly recommending against it:
The Morrison government has elevated the Coalition's decentralisation project in naming its first ministry, flagging the relocation of public service jobs to regional towns as core business…

[Scott Morrison's] own economic advisory body as treasurer, the Productivity Commission, last year labelled decentralisation a dud, saying it was a costly and ineffective way to grow regional wealth and risked damaging the performance of government agencies.
So here we go again. Rather than addressing the immigration (population) issue at its source, and acting on the wishes of the Australian people, Scott Morrison has opted to double-down on his government's inept decentralisation pipe dream.
Australia has tried decentralisation for more than a century without any success (other than the construction of Canberra).
The truth is that the immigration program has become more centralised that ever, with 94% of migrants last financial year settling in the cities, and 86% settling in just Sydney and Melbourne alone.
The shifting the bulk of Australia's migrant intake to the regions is unrealistic. Short of erecting 'migrant proof fences' and electronic tags, how can decentralisation of migrants be achieved in practice when it has failed so dismally in the past?
Heck, even mass immigration defender, John Daley from the Grattan Institute, believes it is a "persistent fantasy" that migrants would or should settle in the regions, and admits that "[Immigration] is an enormous lever for the economy – one of the few things that government can actually control – and there are obvious infrastructure pressures".
As for magically boosting infrastructure to cope with the never-ending population deluge, where is the money? The $75 billion of infrastructure funding over 10 years committed by Scott Morrison in the May Budget won't be nearly enough to keep pace with the 3.5 to 4.0 million in population expected to be added over this 10-year period, nor backfill the infrastructure deficit that has accumulated over the past 15 years as Australia's population ballooned on the back of mass immigration.
Instead, the "avoidable social costs" of congestion will continue to soar as rampant population growth overrun our cities' infrastructure, as projected by the Bureau of Infrastructure, Transport and Regional Economics: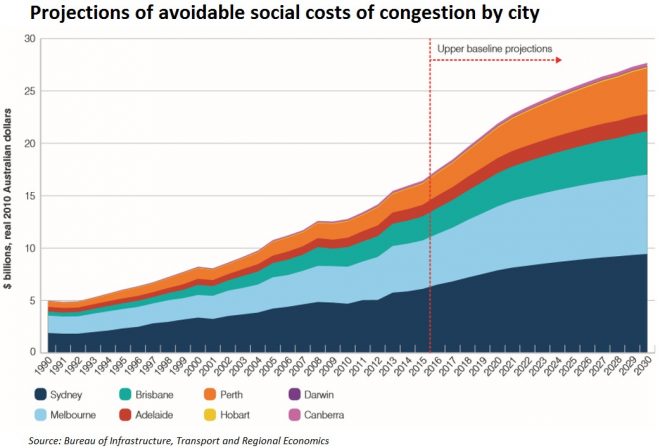 As noted by Mike Seccombe in the Saturday Paper:
The Bureau of Infrastructure, Transport and Regional Economics estimates the "avoidable" social costs of traffic congestion in the eight Australian capitals cities. They reckoned it to total $16.5 billion in the 2015 financial year, up from $12.8 billion in the 2010 financial year. By 2030, they forecast, the cost of congestion would rise to between $27.7 billion and $37.3 billion. That is roughly the cost of the National Disability Insurance Scheme, fully implemented.
Make no mistake, under Prime Minister Scott Morrison, Sydney and Melbourne will continue to be crush-loaded as their populations swell by the millions, placing extreme further pressure on infrastructure and housing, and destroying living standards for incumbent residents. This is also precisely the outcome predicted by Infrastructure Australia, which projects worsening traffic congestion and reduced access to jobs, schools, hospitals, and open space: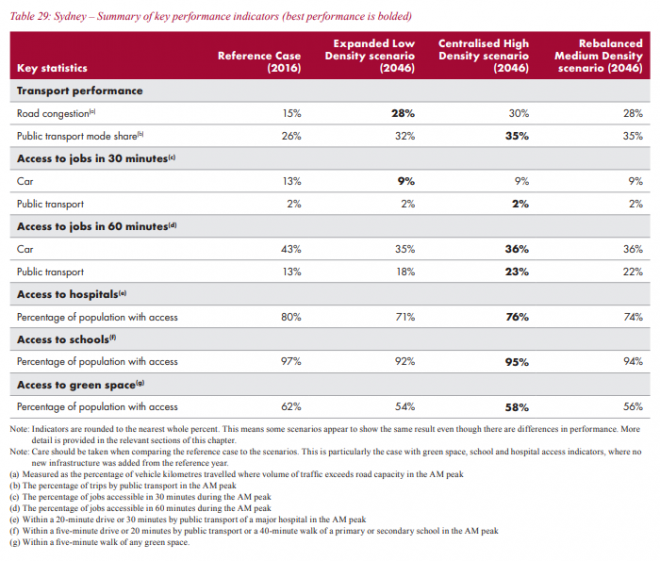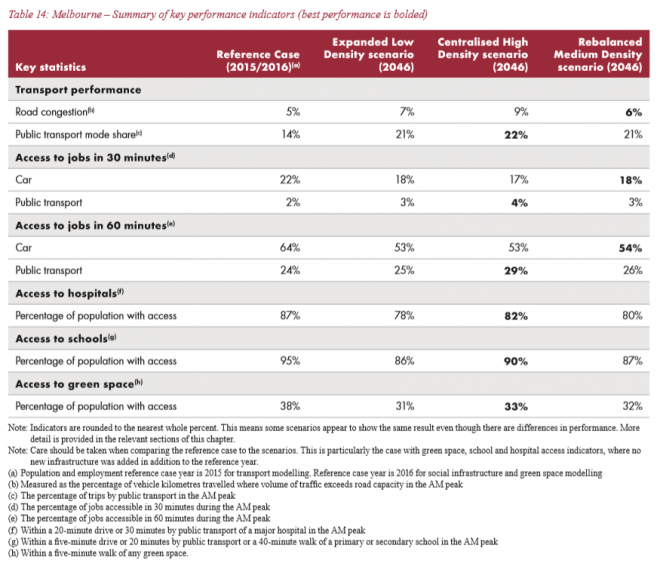 The Coalition has missed another golden opportunity to do the right thing politically, economically and socially by cutting immigration. They are unelectable.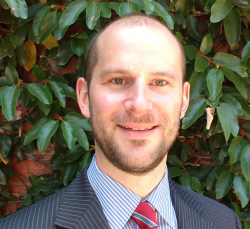 Latest posts by Unconventional Economist
(see all)