According to economist Tony Alexander, New Zealand mortgage rates are rising at their fastest rate on record at more than triple the pace of the tightening cycle between 2004 and 2008. Alexander also believes that the Reserve Bank of New Zealand (RBNZ) is at grave risk of overshooting, which will drive a deeper economic contraction and housing market downturn than necessary:
Here in New Zealand we already have fixed mortgage rates 3% – 3.5% above their levels of just over a year ago. The last time monetary policy was in a proper tightening cycle from 2004 – 2008 it took over three years for this to happen.

The tightening this time around is running at triple the pace of the last one.

Because central banks have credibility to rebuild after poor policy implementation last year, and because they see themselves as saviours, they also see themselves as rightful punishers – and that is the story for 2022. The risk is they overshoot and unnecessarily depress their economies, including our own. But we'll just have to wait and see if the Reserve Bank truly stuffs things up again or not. The record so far is quite bad.
The impact of the RBNZ's aggressive tightening is already being felt in the housing market, with the national median house price down 9.2% from its November 2021 peak in May, and the stock of unsold homes swelling.
The value of mortgage commitments also plunged 29% in the year to May 2022, representing a sharp reversal from the 128% annual mortgage growth recorded in May 2021: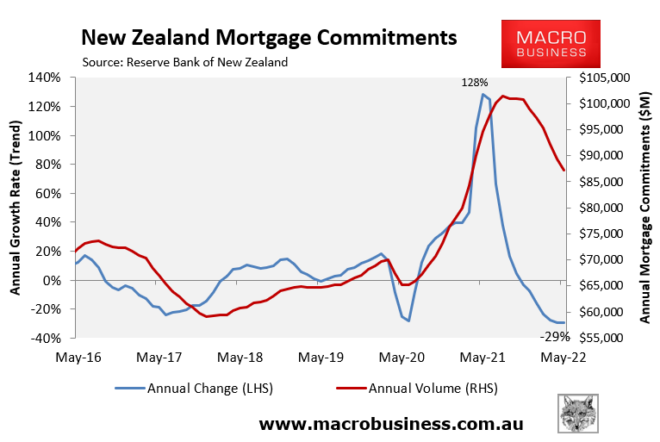 Indeed, the latest figures from property website Realestate.co.nz shows that the number of homes available for sale across New Zealand has almost doubled over the last 12 months, and asking prices are tumbling.
The average (non-seasonally adjusted) asking price of properties available for sale on Realestate.co.nz at the end of June was $922,432, down a hefty 7.2% ($72,553) from its peak of $994,885 in January.
Average asking prices are now declining across all of the main urban regions, with prices across Auckland – New Zealand's biggest city – down 8.8% ($112,209) from their peak.
This is only the beginning. The RBNZ's 'forward track' guidance signaled that official cash rate will lift from its current level of 2.0% to 3.9% by June 2023.
Since the majority of New Zealand borrowers have taken out fixed rate mortgages of two years or less, this means Kiwis that originated mortgages at rock-bottom pandemic rates have yet to impacted by the RBNZ's aggressive monetary tightening.
This situation will change at the end of this year when these low fixed rate mortgage terms begin to expire and borrowers are required to refinance to significantly higher (double) mortgage rates. Then the impact of the Reserve Banks monetary tightening will truly be felt across the economy via a sharp contraction in consumer spending.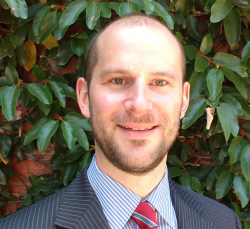 Latest posts by Unconventional Economist
(see all)