A supine Paul Kelly took the cake on the weekend:
It is a sobering thought whether Scott Morrison might end up being the first Australian prime minister since Billy McMahon not to visit China and, if so, whether that would be seen in this country as a sign of high principle or a strike against the national interest.

Related to this factor is how long before the new and conventional US president, Joe Biden, sits down for a one-on-one meeting with Chinese President Xi Jinping — probably in 2021 or maybe 2022 — raising the question of how any Biden-Xi dialogue will reflect upon the Morrison government. People will ask: if Biden can talk with Xi, why can't Morrison?

Australia is not used to being bullied by a great power. Our national character kicks back and we stand our ground. That's admirable. It's who we are — but the national interest test demands we learn to live with, and get on with, the bully. That's a new test for us.

Beijing is making it easy for Morrison at present. Witness this week the intensification of its threatening intimidation, releasing a manifesto of grievance and resorting to the language of "enemy", thereby giving the PM no option but to stand firm on Australian values and sovereignty, a stance that enjoys wide public support.

But the wheel will turn. This country has no national interest in making China our enemy. We have no national interest in a bullying China deciding to punish Australia more stridently than its treatment of other countries. If sustained, that would constitute a failure of national leadership and it would have grave consequences for the Liberal Party.
Unsurprisingly, Kelly's view references Chinese agent of influence, Geoff Raby, who is once again cited without any disclosure of his direct financial links to the CCP.
Perhaps Mr Kelly should look out the window instead. The Australian people understand exactly what is at stake and the only "grave consequences" are for Labor as its Chinese kowtowing sidelines it for a generation;
Ditto for Australia's entire lefty press. Like Labor, it was missing in action. The Guardian made itself the useful idiot of the Chinese embassy on the weekend with an "exclusive" propaganda outburst:
Chinese government ministers won't start answering phone calls from their Australian counterparts unless Canberra stops treating Beijing as a strategic threat, a senior embassy official has warned.

China is urging the Morrison government to make a clear decision on whether it sees Beijing as a "threat" or an "opportunity", setting this up as a key precondition for resuming ministerial-level talks, which have been frozen since early this year.

In a sign there is no clear offramp from the serious diplomatic rift, a Chinese embassy official told Guardian Australia it was up to the Australian government to reflect on what it could do "to arrest the decline of the bilateral relationship" and create a better mood for talks.

"Of course you can say it takes two people to tango but here, you see, the problem is all caused by the Australian side," said the official, who asked not to be named.

"The core issue is we think that the cold war mentality should be discarded in order to look at China as an opportunity not a threat. Otherwise the whole trajectory will be derailed."

Scott Morrison and his ministers have repeatedly said the ball is in the Chinese government's court regarding Australia's push for "mature, sensible dialogue", while insisting they won't "trade away" values or sovereignty.
Doesn't The Guardian realise that it was selected only to help wedge the Australian left from the national interest? As Xinhua made clear last week, a captured Labor is the CCP's choice to govern. This was not an "exclusive". The Guardian was used.
Crikey was not much better:
Beijing ripped off the mask yesterday, releasing a dossier to Nine journalists accusing the Australian government of poisoning bilateral relations, including a handy list of 14 disputes. In briefing the media, a Chinese official reportedly remarked: "If you make China the enemy, China will be the enemy."

But is the dossier really "extraordinary", as the Nine newspapers chose to label it?

"I was a bit underwhelmed," said Australia China Relations Institute director James Laurenceson. "There's really nothing on that list that we don't already know China are already annoyed about."

But more importantly, given the toxic state of bilateral relations, does Beijing have a point?
No, it does not. And James Laurenceson has never had a bad word to say about China because his "think tank" was birthed by CCP-linked dirty cash from a Chinese agent of influence since banished from Australia. The center should have closed in disgrace years ago. UTS keeps it open as some sop to international students. That is why Laurenceson talks down a historic document that demanded the end of Australian freedom.
The ABC published more prostration from Stan Grant:
Australia is looking again to ride Beijing's coat tails. In this year's Federal Budget, Treasurer Josh Frydenberg based some of his growth projections on China's rapid post-COVID recovery.

The Chinese Communist Party looks at America — ravaged by the virus and deeply politically divided — and claims China's model of authoritarian capitalism is superior.

The view from Beijing is that China is a big power and demands respect.

As trade and political tensions simmer, speculation swirls about what's really going on between the two nations — and what's next on a Chinese sanctions "hit list".

Australia is in China's sphere of influence and it is always going to feel the heat, perhaps more than other countries. We are the canary in the coal mine. Other nations are looking to us to see how we navigate these dangerous diplomatic straits.
Australia is not "in the Chinese sphere of influence". We live under the US nuclear umbrella. It guards all sea lanes throughout Asia to allow passage of our commodities. We house its critical satellite infrastructure. Our defence forces are fully integrated. We share a political system and values. By contrast, China has  illegally seized a few vulnerable islands in the distant South China Sea and has some economic sway. In hard and soft power terms, we live entirely within the US sphere of influence, as does most of Asia still (which is why many Asian nations are not at each other's throats nor engaged in nuclear arms races).
Perhaps worst of all was The Saturday Paper, which did not even cover the story. The editor there should be unceremoniously sacked.
But I digress. The important point is this. Contrary to the advice of Kelly's media cowards, now is a fantastic time to bloody China's nose. There are five reasons why.
1. Is CCP China friend or foe long term?
First, we needed to know what CCP China would demand of us in the long future before its military grows, before it was too late to fight it. And now we do know thanks to the 14 demands: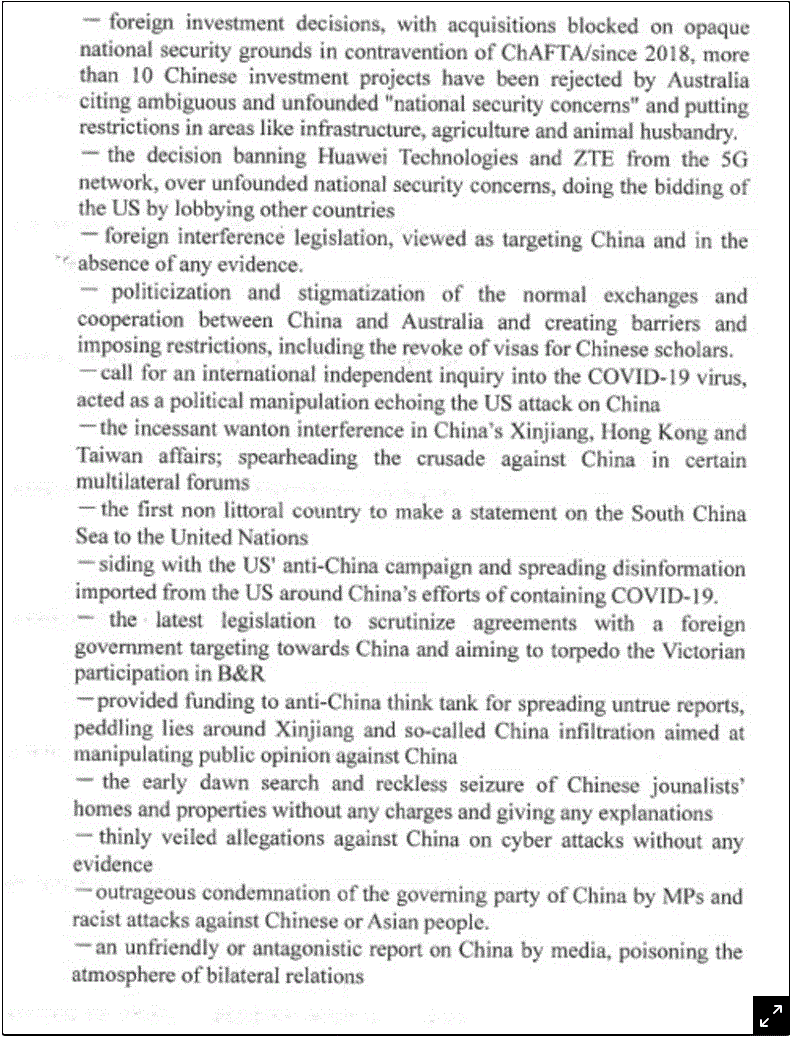 In black and white, Chinese conditions for a smooth relationship with Australia demand the end of democracy as the US liberal hegemon is supplanted by an illiberal Chinese overlord that governs our parliament, media, defence, alliances and economy. We are warned.
2. The Chinese economy is a deliberate trap
The second point to make is provided by Bloomberg:
This is likely a sign of how the new economic cold war will play out. China has made it clear that it intends to weaponize dependence on its massive economy. Access to Chinese consumers, profits from mainland financial markets and investment in infrastructure will all be made conditional on the behavior and rhetoric of partner countries.

That will in turn provoke new arguments within those nations. Capital, allied with exporters and China doves, will line up against market liberals, allied with domestic producers and national security hawks.

The problem for China is that it has done a terrible job exploiting these fault lines to date. Its efforts didn't force Canada or South Korea to capitulate and there's no reason to think they'll work any better in Australia. Chinese leaders just don't seem to learn: Publicly humiliating other countries, no matter how small, makes cooperation and compromise politically impossible. Even Frydenberg has had to harden his rhetoric a bit.

Indeed, for many of China's trading partners, not just Australia, the argument for diversifying export markets and supply chains is more persuasive today than it was last week. And China should remember that dependence can run both ways. As my colleague David Fickling explained recently, Australia's " nuclear option" is to suspend iron ore exports — which drive the mainland's steel industry — to China.
Exactly. "China has made it clear that it intends to weaponize dependence on its massive economy". This is economics lifted into the pantheon of "Xi Jinping thought". It is deliberate and permanent. We need to diversify away from the threat while we still can.
3. China is vulnerable and we can set rules
Third, right now, China has never been weaker in terms of soft power. Literally, everybody hates it post COVID-19:

Indeed, this influence meltdown is why China has been forced to trial new tools of statecraft such as economic bullying. Australia has been selected for the road test. But this weakness is also why it is such a great time to push back. Amid universal anger at China, other countries will rally to Australia in a multilateral response. They already are, at Domain:
Senior United States Senator Marco Rubio has lashed the Chinese government for its "economic coercion" against Australia, saying it is important for a global alliance of democracies to speak up in support of Canberra.

…Senator Rubio, a potential favorite to be the Republican presidential nominee in 2024, is part of a global coalition of MPs from democratic nations called the Inter-Parliamentary Alliance on China.

The alliance of 38 MPs from 18 countries and the European Parliament was unanimous in its condemnation of Beijing's latest threats against Australia in a phone hook-up on Thursday morning.

Senator Rubio told The Sydney Morning Herald and The Age that IPAC would "play an important role in garnering support for Australia in the face of Beijing's economic coercion".

"Democracies must reject the CCP's bullying and commit to concrete actions," Florida's senior senator said.

"Words alone will not deter China, but, by acting together, we can ensure the Chinese Communist Party pays a price for its malign behaviour."
Australian resistance can help formalise and shape the free world into new structures that inhibit Chinese aggression permanently. Now is the time to do it. Before the Chinese military can park an aircraft carrier off Bateman's Bay and deliver those 14 demands in-person to Kelly's cowards in Canberra, leaving us with no choices.
4. Commodity peak cycle gives us power
The fourth reason that the timing of the push back is so good is that the CCP still needs us more than we need it. It is the peak of the commodity cycle. It is sucking in more iron ore than ever to keep the CCP in power via stimulus building to provide jobs. We have leverage and we must use it to create the above ramparts to protect ourselves into the future against Chinese political aggression.
5. History has accelerated
These four points go towards the fifth and conclusion. History had not scheduled a conflict between Australia and China of this magnitude for another twenty years. Everybody that follows Chinese development knows that war over Taiwan was to be the point of utmost stress for the US liberal empire in the Pacific. But COVID-19 has brought the conflict forward before China is ready.
And thank dog for it. If we had had plain sailing for Australia's Chinese economic integration over two more decades then pushing back against Beijing amid a Taiwan conflict would have been impossible. Our democracy would be at great risk of sudden collapse as iron ore supply chains became red hot theaters of war plus a huge Beijing-bullied Chinese diaspora prevented us from responding at all.
But now, COVID-19 has opened an opportunity to prevent this future. We can diversify the economy. We can protect the Chinese diaspora and cap it so that Beijing can't abuse our own system with a multitude of Gladys Liu stooges. We can help rally global resistance to Chinese bullying. We can keep the US thoroughly engaged, with our views central to a new Biden Administration outlook.
In short, China's attack on Australia today is a classic case of imperial overreach and offers us a crucial chance to bulwark Australian freedom for our children and children's children.
But there is a sting in the tail of such a fateful moment. If COVID-19 has forced China's hand prematurely then it has also caught us on the hop. If we choose not to fight this struggle, and take instead the easy bribe of Kelly's cowards and carpet-baggers, then we start irreversibly down the path to Chinese domination. The pressure from Beijing will not diminish. It will double and keep doubling until we are utterly broken and unrecognisable as a free society. By the time of any Taiwan conflagration we will be long lost.
Australia's stakes in this conflict are not diplomacy versus trade as the apologists and weak intellects of the press suggest. These are cyclical fads.
The stakes now for Australia are gravely structural and boil down to this: do we want our kids to flourish under a Western liberal democracy or to cower under an illiberal Chinese dictatorship?
You choose or the media poltroons on display this weekend will choose for you.
---
P.S. This is the most important analysis I have written so please forward it to as many people as you can. The so-far steadfast Morrison Government is still under pressure internally from media fools cheering on their own demise. There is zero room for complacency.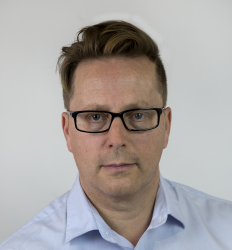 Latest posts by David Llewellyn-Smith
(see all)