Australia could literally bomb Beijing right now and it would happily keep taking our iron ore. The reason is simple. Iron ore is the key commodity input into CCP power. Only by sucking in a billion tonnes of the stuff can it sustain the useless building of empty stuff that keeps folks employed and not thinking about such niceties as freedom.
That is the reason that Australia has been singled out over the years for great largesses and great influence-peddling plus, more recently, great abuse. The CCP loves and hates this dependence like no other.
This trade was always going to end sooner or later. Urbanisation is vast in China but it is finite and already past the peak in terms of numbers per year:

Plus, given the build-out happens largely in advance, the need for more empty apartments and infrastructure is already rapidly declining.
So, the demand for steel and iron ore is going to fall naturally before long and prices slump historically.
But the CCP need not wait. It can still pull a few levers to make this hurt all the more. One is to invest in Simandou for greater seaborne iron ore volumes. The other, much larger, lever to pull is to transition Chinese steel production from blast furnaces (BOF) requiring raw materials to Electric Arc Furnaces (EAF) using scrap steel.
I have noted that China has so far tried to accomplish this transition with limited success: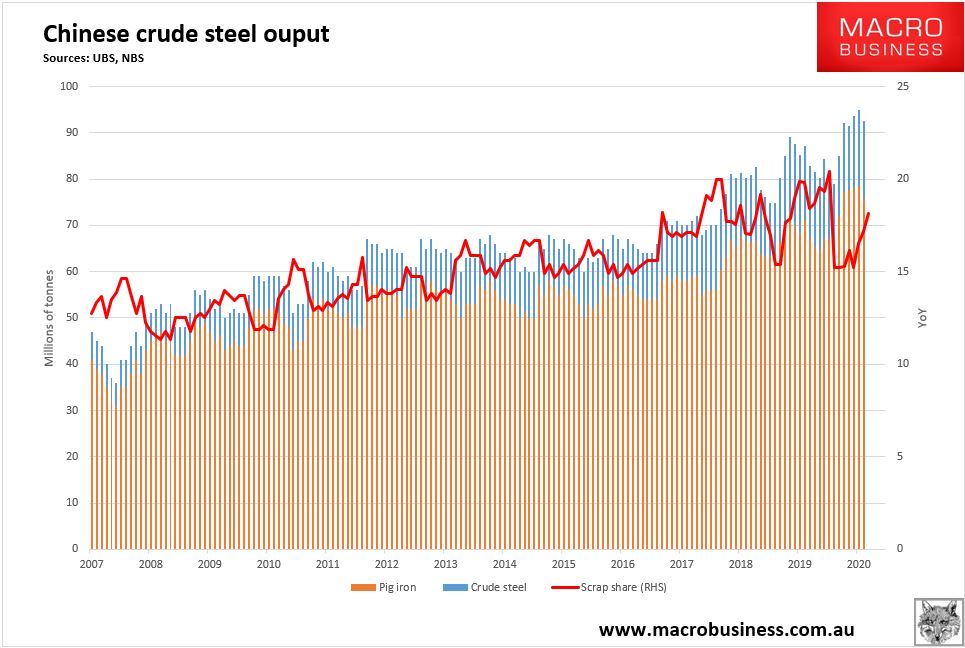 Scrap production was tracking nicely through 2017 but has since stalled owing to bans on imported steel. No longer! Via Argus:
China's next five-year plan is expected to maintain rapid urbanisation that will keep steel demand high but prompt a shift in the steel sector towards more scrap use and modern pollution controls.

The fifth plenum of the 19th Communist Party of China (CPC) central committee is meeting in Beijing on 26-29 October to discuss the country's 14th five-year plan for 2021-25 and long-term goals to 2035, which emphasise development of new technologies and environmental goals. The full plan will be released in March.

"Urbanisation during the 14th five-year plan should still support iron ore and steel because of demand for infrastructure construction, but lower emissions should be a pressure. Mills may have to increase costs to update mills to reduce emissions. So, I think overall the 14th five-year plan may be neutral to the steel industry," a Hebei-based steel mill manager said.
And Platts:
China is likely to allow the resumption of ferrous scrap imports from early 2021, or at least no later than June, market sources close to the issue said Oct. 27.

Chinese authorities banned such imports in July 2019 due to environmental concerns, but have been pushing for a resumption with stricter controls since May, deeming scrap a recyclable resource that will reduce polluting emissions during the steelmaking process and align with efforts to decarbonize the economy.

Some industry sources are also calling for scrap imports to resume because steelmakers are grappling with tight domestic scrap supply as the country's steelmaking capacity increases.

But even with scrap imports, the total volume of scrap available is expected to be insufficient to reduce China's steelmaking costs as its capacity continues to grow.

S&P Global Platts estimates that China's overall crude steel capacity – comprising converters and electric arc furnaces, or EAFs – will reach 1,257 million mt/year by end 2020 and 1,281 million mt/year by end 2021, up from 1,243 million mt/year at end 2019.

EAF steelmaking capacity will reach 184 million mt/year by end 2020 and 197 million mt/year by end 2021, up from 175 million mt/year at end 2019, Platts estimates. Most of the new EAFs will be located in Sichuan, Fujian and Guangdong provinces.
These three great forces will converge over the next few years:
slowing Chinese urbanisation;
rising seaborne iron ore supply, and
rising EAF and steel recycling from both imports and rising scrap at home.
This convergence will crush the iron ore price back to $20 eventually. Australia's great Chinese decoupling will perhaps accelerate this process. But it was always only a matter of time. The sensible know this, via AFR:
Andrew Forrest could have spent the richest year of his life relaxing by the pool in his new mega-mansion overlooking Perth's pristine Cottesloe Beach, which is also one of the safest places in the world.

Instead, he's broken free from Western Australia's hard border to narrowly dodge a bomb attack in Afghanistan and base himself in Europe, which is battling a second wave of COVID-19. Why?

Dr Forrest thinks this is the best time to get deals done.
Why? Because he knows his good fortune is running out.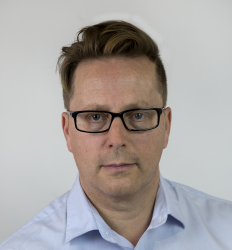 Latest posts by David Llewellyn-Smith
(see all)