As readers know, up until the beginning of this month I was a strong supporter of the Victorian Government's hard lockdown, believing it was a necessary evil to get COVID-19 infection numbers down to manageable levels.
I even penned a detailed article on 24 August entitled "Why Victoria should extend stage 4 restrictions", which argued that the stage 4 restrictions should be extended by two weeks to 27 September.
On Sunday afternoon, I published an article entitled "Melbourne's eased restrictions too little too late", which argued that the Andrews Victorian Government has been far too slow to ease restrictions given Melbourne's low virus count, which received strong backlash from some MB commenters.
Today I want to address some of the issues raised by these commenters.
First up we have a commenter (name redacted), who is worried about my "analysis skills" for comparing Melbourne's lockdown to Sydney, which remained open:

My response is simple.
First, Melbourne's flow of COVID infections has fallen well below Sydney's near the beginning of the second wave:

Second, current active cases in Victoria (136):

Are less than half what NSW's local active cases (i.e. excluding hotel quarantine) were earlier in the second wave, which peaked at 298 on 12 August:

NSW remained open throughout, putting trust in its contact tracing system to get infection rates under control. Melbourne remains closed. Why?
The Victorian Government has had seven months to get its contact tracing system up to par. Presuming it has done its job, Melbourne should be well placed to open up rather than continuing with draconian shutdowns.
Next we have another commenter who published a series of angry comments attacking yours truly: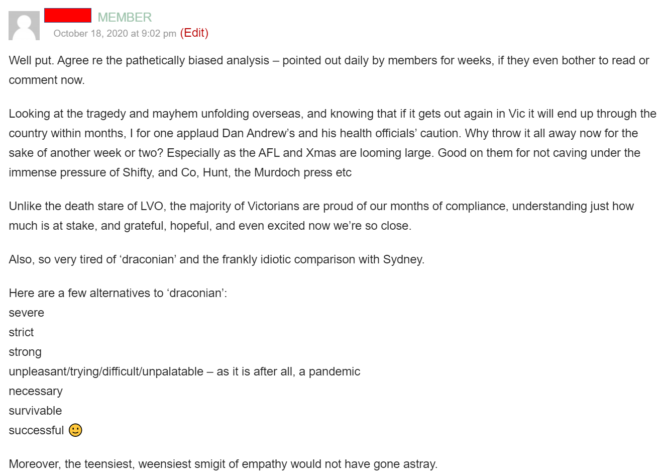 This person must live in a different city to me. Most people I meet are bordering on despair. Several small business owners I know (one a friend) are facing closure and may also lose their homes because they are not allowed to open.
There is no better word to describe the lockdowns in Victoria, alongside the heavy handed tactics and fines from the police, than "draconian". Because that's exactly what they are.
This person's claim that you cannot compare Sydney to Melbourne, and that "it's like comparing a BBQ with an out of control bushfire" also doesn't pass the pub test in light of the local infection numbers presented above nor the cratering of new cases across Victoria:

Seriously, where is the "out of control bushfire" in Victoria? Why are we still locked down? Surely Victoria's contact tracers can handle such low numbers, as they did successfully in NSW?
This reader has asked for "a little bit of balance" and "rational argument", but where is theirs?
One final point to make for all. Macro economics is by definition a discipline of flux. If you're looking for unchanging certainty in your grasp of the world then you might find a different lens more comfortable. Macro never sits still and as facts change so must analysis and conclusions.
I don't usually like to critique commenters in articles. But yesterday's attack was too much to ignore.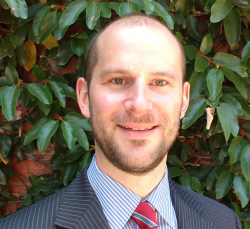 Latest posts by Unconventional Economist
(see all)