The stars are aligning for a massive increase of immigration once the COVID-19 lockdown ends.
Over the past week, we witnessed lobby groups and senior economists soften the Australian population up for a big ramp-up in immigration.
It began with Australia's chief property lobby groups, the Property Council of Australia and the Housing Industry Association, both demanding that the federal government open Australia up to low-skilled immigration and international students to juice housing demand.
Then greybeard economist, Ross Garnaut, demanded a quick resumption in "immigration to pre-pandemic levels":
"No other developed economy of comparable size has benefited as much as Australia from the easy international movement of people – for business, pleasure, education, and to build new lives as migrants."
This was followed quickly by the former secretary of the Australian Treasury and Department of Prime Minister and Cabinet turned chancellor of Macquarie University, Martin Parkinson, who called for a big ramp-up of skilled migration via stealing talent from the developing world:
"We are going to have for the first year for 75 years almost no population growth," Dr Parkinson said. "That is going to have massive economic ramifications."

Rather than use the crisis as a opportunity to wind back the nation's migrant intake, the former government economic adviser said the country should ratchet up its skilled migration program.

"We should be saying this is an opportunity to double-down on recruiting skilled migrants from around the world," he said…

Dr Parkinson said skilled immigration was not only an important driver of economic growth but also held the key to boosting the nation's dismal productivity gains, which was vital to improving living standards.

"We should stop all this nonsense about 'Let's reduce the immigration program'," he said.

"A really important way for a country like Australia to get skills and have them paid for by other people is to actually to make it easy to come to Australia if you are a skilled worker."

Dr Parkinson said international students had their primary and secondary education paid for by their home countries, and they paid fees and living costs to study here.

"[If] we allow them to stay and we reap the benefits".
The vice chancellor of Western Sydney University and former senior public servant, Peter Shergold, also chimed in over the weekend, demanding a big increase in family reunion migration:
"At first blush you think probably, if we're going to bring in new migrants, we should focus on the skills we need," he told The Sun-Herald and The Sunday Age.

"But it may well be that the best thing to do as we start to open up is to allow family reunion to support those migrants who have already made Australia home.

"It isn't just skills. We also need to consider the needs of those who already here to have their families join them."

Professor Shergold, now chancellor of Western Sydney University, also urged the government to offer a "clear pathway" to permanent residency for temporary migrants who are already in Australia. "That should be a priority," he said.
For its part, the Morrison Government over the weekend signalled that it would ramp-up immigration at the earliest opportunity:
The Morrison government will "reset" the permanent migration program in its October budget, which could involve an unusual change to the mix between skilled and family reunion migrants as it tries to restart the economy…

Acting Immigration Minister Alan Tudge said it was "too early to speculate" about the migration program's future, but changes to the composition might have to be made…

"We simply haven't set what our cap will be for permanent migrants and what the distribution of that will be yet. That will be something for cabinet closer to the budget. The default setting is to maintain the two-thirds, one-third split [between the skill stream and the family stream]."
Therefore, it looks like the 'Big Australia' mass immigration policy will return in earnest as soon as the COVID-19 lockdown lifts. This is despite the empirical evidence surrounding the past 15 years of mass immigration being damning, as evidenced by:
Crush-loading of infrastructure across Australia's major cities, creating massive congestion bottlenecks;
Historically low wage growth and chronically high labour underutilisation as migrant labour supply always runs ahead of demand;
Residents of migrant-stuffed cities being shoe-horned into expensive (and defective) high-rise apartments; and
Collapsing productivity from capital shallowing (i.e. a reduction in the capital to labour ratio).
Resuming the mass immigration policy is neither smart nor fair and will only further crush productivity, wages and living standards, as well as increase inequality as capitalists like Harry Triguboff and Gerry Harvey privatise the economic rents while the broader public wears the costs.
The notion that Australia's immigration program is 'skilled' also doesn't pass scrutiny, with the Department of Home Affairs' Continuous Survey of Australia's Migrants showing that migrants earn significantly less than the general population and experience much higher unemployment: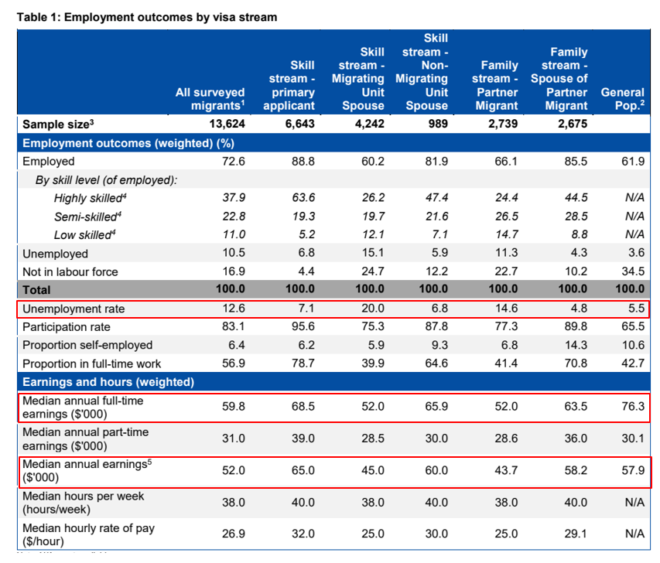 Even if we focus on the skilled stream only, both median earnings and unemployment are far worse than the general population: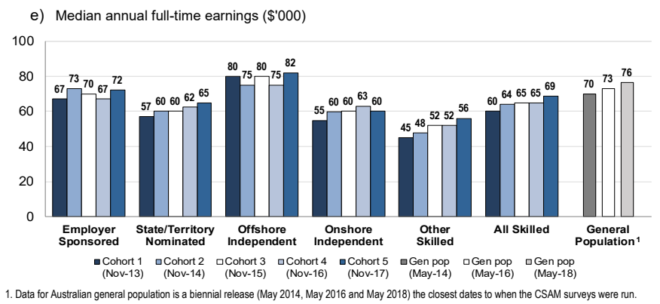 These are shocking results. The skilled stream accounts for 60% of Australia's permanent migration program. They are purported to be highly qualified and brought into Australia to overcome so-called 'skills shortages'.
These 'skilled' migrants should, therefore, be paid well above the general population, which comprises both skilled and unskilled workers.
The fact that migrants are paid so poorly, and experience higher unemployment, suggests that Australia's "skilled" visa system is really a low-paid, low-skilled program used by employers to undercut Australian workers.
Thus, doubling down on the mass immigration program – whether via the skilled stream or family reunion – will obviously severely disadvantage Australian workers by holding down their wages, raising their cost of living, and destroying their amenity.
It will also dilute Australia's fixed mineral endowment among more people, thereby reducing wealth per capita.
Australia needs a productivity-driven recovery that shares the gains. Not a population-based one that destroys what remains of Australiana.
Sadly, our elites long ago gave up on governing for the benefit of the Australian people.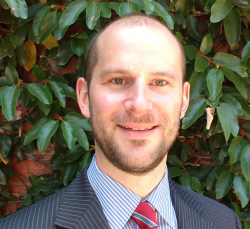 Latest posts by Leith van Onselen
(see all)