I reported last week how the University of Queensland (UQ) has sought disciplinary action against a Pro-Hong Kong student activist, Drew Pavlou.
This comes after the UQ last July was embroiled in scandal when Hong Kong pro-democracy protesters were attacked by a group of Chinese nationalist students.
Curiously, UQ's management did not denounce this violence from these Chinese students, instead only issuing soft platitudes encouraging harmony.
But now nine months on, UQ is seeking to expel the pro-Hong Kong student for seemingly trivial matters.
ABC News has released a report updating the drama:
[Pavlou] told the ABC he will plead not guilty to every charge, which the university laid out in a 186-page, confidential document.

"It mixes my activism for Hong Kong, and my criticism of the CCP, with more mundane stuff," he said…

More than 20,000 people have signed a petition in support of Mr Pavlou, and a high-profile QC is vying to represent him at the hearing on May 18.

…it is understood the disciplinary hearing will consider protests Mr Pavlou participated in on campus, including one where he posed outside the university's Confucius Institute in protective clothing.

Confucius Institutes are Chinese Government-funded education centres, focused on language and culture, which critics say push Chinese propaganda on university campuses.

Queensland University of Technology Student Guild President Olivia Brumm, who has viewed the full document, told the ABC she thought the majority of the 11 allegations of misconduct were "absurdly trivial"…

"I don't think anything in there should warrant an expulsion from a university in any way, shape or form," Ms Brumm said of the document…

Mr Pavlou is currently one of two elected student representatives on the UQ Senate, the school's 22-member peak governing body, which also includes Vice Chancellor Peter Høj.

"Drew is a very outspoken and brash and kind of unapologetic person … [he] takes a lot of issue with the things that the university administration does, and the way they conduct themselves," Ms Brumm said.

"I do think that a lot of this report, and especially the way it was compiled, does indicate that there is a vendetta against Drew, that he's been a thorn in the university's side"…

Tony Morris QC, who has offered to represent Mr Pavlou on a pro bono basis, said he believed the proceedings were about freedom of speech.

"[Mr Pavlou] feels deeply aggrieved by the situation in Hong Kong, and also by the appalling genocide of Muslim people who the Chinese Government has put into concentration camps, [and] has spoken out about that," he said.

"Universities don't exist to prop-up totalitarian foreign governments."
Like many of Australia's universities, UQ has become financially dependent on the fees from Chinese international students. Therefore, excusing the actions of the violent Chinese students, and punishing a pro-Hong Kong protestor like Drew Pavlou, sends a strong message of loyalty to the Chinese Communist Party (CCP).
UQ's ties to the CCP are well known.
UQ houses one of 13 China-backed Confucius Institutes operating on Australian university campuses. These Confucius Institutes are fully funded subsidiaries of China's Ministry of Education. They provide participating Australian universities with partial funding, native language instructors, teaching resources, student exchange opportunities, and Chinese language and culture consultative services from the Chinese Government.
Their formal mission is to promote Chinese language and culture, and therefore give an uncritical view of Chinese society, as well as provide direct influence inside our universities. In July, it was revealed that UQ had signed agreements explicitly dictating that it "must accept the assessment of the [Confucius Institute] Headquarters on the teaching quality".
The Brisbane Chinese consul-general, Xu Jie, who had praised the "acts of patriotism" by the violent Chinese student counter-protesters, was also made an adjunct professor of language and culture at UQ: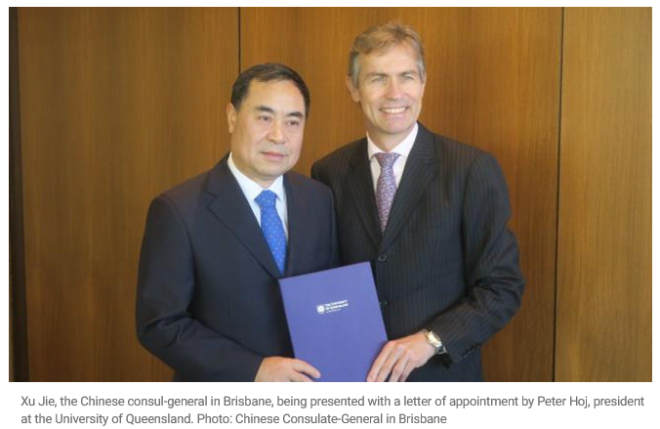 ABC News has also detailed how UQ has been captured by the CCP:
UQ's arrangements with Chinese Government organisations have come under scrutiny over the past 12 months, including by the ABC's Four Corners program.

The Chinese Government has co-funded at least four courses offered by the university, including one about China's role in global politics, human rights and counter-terrorism.

A UQ spokeswoman said at the time the Confucius Institute and its academics had not been involved in the design or management of the courses.

UQ Vice Chancellor Peter Høj has previously served as a senior unpaid consultant to Hanban, the Beijing-based body responsible for running China's Confucius Institutes around the world.

Professor Høj was also a member of Hanban's Confucius Institute Council, but resigned from both roles in late 2018.

UQ also appointed China's Consul-General in Brisbane, Xu Jie, as an adjunct professor at the university last year.

Dr Xu sparked a minor diplomatic dispute during the violent protests at UQ, after he praised the "spontaneous patriotic behaviour" of Chinese students, and described the pro-Hong Kong protesters as "anti-China separatists".
UQ has clearly been turned into a useful idiot of the world's most evil autocratic regime.
No amount of fees are worth the cost of selling-out Australia's independence and democratic freedoms.
The Morrison Government should intervene. It could threaten withdrawal of funding until the university can prove it has expunged this corruption.
UQ is radically out of step with community, national and pedagogical values and must be brought into line.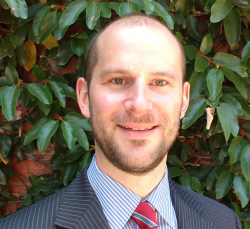 Latest posts by Unconventional Economist
(see all)