In July last year, the University of Queensland (UQ) was embroiled in scandal when Hong Kong pro-democracy protesters were violently attacked by a group of Chinese nationalist students.
Instead of denouncing these actions, and imposing appropriate sanctions against the offending Chinese students, the top brass at UQ instead issued soft platitudes encouraging harmony.
Nine months on, and UQ has sought disciplinary action against a Pro-Hong Kong student activist, Drew Pavlou, who was physically abused by these same Chinese nationalist students:
The University of Queensland has taken disciplinary action against a prominent pro-Hong Kong student activist, who faces expulsion in relation to a series of satirical stunts, social media posts and criticisms of the vice-chancellor.

Drew Pavlou, a member of the UQ senate, was this week sent a series of misconduct allegations against him and told to attend a disciplinary board hearing, where a decision maker would have the ability to terminate his enrolment.

Pavlou said the claims he breached university policies mainly related to his activism. They include satirical social media posts, opposition to the university's contract with the Confucius Institute, and comments critical of the vice-chancellor, Peter Høj.

Guardian Australia has reviewed a summary of the "misconduct" charges, which include claims his conduct was inappropriate and abusive, and that he damaged the reputation of the university. None suggest he has acted unlawfully.

Last year, after helping to organise a protest in support of the Hong Kong independence movement, Pavlou was assaulted in the university grounds by a group of pro-China protesters who gatecrashed the event.

Pavlou subsequently sought a court order, similar to a restraining order, against the Chinese consul general in Brisbane, Xu Jie, who he claims endangered him by praising the "self-motivated patriotic behaviour" of the counter-protesters and, in effect, accusing Pavlou of "anti-China separatist activities". That case is ongoing.

Xu is an adjunct professor at the university…

In a statement on Pavlou, UQ said: "Universities reasonably expect that students comply with conduct policies and charters that reflect both the organisation's values and community expectations.

"UQ's disciplinary processes seek to address alleged contraventions of university policy – they do not seek to prevent students from expressing their views or to limit their right to freedom of speech.
So, it is okay for Chinese students to use violence against pro-Hong Kong protestors. But pro-Hong Kong activists exercising freedom of speech must be punished? 
UQ students obviously strongly disagree, with more than 10,000 signing a petition in support of Drew Pavlou:
A University of Queensland student who faces expulsion after he criticised the university's ties with China has told his supporters he's received a 200-page booklet outlining the uni's complaints against him.

MORE than 10,000 people have signed an online petition in a bid to stop Queensland's top university from "silencing" a student who advocates against the university's ties with China…

Drew Pavlou, who faces a disciplinary hearing later this month which could lead to expulsion, thanked the 10,475 people who had signed the change.org petition.

"Thank you to the ten thousand people who have signed the petition against UQ's attempt to expel me for my political activism in support of Hong Kong … unbelievable," he wrote on social media late yesterday…

This week he told followers "with a heavy heart" that the University of Queensland would be "considering his expulsion on April 27th before a misconduct hearing".

"I received a confidential 200 page booklet of allegations against me, many involving complaints about my public criticisms of the Vice-Chancellor, the growing corporatisation of the university, as well as my criticism of the university's links to the Chinese Communist Part and my support for Hong Kong."

He said in addition to core complaints, they included "frivolous complaints" regarding "satirical online posts".

"It is my belief that such vexatious complaints mask the true nature of the hearing, an attempt to punish me for publicly airing my political beliefs and challenging the university's unethical dealings with corporations as well as dictatorships like the Chinese state."
Like many of Australia's universities, UQ has become finally dependent on the fees from Chinese international students. Therefore, excusing the actions of the violent Chinese students, and punishing a pro-Hong Kong protestor like Drew Pavlou, sends a strong message of loyalty to the Chinese Communist Party (CCP).
UQ's ties to the CCP are well known. 
UQ houses one of 13 China-backed Confucius Institutes operating on Australian university campuses. These Confucius Institutes are fully funded subsidiaries of China's Ministry of Education. They provide participating Australian universities with partial funding, native language instructors, teaching resources, student exchange opportunities, and Chinese language and culture consultative services from the Chinese Government.
Their formal mission is to promote Chinese language and culture, and therefore give an uncritical view of Chinese society, as well as provide direct influence inside our universities. In July, it was revealed that UQ had signed agreements explicitly dictating that it "must accept the assessment of the [Confucius Institute] Headquarters on the teaching quality".
The Brisbane Chinese consul-general, Xu Jie, who had praised the "acts of patriotism" by the violent Chinese student counter-protesters, was also made an adjunct professor of language and culture at UQ: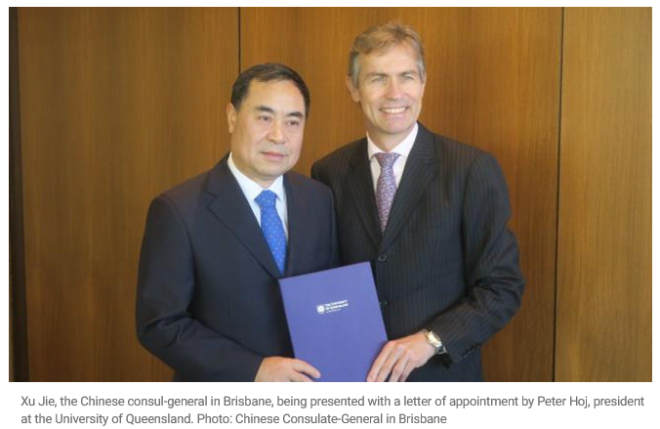 ABC News has also detailed how UQ has been captured by the CCP:
The Chinese Government has co-funded at least four courses at the University of Queensland (UQ), including one on China's role in "strengthening" responses to "global security challenges", such as human rights, "mass atrocities prevention" and "counter-terrorism"…

The revelations come as UQ faces calls to review its lucrative deals with the Chinese Government, after a Four Corners — Background Briefing investigation last night revealed its Confucius Institute had veered into curriculum development and honorary staff appointments.

The university's vice-chancellor, Professor Peter Høj, was until recently a senior consultant to Beijing's global Confucius Institute Headquarters (Hanban) and a member of its powerful governing council, which is responsible for more than 500 institutes operating in universities and schools across the world…

Four Corners also revealed last night that the director of UQ's Confucius Institute personally nominated China's Consul-General in Brisbane, Xu Jie, as an adjunct professor — the fifth such appointment of a Chinese diplomat at the university.

Shortly after his appointment in July, Dr Xu Jie was criticised by Australia's Foreign Minister Marise Payne for praising the "spontaneous patriotic behaviour" of Chinese students, some of whom clashed violently with anti-Beijing protesters. Dr Xu remains an adjunct professor at the university…

Senior security adviser to the Federal Government, Ross Babbage, told Four Corners a complete review was needed at UQ in response to revelations of its involvement in funding the "Understanding China" course…

"Why would we permit a foreign authoritarian government through a Confucius Institute to play a role in determining the curriculum to be taught on an Australian campus? I find that bizarre," [Professor Clive Hamilton] said.
UQ has clearly been turned into a useful idiot of the world's most evil autocratic regime.
No amount of fees are worth the cost of selling-out Australia's independence and democratic freedoms.
The Morrison Government should intervene. It could threaten withdrawal of funding until the university can prove it has expunged this corruption. 
UQ is radically out of step with community, national and pedagogical values and must be brought into line.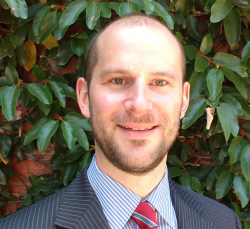 Latest posts by Unconventional Economist
(see all)