I reported last week how the University of Queensland (UQ) has sought disciplinary action against a Pro-Hong Kong student activist, Drew Pavlou, who has been an outspoken critic of UQ's close ties to the Chinese Communist Party (CCP).
This comes after the UQ last July was embroiled in scandal when Hong Kong pro-democracy protesters were attacked by a group of Chinese nationalist students.
Curiously, UQ's management did not denounce this violence from these Chinese students, instead only issuing soft platitudes encouraging harmony.
Nine months on and UQ is seeking to expel Drew Pavlou student for seemingly trivial matters.
Now, Mouthpiece of the CCP, The Global Times, has directly attacked Drew Pavlou:
The Global Times published an article contending that Australian students support the expulsion of Drew Pavlou… calling him an "anti-China rioter"…

UQ has said Pavlou, who was elected a member of the UQ Senate, has damaged the school's reputation by engaging in intimidating and disrespectful conduct…

"I really strenuously reject the Global Times saying that I'm an anti-China rioter and it's a really irresponsible statement of hate towards me," he said.

"If I were to be expelled, it would demonstrate that this is what happens to you if you speak out. It could have a chilling effect against protesters in Chinese parties in Australia'…

Pavlou said the Global Times story was laughable at first until fear began to creep in.

"I've received death threats and I'm fearing for my safety," he said.

"It makes me feel really unsafe that a state media outlet has attacked me. It's like they put a hit on me"…

Liberal MPs have urged the university to avoid taking a hard-line approach to Pavlou, given the implications for freedom of expression within Australia.
The CCP's propaganda know no bounds. A petition supporting Drew Pavlou against UQ has attracted more than 22,000 signatures.
We have come to expect this type of behaviour from the dictatorial CCP. But to also get similar from a leading Australian university is alarming.
Seriously, where is the justice in persecuting Drew Pavlou, while ignoring entirely the Chinese nationalist thugs that attacked the peaceful pro-Hong Kong protesters? Why weren't these students reprimanded and/or expelled by UQ?
One only needs to follow the money.
Like many of Australia's universities, UQ has become financially dependent on the fees from Chinese international students. Therefore, excusing the actions of the violent Chinese students, and punishing a pro-Hong Kong protestor like Drew Pavlou, sends a strong message of loyalty to the CCP.
UQ's ties to the CCP are well known.
UQ houses one of 13 China-backed Confucius Institutes operating on Australian university campuses. These Confucius Institutes are fully funded subsidiaries of China's Ministry of Education. They provide participating Australian universities with partial funding, native language instructors, teaching resources, student exchange opportunities, and Chinese language and culture consultative services from the Chinese Government.
Their formal mission is to promote Chinese language and culture, and therefore give an uncritical view of Chinese society, as well as provide direct influence inside our universities. In July, it was revealed that UQ had signed agreements explicitly dictating that it "must accept the assessment of the [Confucius Institute] Headquarters on the teaching quality".
The Brisbane Chinese consul-general, Xu Jie, who had praised the "acts of patriotism" by the violent Chinese student counter-protesters, was also made an adjunct professor of language and culture at UQ: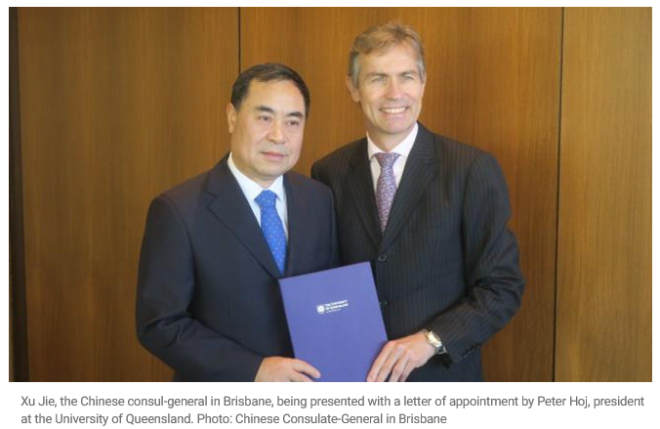 ABC News last week also detailed how UQ has been fully captured by the CCP:
UQ's arrangements with Chinese Government organisations have come under scrutiny over the past 12 months, including by the ABC's Four Corners program.

The Chinese Government has co-funded at least four courses offered by the university, including one about China's role in global politics, human rights and counter-terrorism.

A UQ spokeswoman said at the time the Confucius Institute and its academics had not been involved in the design or management of the courses.

UQ Vice Chancellor Peter Høj has previously served as a senior unpaid consultant to Hanban, the Beijing-based body responsible for running China's Confucius Institutes around the world.

Professor Høj was also a member of Hanban's Confucius Institute Council, but resigned from both roles in late 2018.

UQ also appointed China's Consul-General in Brisbane, Xu Jie, as an adjunct professor at the university last year.

Dr Xu sparked a minor diplomatic dispute during the violent protests at UQ, after he praised the "spontaneous patriotic behaviour" of Chinese students, and described the pro-Hong Kong protesters as "anti-China separatists".
UQ has clearly been turned into a useful idiot of the world's most evil autocratic regime.
No amount of fees are worth the cost of selling-out Australia's independence and democratic freedoms.
The Morrison Government must intervene. It should threaten withdrawal of funding until the university can prove it has expunged this corruption.
UQ is radically out of step with community, national and pedagogical values and must be brought into line.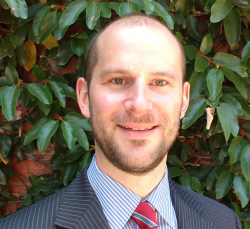 Latest posts by Unconventional Economist
(see all)