Moody's, in association with CoreLogic, has released dwelling price forecasts, which predict that Australian house values will rise by around 12% over the next two calendar years, whereas apartment values will rise by around 10%:
The RBA is being forced to do the heavy lifting to get the economy out of its funk. This could trigger a pickup in the Sydney and Melbourne housing markets that is more aggressive than forecast…

Our long-held baseline forecast—that the trough in the national housing market has occurred—is evident in improving activity in the Sydney and Melbourne markets, where 60% of activity takes place. Improved auction clearance rates in these cities, alongside the return of monthly dwelling value growth, according to CoreLogic data, support the outlook for ongoing improvement.

The housing market has been particularly responsive to the RBA shifting to an easing bias, which is expected given the close causal relationship to lending rates. Much of the strength in house prices and construction during the most recent boom was thanks to the decline in nterest rates…

Sydney's housing market has started to emerge from its correction (see Table 2)… House values will fall an average of 8.4% in 2019… The correction in Sydney is forecast to have largely passed by 2020, but home value growth will be far from the lofty gains of recent years. Housing values are forecast to rise by an average of 7.7% for houses and 7.9% for apartments…

Greater Melbourne house values have started showing signs of a recovery in the third quarter but remain 12.5% below their peak… Overall, Greater Melbourne house values are expected to pick up by 7% in 2020… Moreover, house values are likely to gain further momentum in 2021
and expected to rise by 7.8%… A similar, fast-paced recovery is expected for unit values in Greater Melbourne…
This is strange and outdated analysis by Moody's. According to CoreLogic, Sydney and Melbourne dwelling values are already in positive territory in 2019, with the 5-city index also nearing positive territory: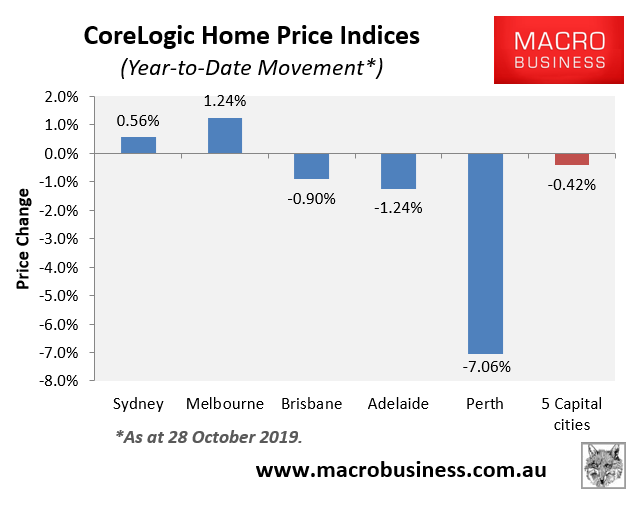 For what it is worth, MB's forecasts are contained in our Q3 Subscribers' report, which was released earlier this month.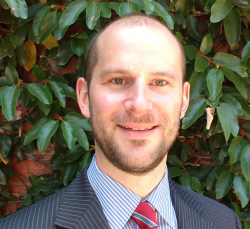 Latest posts by Leith van Onselen
(see all)