Have we finally started to make a difference?
Earlier this week we learned that several Australian universities have blocked access to Indian international students from Haryana, Uttar Pradesh and Punjab.
These changes to university admissions follows the Department of Home Affairs' reclassification of student visa applications from India, Nepal and Pakistan as "high-risk". This means that applicants from these three nations must now prove that they have strong English-language proficiency, as well as sufficient funds to support themselves through their studies.
Two months ago, Salvatore Babones – adjunct scholar at the Centre for Independent Studies (CIS) and an associate professor at the University of Sydney – released seminal research on Australia's international student industry, which argued convincingly that Australia's universities have become far too reliant on international students for revenue, thus driving an alarming degradation of both entry and teaching standards.
In particular, Babones took aim at universities' so-called 'foundation programs'. These are basically non-degree courses that function as a paid workaround for international students to bypass the International English Language Testing System (IELTS) test for direct university admission. In turn, they enable universities to funnel international students with poor English language proficiency into their regular degree courses, thereby expanding both enrolments and fees.
On Tuesday, Babones reported that Melbourne University has begun the process of winding-back its 'foundation course' amid increasing pressure lift entry standards – a move that will hopefully be replicated by other Group of Eight (Go8) universities. From The Spectator:
In recent weeks, the University of Melbourne has eliminated language on its website that seemed to encourage international students to take a casual approach to English language standards…

The University of Melbourne had previously explicitly pitched its foundation programs to students who "don't meet entry requirements" and suggested they could take 'equivalent' tests or subjects as alternative pathways to admission. But now the university more responsibly encourages students to explore admissions options without suggesting that the alternatives are any less rigorous than the usual entry requirements…

It may not sound like much, but it's a good start. Compare the improvements at Melbourne with marketing at the University of Sydney, which advertises that if a student is "unable to meet the minimum academic requirements for undergraduate study", its foundation program "could be your ticket to study with us." Other leading universities — such as ANU and Queensland — feature similarly enticing language. They seem to treat their foundation programs more as services for sale than as rigorous educational experiences requiring hard work and perseverance.

The University of Melbourne's reforms are cosmetic, but important. Marketing may sound like a frivolous issue, but it sets expectations that stay with students throughout their studies. If other universities follow Melbourne's lead, we can start a race to the top in international student recruitment.
As illustrated in Salvatore Babones' recent CIS report, Australia has by far the highest concentration of international students in the world at roughly 2.5 times the number per 100,000 population of second-placed United Kingdom and around three times Canada: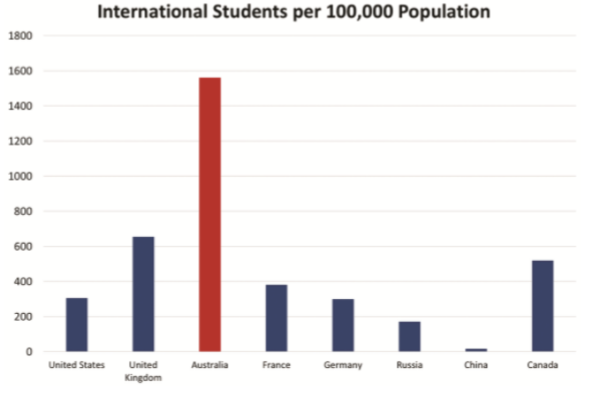 Moreover, Australia's Go8 universities all have high concentrations of international students: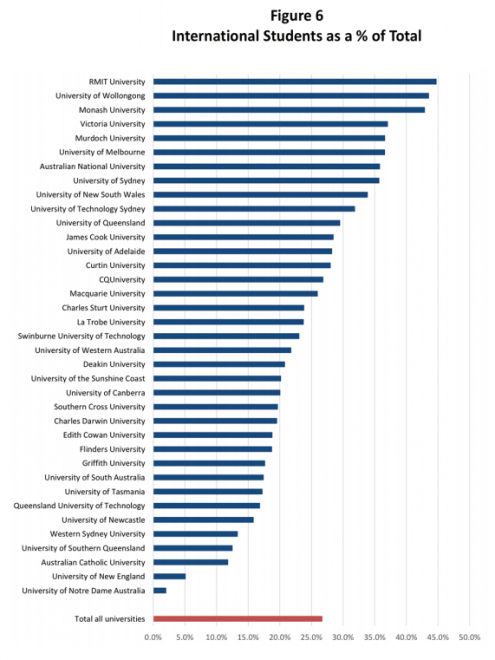 No matter which way you cut it, Australia's international student concentration is far too high and needs to come down. Hopefully, the recent changes by the federal government and universities are only the starting point to a long journey of reform.
Latest posts by Leith van Onselen (see all)