Earlier this month, MB noted that there had been a surge in visa rejections of Indian international students.
This is evidenced by the latest Department of Home Affairs student visa data, which shows that roughly one-in-ten Indian student visa applications from within Australia were rejected over the past two years, well above the circa 5% rejection rate across all nations: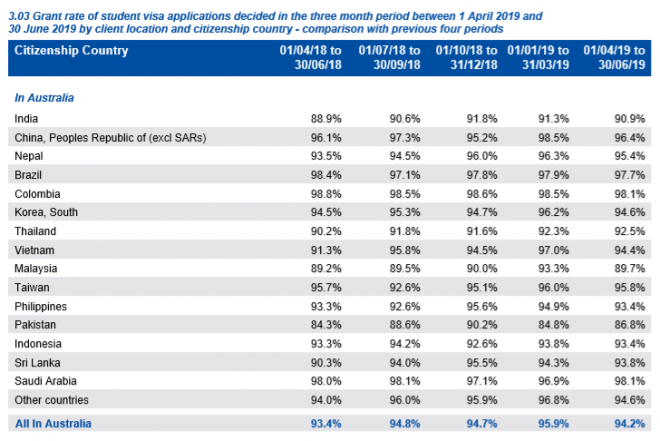 This same data also shows that rejections are much higher for student visa applications originating from outside of Australia, with 20% to 30% of applications from India rejected over the past two years, roughly double the average from all source nations: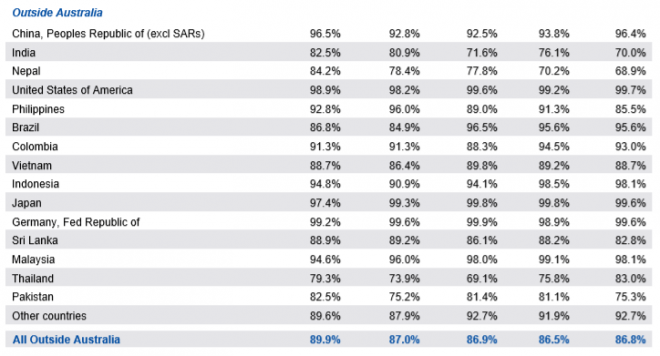 As shown above, Nepal and Pakistan also have very high visa rejection rates, suggesting they too are 'high risk' source nations for international students.
The soaring visa rejection rates come at the same time as the volume of Indian student visa applications on hand with the Department of Home Affairs has ballooned, dwarfing all other nations, with Nepal also experiencing explosive growth: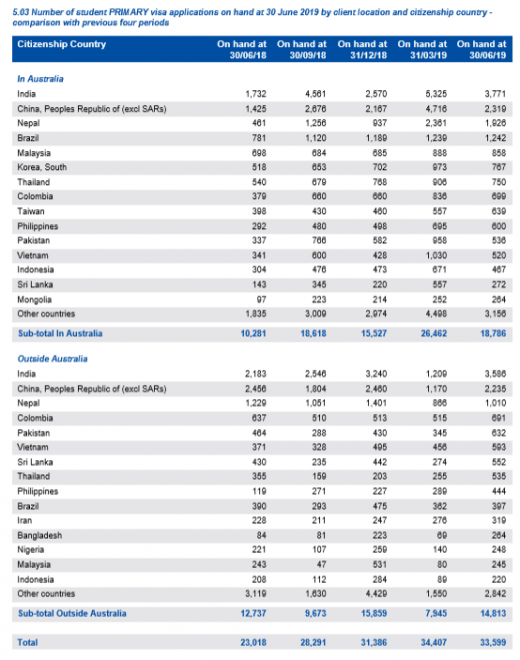 These applications from India and Nepal are likely being delayed because they are high-risk and, therefore, warrant aditional scrutiny from the Department of Home Affairs.
With this background in mind, it is not surprising that Australia has now placed student visa applications from India, Nepal and Pakistan in the "high-risk" category, changing the assessment level for these countries from Level 2 to Level 3. From SBS News:
Assessment Levels (ALs) streamline the current visa system, which also dictate the requirements set for a visa application…

Perth-based migration agent Narinder Kaur told SBS Punjabi that the visa system has now been updated for visa applicants from India, Pakistan and Nepal.

"The international students from these countries are now in the high-risk category. The assessment level for these visa applications has gone up from Level 2 to Level 3," she said…

Ms Kaur said the new applicants from the Indian sub-continent will now have a mandatory requirement for English proficiency and funds available.

"Previously, this was not the case as these countries were placed in Assessment Level 2″…

Ms Kaur said that the Assessment Levels are normally set after determining how likely the applicants from a certain country are to comply with conditions of an Australian student visa.

"The process becomes rigorous for students from high-risk countries as they would need to provide more evidence to support their claims for the grant of a student visa," she added…

"There are many parameters including the rate of visa cancellations or visa refusals or the rate of student visa holders becoming unlawful non-citizens, and, or applying for a protection visa," she said…
These visa changes will obviously have a detrimental impact on Australia's international student enrolments. India and Nepal are currently Australia's second and third biggest markets for international students, as well as the fastest growing: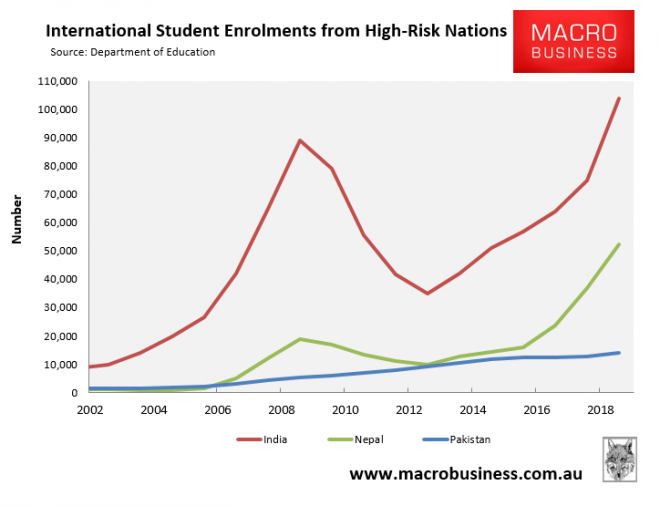 Therefore, classifying student applications from these nations "high-risk" should make it more difficult to obtain a visa and stem the flow of enrolments.
These visa changes come at the same time as the Morrison Government's 30,000 reduction in Australia's permanent migrant intake, which has also significantly reduced the incentive for international students to study in Australia.
The end result is that the boom in student enrolments from India and Nepal is about to turn bust, which comes at the same time as student visa applications from China are falling.
On the flipside, this is positive for Australian university pedagogical standards, which were being badly eroded from increasing numbers of lower-quality students.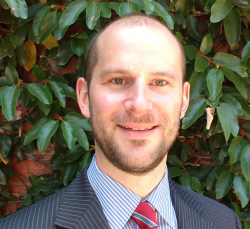 Latest posts by Unconventional Economist
(see all)