Michael Sainsbury last week published an article in Crikey warning that Australia's universities face an "escalating crisis" as international student enrolments begin to dry up:
The Australian university education sector is facing an existential crisis; its reliance on China, for about 30% of crucial international student revenue, is finally turning sour.

Chinese enrolments next year are expected to be down by about 10%, with some institutions facing double that fall. Normally, countries like India, Nepal and Pakistan would be seen as low-hanging fruit to make up any shortfall, but they have quickly emerged as highly problematic markets following reports of "non-genuine" students using loopholes to obtain student visas. Some institutions are now reportedly cracking down on students from India.

People intimately familiar with university enrolment trends say this has reached epidemic proportions. The percentage of students from India being rejected has been rising in recent years and is now more than 20% — more than double the average rate of rejection for all other students. Confirmations of enrolment and offer letters are now regularly being withdrawn or cancelled for students from India, Pakistan and Nepal…

Now the question for Australia's higher education sector is: what's next? The most immediate concern is just how far Chinese enrolments will fall…

China will remain the biggest student market for some time to come. But the salad days are over and all but the very top institutions need to move fast to plug the coming revenue hole.
China, India and Nepal are Australia's three biggest source markets for international students. They have also been among the fastest growing over the past six years: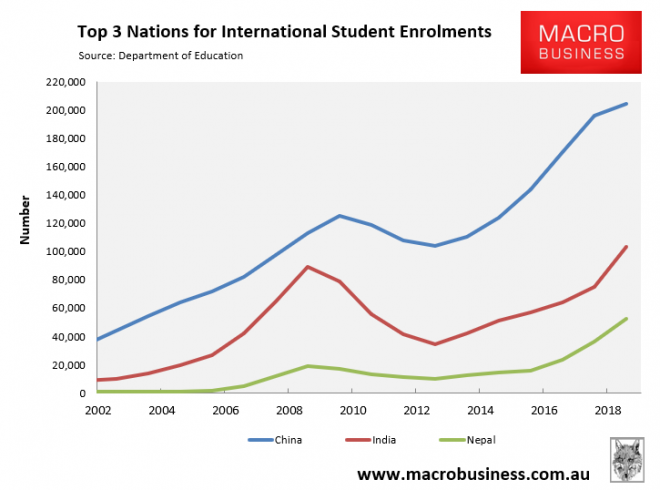 Each market are either at or near their peak and facing stiff headwinds.
The latest Department of Home Affairs student visa data showed that applications from China declined by 3.3% in the year to June 2019. However, this decline was more than offset by a 34.3% surge in Indian student visa applications and a 19.6% increase in visa applications from Nepal: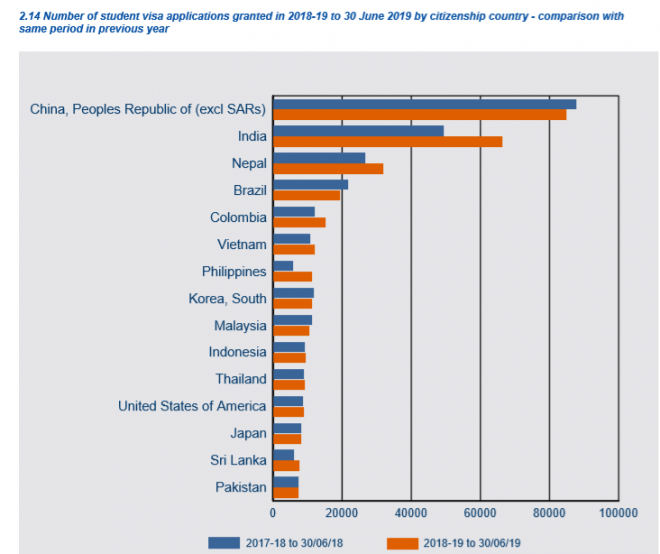 Altogether, total student visa applications rose by 7.3% in the year to June 2019, hitting a record high 406,000.
While the current inflow of international students remains healthy, thanks to ballooning enrolments from India and Nepal, recent visa changes – both domestically and abroad – pose major risks to international student numbers going forward.
First, the 30,000 reduction in the federal government's permanent migrant intake has reduced the attractiveness of studying in Australia, since it is less likely to lead to permanent residency down the road.
Second, one of Australia's key competitor markets for international students – the United Kingdom – has just announced that it will copy Australia's two-year post-study work rights, which are currently the most generous in the developed world: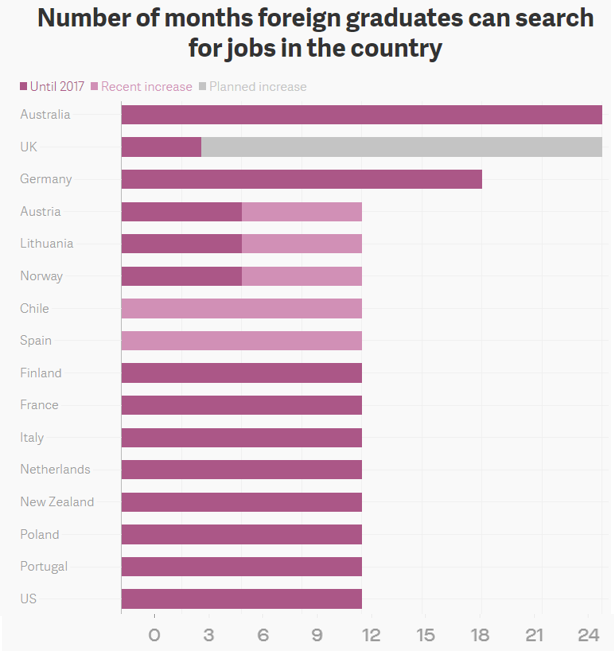 Already, this announcement by the United Kingdom has Indian international students looking elsewhere:
The visa will be particularly ­attractive to Indian students, who deserted Britain and flocked to Australia after 2012 when then home secretary Theresa May abolished the previous post-study work visa…

Phil Honeywood, chief executive of the International Education Association of Australia, said Britain's reintroduction of a two-year post-study work visa "could be a game changer for a number of markets we have taken for ­granted"…

International education expert Rahul Choudaha said… "Students will be very likely to switch over to the UK"… He said the British visa would be particularly attractive to students because it offered a pathway to permanent residency.
Third, the federal government recently labelled India, Nepal and Pakistan "high-risk" nations for international students, which means that applicants now face tighter scrutiny and must demonstrate strong English-language capability, as well as prove they have sufficient funds to support themselves while in Australia.
Already, various universities across Australia have refused to enrol any additional students from India, whereas others have cancelled existing confirmation of enrolments.
Therefore, with Chinese student visa applications already declining, and Indian and Nepalese students now labelled "high-risk" and blacklisted from enrolling in various Australian institutions, international student enrolments are set to unwind abruptly.
This raises obvious financial concerns for Australia's universities, which have become addicted to international student fees.
On the bright side, fewer international enrolments should help to lift pedagogical standards, which will no longer be diluted to the same extent by non-English speaking students.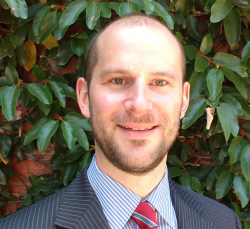 Latest posts by Leith van Onselen
(see all)