Via The Guardian:
The Australian political blogger and novelist, Yang Hengjun, is currently being shackled in chains and interrogated inside a Beijing detention centre, and is being told by authorities he could face the death penalty for espionage.

Detained in China since January, Yang continues to protest his innocence to authorities and says he can clear his name if he is able to speak with senior officials in the Chinese government.

Speaking exclusively to the Guardian, multiple sources have described Yang's conditions inside the ministry of state security detention centre in Beijing, where he was moved in July before being formally charged. Investigations in his case are continuing and could last until March next year.

Yang, a former Chinese government diplomat-turned-"democracy pedlar" who ran a popular and influential blog, has not been allowed access to a lawyer, and has not been permitted to speak with his family. He has received no letters, but has been given two Xi Jinping books.

Chinese officials have cited national security concerns for denying him access to his legal team for more than seven months.

Embassy officials have passed a bible and family photographs to detention centre authorities but it's unknown if these have been passed to Yang.

He is allowed to shower once a week, and has access to a small enclosure outside his cell – with access to fresh air and natural light – for one hour, twice a day.

He is able to drink water when he needs it, and can purchase additional food, including fruit, biscuits, and chocolate.

He shares his cell with two other prisoners. The lights are on in the cell at all times.

Yang is taken from his cell once a week for interrogation, for up to four hours at a time. His hands and feet are shackled with heavy chains during questioning.

Investigators from the ministry of state security have reportedly told him he is shackled because of the seriousness of the crimes he is alleged to have committed. He has been told he potentially faces the death penalty.

The current investigative phase of his case, which began when he was formally charged on 23 August, could last up to seven months, until March of next year.
The purposes of this are threefold:
to terrify all Australian Chinese into obedience with Beijing;
to make it clear to all that freedom will not be tolerated, and
to keep the pressure on the Morrison Government to toe the line on both.
I'm sure Gladys Liu is passing on the message. The indomitable Robert Gottliebsen has heard it loud and clear:
Australia needs to step back from the US fanfare and start talking about being a reliable supplier to China and making sure that in the interests of short-term profits we do not squeeze supply.

And we need to make Chinese students and tourist welcome. We have great research links with China via our universities. These need to be fostered especially as the Australian taxation office has decimated much local research.

We need to stop lecturing China and maybe join the Belt and Road project.
Do we, Bob? Maybe we should listen to our allies instead. Japan knows what the BRI is really about, via its new Defense White Paper:
The Chinese Navy is considered to be shifting its naval forces towards "protection missions on the far seas," and is steadily increasing its capabilities to conduct operations in more distant seas such as the Indian Ocean in recent years.

For example, since December 2008, Chinese Navy vessels sail in the Indian Ocean to the coast of Somalia and the Gulf of Aden to take part in international counter-piracy efforts.

Activities of Chinese Navy submarines are also beginning to be confirmed continuously in the Indian Ocean. In 2014, a Song-class submarine reportedly called at a port in Colombo, Sri Lanka, twice in the same year. This marked the first time that a Chinese submarine entered a foreign port. It is reported that in May 2015 and May 2016, a Yuan-class submarine and a Shang-class submarine respectively called at a port in Karachi, Pakistan, and in January and September of 2017, a Song-class submarine and another submarine reported to be a Yuan-class submarine called at a port in Kota Kinabalu, Malaysia. Besides the Indian Ocean, in September 2015, five Chinese vessels reportedly sailed in the high seas in the Bering Sea and sailed in U.S. territorial waters near the Aleutian Islands. Moreover, in January 2018, China published a white paper entitled "China's Arctic Policy," which mapped out a policy of active involvement in Arctic initiatives, including efforts to build a "Polar Silk Road" through the development of Arctic sea routes.

Additionally, China has been remarkably trying to secure overseas bases such as harbors, which would help support its operations in far seas. For example, in August 2017, China began operation of "support base" for logistics support of the PLA in Djibouti, a strategic point in East Africa facing the Gulf of Aden, and it has been ascertained that a pier has been constructed on the coast adjoining the base facilities since April 2018. As observers have pointed out that 48,000- ton supply ships — the largest available class of the PLA — can be accommodated at this pier, there is a possibility that this facility will substantially increase the Chinese military's logistical support capabilities. In recent years, China has been promoting its "Belt and Road" Initiative whose main purpose is advertised as establishing an economic zone in regions including the Eurasian continent, with the Chinese military possibly taking on the role of the shield behind the initiative by such means as the stabilization of areas via counter-piracy activities and the improvement of counterterrorism capabilities in coastal states through joint exercises.

Furthermore, while it is thought that the initiative includes a strategic intention to expand its infl uence in the region, it is possible that the construction of infrastructure based on the initiative will further promote the activities of the PLA in the Indian Ocean, Pacifi c Ocean and elsewhere. For example, by supporting the construction of port infrastructure in Pakistan, Sri Lanka, and other Indian Ocean countries, it is possible that China attempts to secure ports to call, and further improve the operational capabilities of the PLA Navy in the further waters such as the Indian Ocean.
Japan recognises the BRI as a danger because its been here before. BRI is eerily familiar to Imperial Japan's "Greater East Asia Co-Prosperity Sphere" of 1930, Via Britannica:
In the 1930s an aggressive new colonialism developed on the part of the Axis Powers, which developed a new colonial doctrine ("living space" in German geopolitics, the "empire" in Italian Fascist ideology, the "co-prosperity sphere" in Japan) aiming at the repartition of the world's colonial areas, justified by the supposed racial superiority, higher birth rates, and greater productivity that the Axis Powers enjoyed as against the "decadent" West. To this the Japanese added a slogan of their own, "Asia for the Asians." In fact, the three powers aimed at carving out for themselves vast, self-sufficient empires.
Others also know. The few ANZACs that remain for instance (listen from 13 minutes).
Now, just take a minute to consider that it is only 20 years ago that Australia loved to listen to the Dalai Lama. Yet here we are two short decades later and it is fine for Australian citizens to be tortured by the CCP without disrupting the trade relationship as Beijing holds the reigns of the Morrison Government majority and so called "journalists" demand silence.
Now, fast forward another twenty years to consider where this trend leads: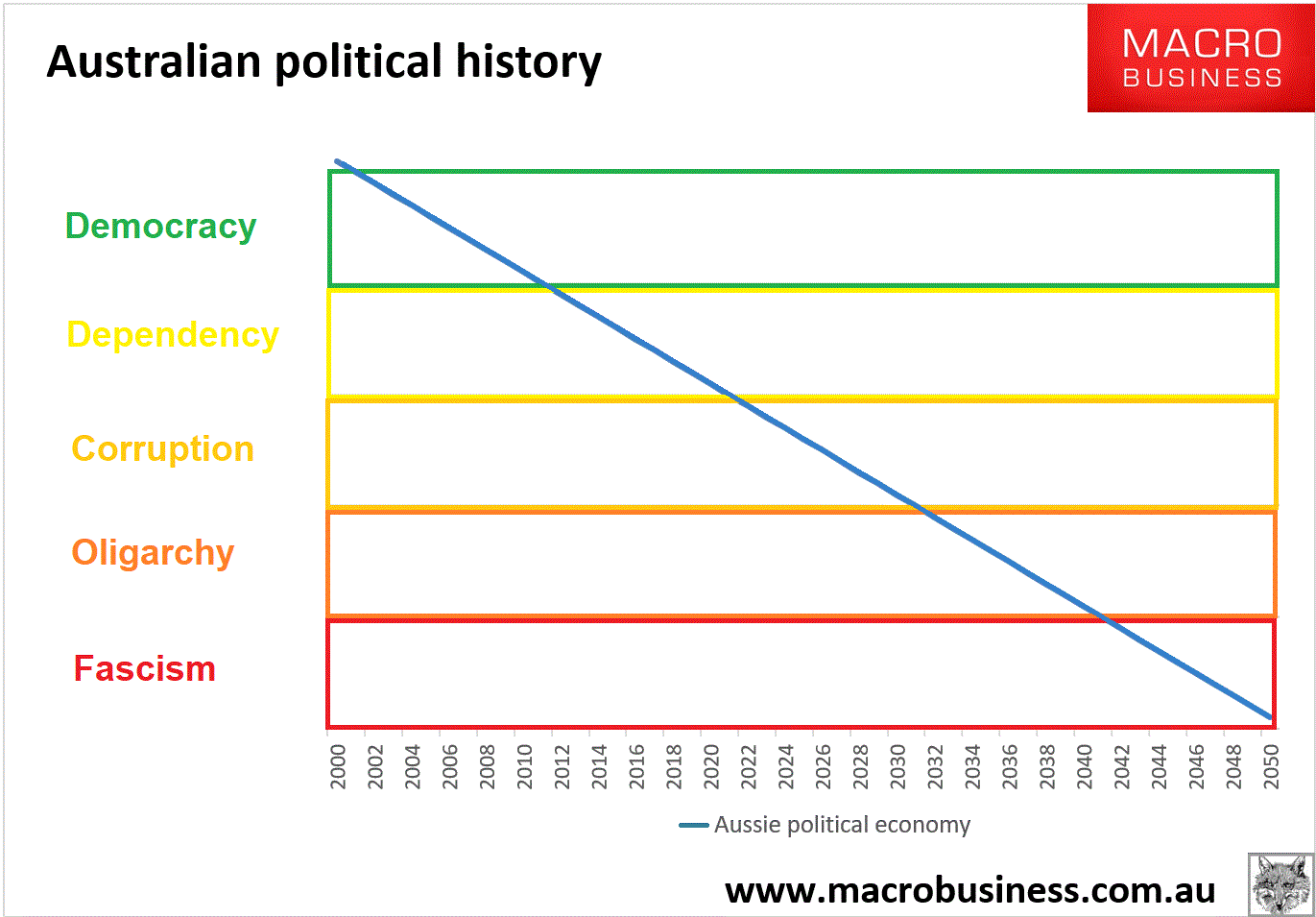 We have already seen our political system pass from a robust democracy into an a fascistic economic dependency. The corruption phase is well underway leading to oligarchic power structures within the dominant houses and holes China dependencies. Next up is fascism as one of three things happen:
mass Chinese migration takes control of the political economy as enough seats in the parliament are occupied by Beijing-influenced communities (probable under current policy settings) or
a north Asian conflict leads the US to abandon its Pacific protectorates (very unlikely), or
one or several of the first step leads to US-backed military coup given the widening schism between Australia's CCP-corrupted pollies and our US-aligned security forces.
Voila! Fascism.
Tomorrow: How to avoid it.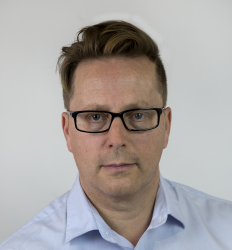 Latest posts by David Llewellyn-Smith
(see all)