by Chris Becker
One of the struggles of successful investing is that a majority of your returns come by following along with the herd as prices rise, but to convert these ephemeral gains into actual returns almost always involves turning around and getting in the way of the crowd as they stampede to ever higher highs.
Locally, the ASX200 is nearing its former nominal high from 2007 after a record run, as the RBA rejoins the global accommodating central bank policy crowd:

But it's not just local stocks. This is a global phenomenon in the post-Great Recession age as monetary authorities use almost every play in the book to inflate assets as meta money and debt levels continues to new highs as the price of money falls to record lows.
US stocks have had their best monthly return in over fifty years, capping off a near decade long rally from the GFC lows. Goldman Sachs shows its basically been every risk asset and "safe" asset out there that has gone sky high: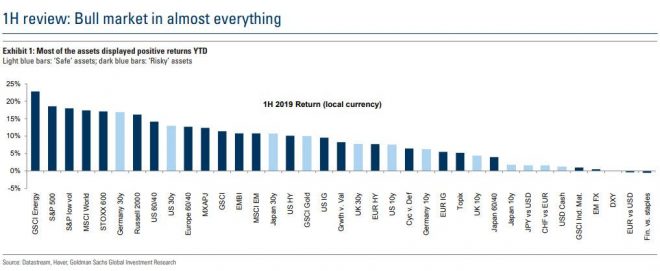 Not even a potential hot war in the Gulf, a growing trade war between the world's two biggest trade partners nor the disastrous Brexit campaign amid a flailing continent unable to enact fiscal hegemony can stop this bubble!
Indeed, central banks are getting even more dovish as risk assets reach epic valuations level, with more expectations following last month's speech by outgoing ECB President Mario Draghi to extend the asset buying program, the recent dovish June FOMC meeting where more rate cuts are almost a certainty and by the BOJ Governor Kuroda recently backing the "whatever it takes" mantra to get back to the magical 2% inflation target.
And investors are flooding in, with US equity funds getting a flood of easy money in recent weeks – more from FT:
Equity mutual and exchange traded funds had $14.3bn in net inflows for the week to Wednesday, the largest amount since March last year, according to EPFR Global data. US equity funds were the drivers with $17.8bn of inflows, the highest weekly total in three months.

The funds data were released on the same day the S&P 500 index of the largest US public companies hit a new record, eclipsing the previous high reached in April.  The FTSE All-World index, which tracks the world's largest companies, is up 15 per cent for the year.

Ash Alankar, head of global asset allocation for Janus Henderson. "Looking ahead, conditions reflect a 'goldilocks' environment with dovish central banks, continued growth and muted inflation."
When analysts start calling this situation "the 'goldilocks' environment" then it's time to consider your hedges against the usual way bull markets end.
Latest posts by Chris Becker (see all)