by Chris Becker
Following the jump in USD on the Friday night unemployment print, the PBOC has re-entered the easing game, resetting the Yuan fix to a much lower 6.8881 from Friday's 6.8697. Offshore trading in Yuan (USDCNH) is already moving back above 6.89: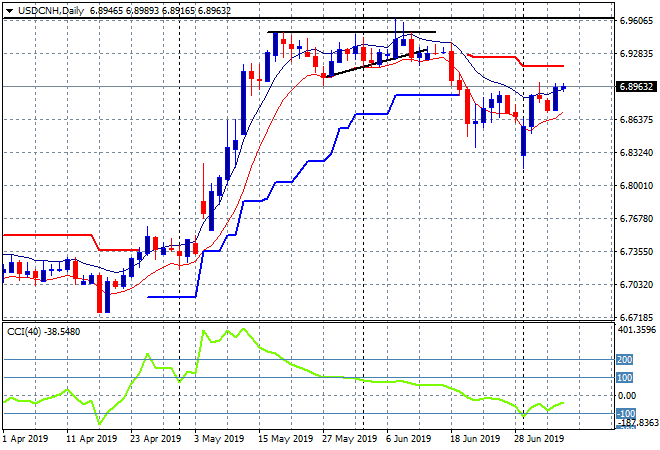 This is part of Beijing's ongoing manipulation of its currency as the US/China trade war continues without anything but hot air from both sides. A new article from the South China Morning Post highlights how brittle the facade is:
The accord signed between Chinese President Xi Jinping and US President Donald Trump at the G20 summit in Osaka is not a deal, even if it does offer some hope the two leaders might one day achieve an agreement.

Much has been made about the "breakthrough" at their high-stakes meeting, when the pair agreed to resume the negotiations that had fallen apart in May, bringing to an end a months-long impasse.

But while the truce may have prevented the tit-for-tat tariff war from escalating into a full-blown trade war, and saved China-US relations from deteriorating further, little has changed from the last time they met.

The accord, in which the two leaders agreed to refrain from imposing new or higher tariffs on each other's goods, is similar to what emerged from the last Trump-Xi meeting at the G20 summit in Argentina in December.
Trump recently came out swinging (well, with his mate Jeffrey Epstein perhaps) that the Federal Reserve should start manipulating the USD in response to the Chinese and Europeans:
In a tweet, the president said if America doesn't act, the country will continue "being the dummies who sit back and politely watch as other countries continue to play their games — as they have for so many years."
Trump's own Treasury Department in May found that no country meets the criteria of being labeled a currency manipulator, although the report did put China and eight other countries on a watch list.
A weaker dollar would boost U.S. exports but could run the risk of causing foreign investors who are helping to finance the federal government's $22 trillion national debt to move their investments elsewhere to avoid the risk of currency depreciation lowering their returns.
Swings and roundabouts.
Latest posts by Chris Becker
(see all)