The Australian Council of Social Service (ACOSS) has released a survey of Newstart recipients, which reveals that the overwhelming majority are forced to skip meals:
People who receive Newstart or other allowances have an income that is well below the poverty line. The single rate of Newstart is $282 per week, which is more than $100pw below the poverty line, and less than 40% of the minimum wage. Youth Allowance is even less…

84% of respondents receiving Newstart or Youth Allowance said that they skip meals to save money. The largest proportion of people who responded to this (132 of 416) said that they skipped 3-4 meals each week…

Worryingly, on average, 47% of people skipped more than five meals a week, and 12% said that they skipped more than eight meals per week.

For people on Newstart and other allowances, their income is so low that they must treat food as a discretionary item…

Many reported that they had to go without healthcare and other essentials because of the cost…

Housing costs generally comprise the largest component of people's budgets…

More than half of respondents (59%) had less than $100pw left over after paying for housing costs, or $14 (or less) a day. 39% were left with $50 or less a week after housing.

Anglicare Australia surveyed 69,000 properties in April 2019 and found that Australia-wide, there were just two properties that would be affordable for a single person without children on Newstart (and receiving Rent Assistance)…

ACOSS is calling for a $75pw increase to allowances, in conjunction with a 30% increase in Commonwealth Rent Assistance to help people in private rentals.
Australia's unemployment benefits are the lowest in the OECD: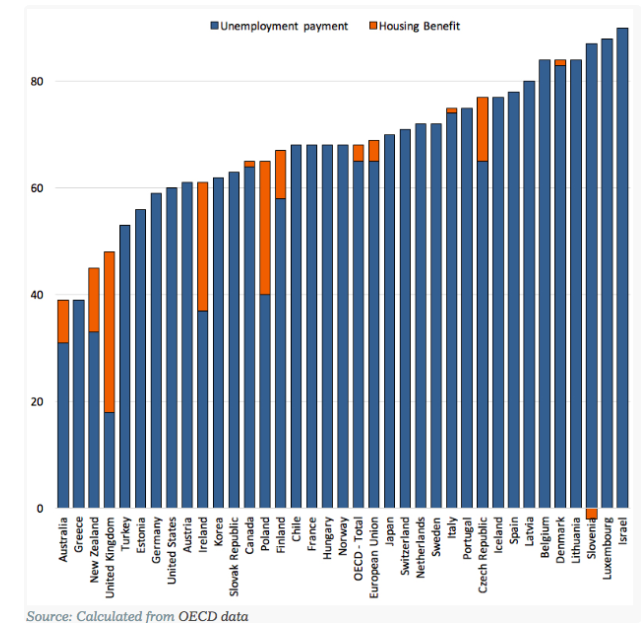 And well below the poverty line: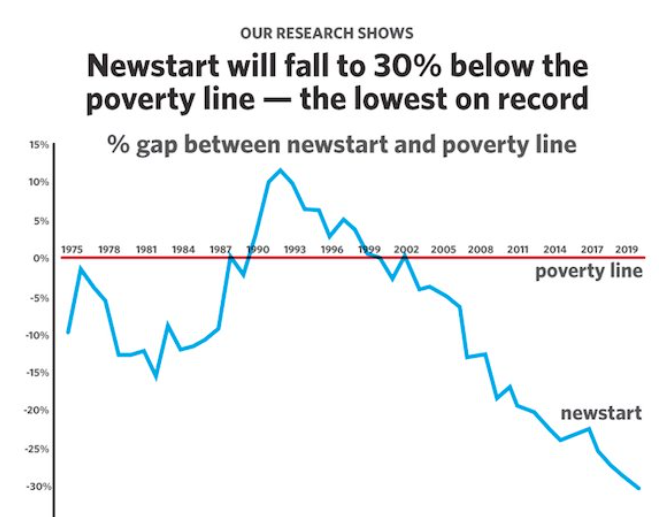 Remarkably, Prime Minister Scott Morrison last week told Coalition MPs to prioritise raising the Aged Pension, despite the fact that the Aged Pension has received significant increases by comparison: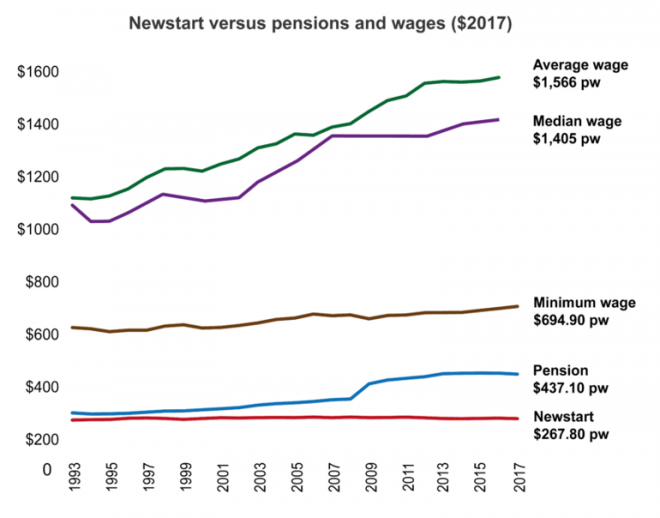 The number of seniors paying tax has halved:
And on average senior households are paying less income tax in real terms than senior households did 20 years ago:
If there's one segment of society that deserves taxpayer support, it's the unemployed, not retirees.
Leith van Onselen is Chief Economist at the MB Fund and MB Super. Leith has previously worked at the Australian Treasury, Victorian Treasury and Goldman Sachs.
Latest posts by Leith van Onselen (see all)