The extraordinary growth in international student numbers (see below chart) has led to accusations that Australia's tertiary education providers are using them as "cash cows" to be milked for easy fees and profits: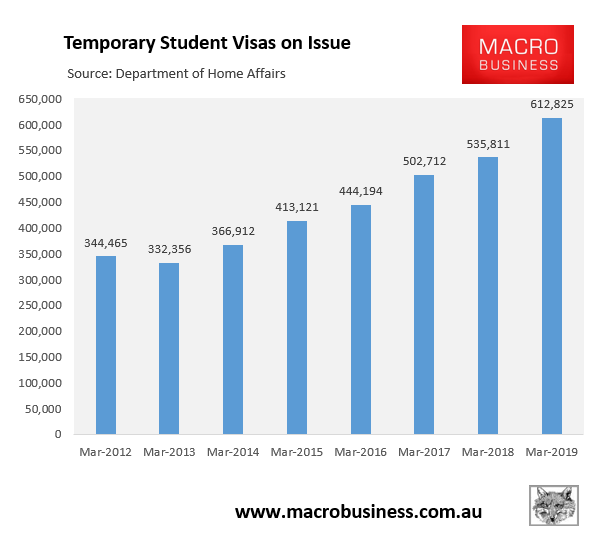 And it's not hard to see why. As illustrated in the next chart from the NSW Auditor-General, fees from international students roughly doubled over three years and now dwarf those from domestic students: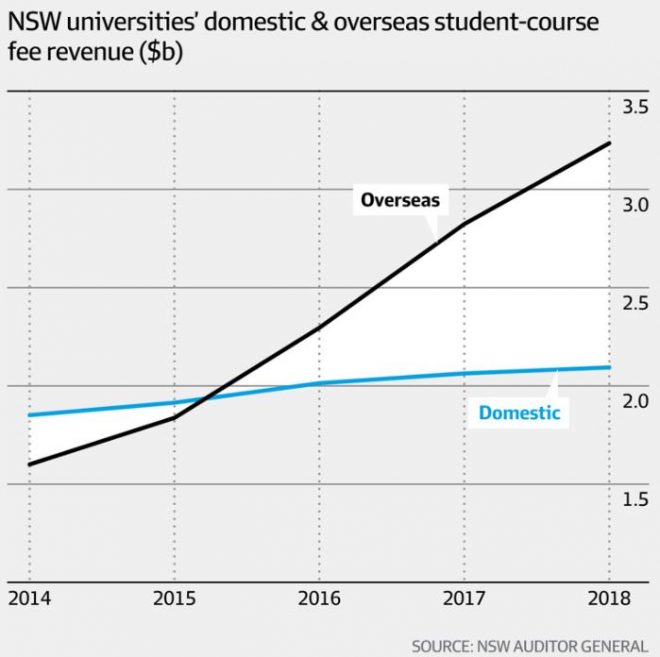 The easy profits on offer has seen private education providers spring up like mushrooms in a bid to get in on the action. Last month we reported how services business, Education Centres of Australia, is preparing for an IPO off the back of surging revenue from international students, especially from India and Nepal:
ECA founder and CEO Rupesh Singh delivered the pitch to fund managers in Sydney and Melbourne late last week, alongside CFO Naresh Bishnoi and chief operating officer Gavin Dowling…

ECA told fund managers it made about $100 million a year at the revenue line, had more than 15,000 applications in 2018, takes on more than 7000 students a year and has had more than 50,000 graduates…

The company reckons it can take international students through various stages – from assisting with English language courses, to pathways to university, through their degrees and internships and full-time employment post degree…

It said 54 per cent of its students came from India and Nepal…
Last week, FTAlphaville ran a similar report on Navitas – another company which is cashing in providing agency services to Non-English Speaking (NES) students seeking to study in Australia:
Earlier this year, a consortium of buyers took an Australian company private in a multi-billion-dollar deal. The move wasn't a play on commodities, real estate or any other of the other lines of business you might associate with the country's economy.

Instead, it was all about education.

Navitas, which was founded in Perth in 1994, was bought for $1.5bn USD by a consortium which included private equity firm BGH, Australiansuper, the country's largest pension fund, and Rod Jones, its former chief executive.

Its business model relies on the huge rise in international students looking to study in English-speaking countries. Navitas is part of a little-understood network of companies and agents that influence where these students end up — and which university receives the lucrative fees they are willing to pay for a Western education…

Navitas had an annual turnover of $930m in 2018, and has 45 partnerships with universities around the world, which provide more than half its revenues…

Other business are involved in the increasingly valuable supply chain for international students. The following graph, from the Navitas takeover documents, captures the scale of the commercial opportunity which Australian institutions have flocked to participate in…
It is worth highlighting that these private companies are targeting NES students, such as those from India and Nepal. As MB has documented previously, such students are over-represented in cases of plagiarism, academic misconduct and underperformance, as documented in May's Four Corner's expose and elsewhere. They also tend to use education visas as a backdoor to accessing working rights and permanent residency
Therefore, providers like ECA and Navitas are likely to drive further degradation of tertiary education standards across Australia.
Put simply, Australia's higher education system being has been commercialised into a system where international students pay huge fees to effectively buy their qualification, often for the express purpose of gaining work rights and permanent residency.
This process has been facilitated by the tertiary institutions themselves, who have relaxed both entry and teaching standards in a bid to maintain the flow of international students and fees.
The big losers from this scam are domestic students and recent graduates, who are having their degrees devalued. Residents and workers across Australia's major cities are also having to put up with rising congestion and lower wages as international students are exploited en masse across the labour market.
Given the plethora of scandals reported across the tertiary education sector via the international student trade, removing the direct link between studying in Australia and permanent residency is essential to cleaning up the system.
Australia's education sector must be forced to compete on quality and value alone, not as a means of circumventing immigration policy for backdoor permanent residency.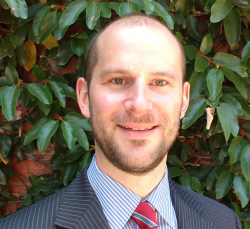 Latest posts by Leith van Onselen
(see all)