In MB's 2018 Christmas special report, entitled "The Great Australian Housing Crash", we anticipated a "strong probability" of a housing "crash" for Sydney and Melbourne, loosely defined as a peak-to-trough decline in values equal to or greater than 20%.
However, we noted that this outcome would "hinge on Labor following through with its commitment to limit negative gearing to newly constructed dwellings and halving the capital gains tax discount, as well as the response (or lack thereof) from the federal government and Reserve Bank".
With the 2019 Federal Election done and dusted, and the Coalition re-elected in a shock result, the outlook has changed. Labor's negative gearing and capital gains tax (CGT) reforms are dead. First home buyer (FHB) deposit subsidies have been announced. The Australian Prudential Regulatory Authority (APRA) has announced cuts to both its interest-rate buffer and smaller bank mortgage capital requirements. And the Reserve Bank of Australia (RBA) has begun cutting interest rates, with further cuts to come.
The rest of this report unpicks these issues, alongside their implications for the housing market and the broader Australian economy.
The housing story so far:
Following five years of unrelenting growth, Australia's housing stock valuation hit an unprecedented 8.1 times employee incomes in June 2017, but has since retraced to 7.3 times incomes as at March 2019: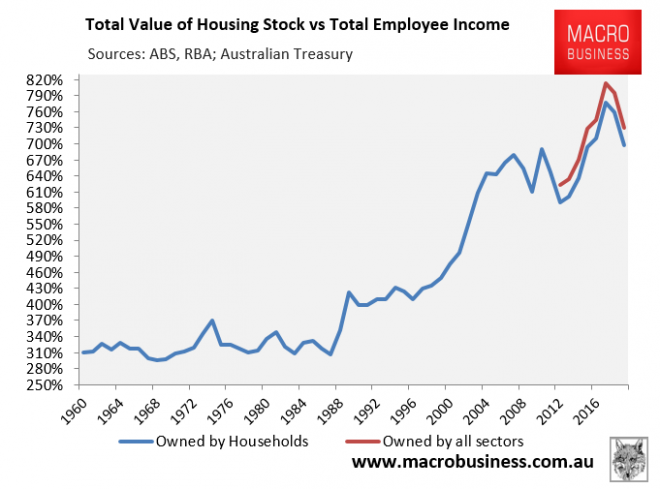 The decline in Australian dwelling values has been driven by Sydney and Melbourne, where prices have fallen sharply, as well as Perth whose correction is approaching five years in duration: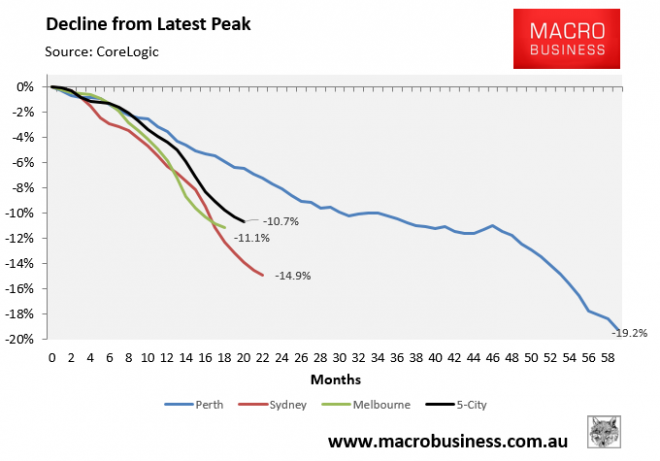 As at the end of May, CoreLogic's 5-City index had fallen by 10.7%, driven by falls of 14.9% in Sydney, 11.1% in Melbourne, and 19.2% in Perth.
Most short-term indicators are pointing to near-term weakness; although most pre-date the May 2019 Federal Election and recent policy and interest-rate easing.
First, Auction clearance rates remain soft; albeit are clearly rebounding in both Sydney and Melbourne: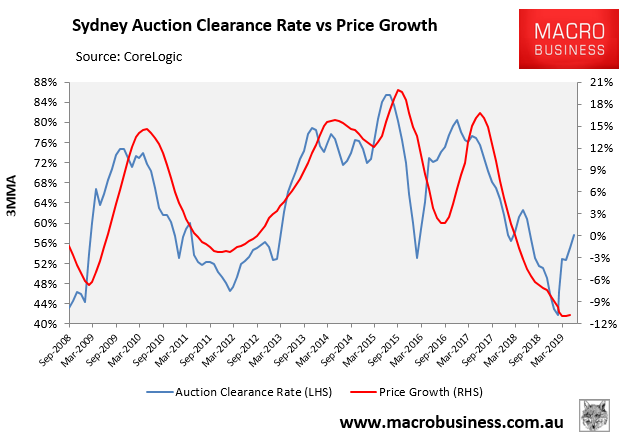 As shown in the above charts, there is a strong correlation between auction clearances and dwelling price growth, with clearance rates typically leading prices.
Thus, the rebound in clearances across Sydney and Melbourne suggests that dwelling values across both cities are turning the corner; although we need further confirmation to be certain.
On the other hand, housing finance growth has collapsed, which historically has also shown a very strong correlation with dwelling price growth: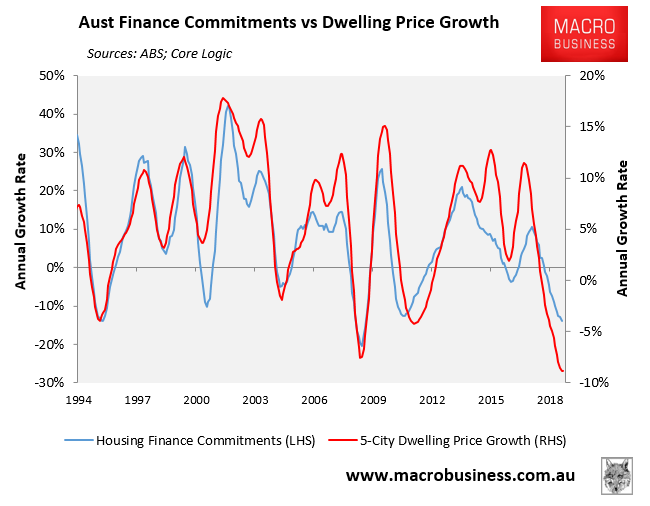 The situation is most acute in Sydney and Melbourne, which have the highest concentration of investors, making these two markets particularly prone to an investor-led downturn: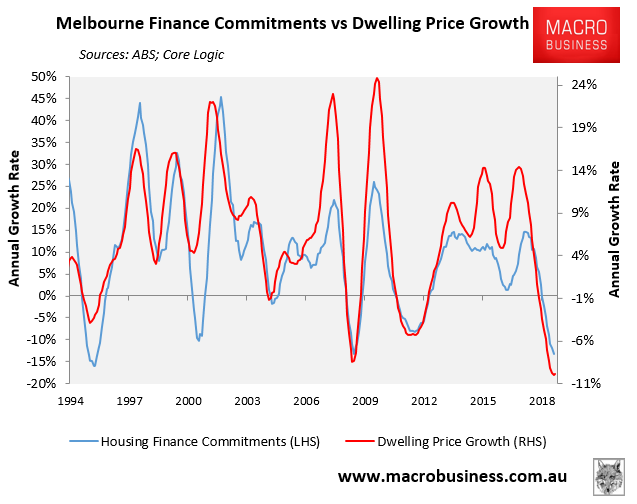 Third, sales volumes have collapsed, which like finance commitments is highly correlated with prices. At the 5-city level, sales are tracking at 33% below their most recent peak: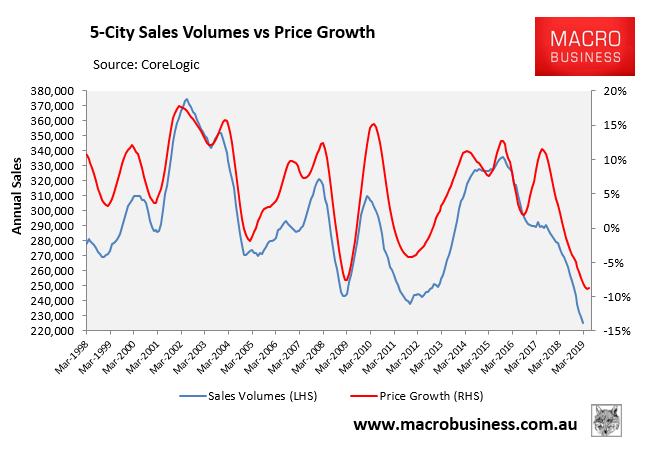 Whereas sales are 45% and 35% lower respectively in Sydney and Melbourne: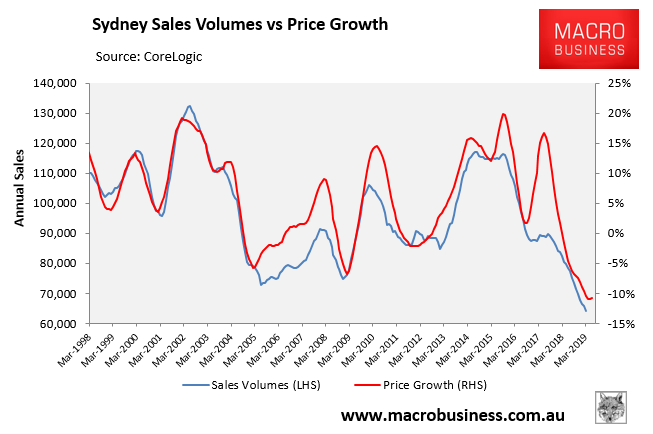 Fourth, survey data from NAB suggests that foreign buyers have pulled back sharply from the Australian housing market: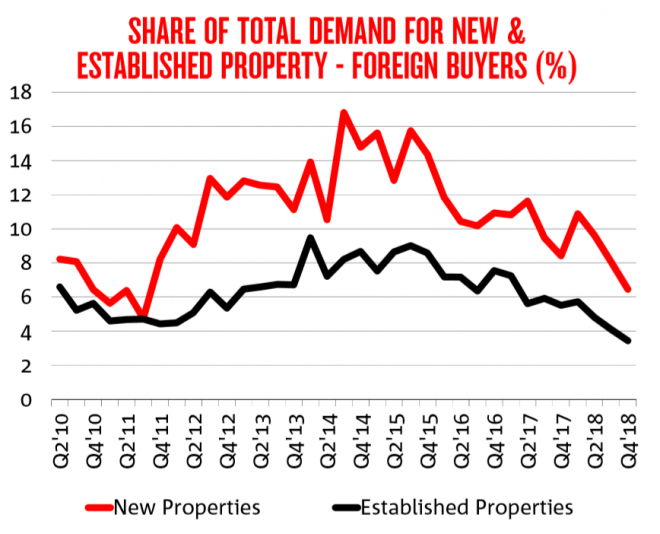 Fifth, the inventory of unsold homes has accumulated. According to CoreLogic, there was 5.3 months of housing supply available for sale in May, which for that time of year is by far the highest months of supply since 2012: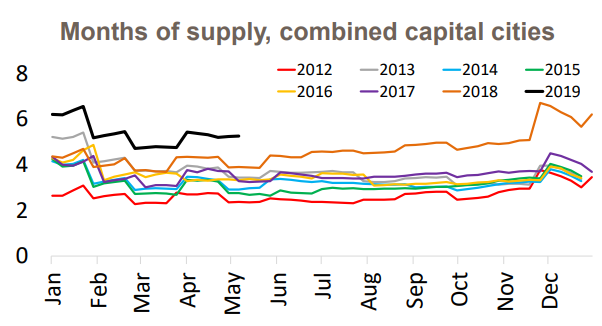 There is currently 4.1 months of supply in Sydney and 5.9 months of supply in Melbourne, which are also the highest levels for that time of year: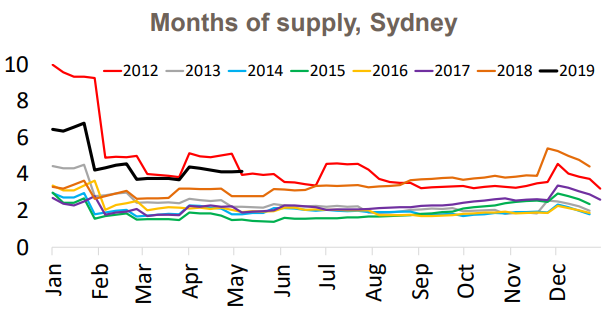 All in all, the near-term indicators are pointing to further weakness. However, they do by-and-large pre-date the Federal Election and subsequent policy and monetary easing, which we discuss below.
The policy cavalry has arrived:
A week before the Federal Election was held on 18 May, Prime Minister Scott Morrison announced a surprise FHB deposit subsidy scheme, which Morrison admitted had been developed by Australia's property lobby for the express purpose of stabilising house prices:
"We want to see more first-home buyers in the market, absolutely, and we don't want to see people's house prices go down" – Prime Minister Scott Morrison, 13 May 2019.
While the scheme was initially slated to apply to only 10,000 FHBs annually, and would be issued on a first come first served basis, Prime Minister Morrison later suggested it would be demand-led with no quotas or restrictions, thus enabling major centres such as Sydney and Melbourne, where housing prices are highest, to dominate its usage.
Just three days after the Federal Election, APRA announced that it would abolish its 7.25% minimum interest rate floor used in borrower loan serviceability assessments and replace it with a minimum interest rate buffer of 2.5% above the lender's mortgage rate. This change is stimulatory for the housing market as it will allow lenders to progressively lower their serviceability floor as the RBA cuts the cash rate, thereby enabling banks to extend bigger mortgages to more customers.
Indeed, according to Fidelity International investment specialist, Anthony Doyle, "the APRA changes will improve the borrowing capacity of the average mortgagee by 8%. If you see two rate cuts by the Reserve Bank this year, the capacity of the mortgagee will increase by 15%". UBS has similarly estimated that "APRA's removal of its interest rate serviceability floor may improve maximum borrowing capacity by around 14%".
Later in May, APRA loosened further, announcing that it would lower the standard mortgage risk weigh applied to smaller Australian deposit-taking institutions (ADIs) by 10 basis points to 0.25%. This change is also stimulatory for housing as it will allow these smaller ADIs to hold less capital against mortgage lending and expand the amount of funds that can be lent (other things equal).
In our Christmas special report, we argued that APRA's interest-only mortgage restrictions presented ongoing headwinds for the housing market. This is because borrowers forced to switch from interest-only to principle and interest mortgages faced a 35% increase in mortgage repayments, according to the RBA, thereby representing a drain on household cash flow and consumption, and potentially resulting in some forced-sales as borrowers struggle with cash flow.
The situation has since eased materially and will likely become tailwinds for the housing market. As shown below, the interest only (IO) mortgage bubble that drove the last leg up in Australian house prices has now massively de-risked. The March quarter saw IO mortgages fall to rock bottom levels as the Hayne Royal Commission did its work: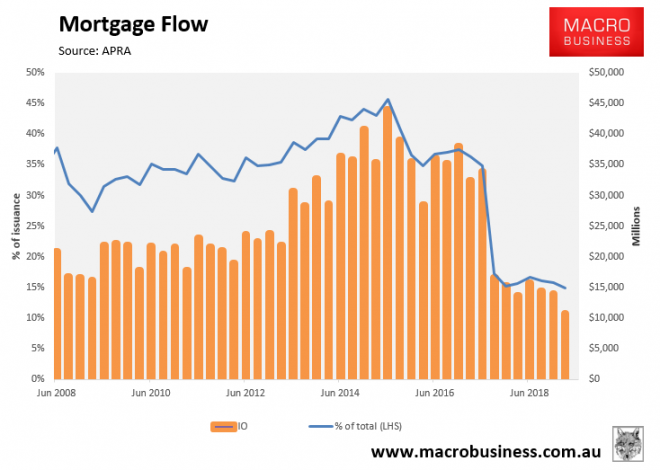 And this has dragged the stock of IO loans down to very low levels as a proportion of the total mortgage book: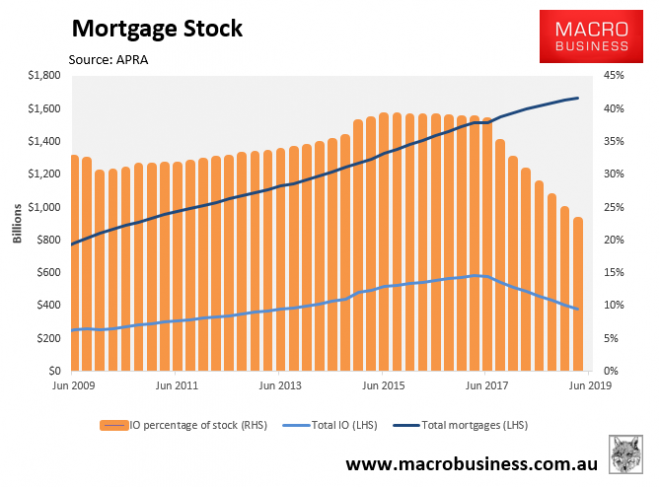 Given that IO mortgages have fallen so far, we believe that banks will soon gradually loosen the IO lending spigots. The levels are now so low that they could rebound for a year without raising alarm bells, thus have swung from a headwind to an upside risk for house prices.
Finally, the RBA has reversed track and begun cutting interest rates. Earlier this month, the RBA cut the cash rate to a record low 1.25% and markets are pricing a further two to three rate cuts over the coming year (MB believes rates will be cut until the cash rate bottoms at 0.5%). In response, ANZ passed on 18 basis points of the rate cut, CBA and NAB 25 basis points, and Westpac 20 basis points.
These rate cuts will obviously increase the potency of APRA's relaxed interest-rate buffer, since loan serviceability requirements will now be eased proportionally as rates are cut.
When combined with the axing of Labor's negative gearing and CGT reforms, the headwinds facing Australia's housing market have unambiguously eased post-election.
But headwinds remain:
While a number of positive developments have occurred since the May Federal Election, some stiff headwinds remain for Australia's housing market, which should limit any rebound.
First, and most importantly, the way in which ADIs assess borrower expenses has been structurally altered in the wake of the Hayne banking royal commission, which handed down its final report in February.
In the years leading up to the Hayne royal commission, many ADIs used the Household Expenditure Measure (HEM) – a relative poverty measure – as their default credit assessment tool. The royal commission's interim report found that "three out of every four home loans examined in the course of APRA's 2016/2017 targeted review into home lending practices… assumed that the borrower's household expenditures were equal to the relevant HEM". Indeed, CBA and ANZ were pinged for defaulting to the HEM for three quarters of their loan assessments.
While the banking royal commission's final report did not explicitly outlaw the use of the HEM in assessing a borrowers' capacity, owing to the pending Westpac versus ASIC case, it did state that "both income and expenditure must be considered in first inquiring about, and then verifying, the customer's financial situation". The final report also implied that lenders must continue moving away from using the HEM in order to meet the responsible lending provisions of the NCCP Act.
According to Endeavour Equities, using the HEM to measure borrower expenses "upwardly biased Debt Service to Income ratios by 10-15%", and "the size of the credit crunch is directly proportional to the unreasonableness of the HEM expenses benchmark".
Looking ahead, the outcome of Westpac versus ASIC case is going to have a direct bearing on the legality of the benchmarks. So too will the outcome of private class actions, such as Maurice Blackburn alleging that Westpac was overly-reliant on the HEM benchmark when assessing mortgage loan applicants.
If Westpac loses these cases, then ADIs may be forced to abandon the HEM altogether and rigorously scrutinise a borrowers' capacity, with the end result being even tighter credit availability. Therefore, a lot is riding on these court cases.
In the meantime, a modified HEM will soon come into effect that will more accurately match expenditure benchmarks with income. According to UBS, this will constrain credit availability going forward and could offset much of the stimulus coming down the pipe:

Second, the retreat of foreign buyers looks structural. China tightened its capital account in a bid to prop up the value of its currency:

This capital account tightening helped to drive the subsequent decline in Sydney and Melbourne dwelling values, where Chinese investment was most concentrated: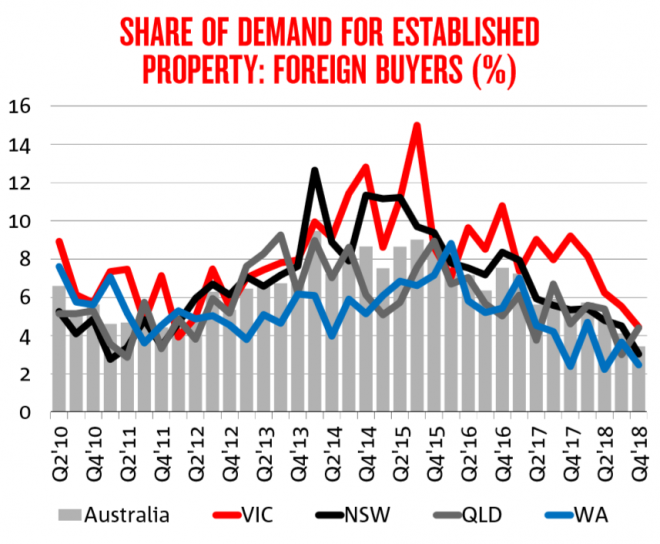 These capital account restrictions are only likely to intensify as China loses the trade war, forcing it to stoke domestic demand with lower interest rates, triggering further yuan pressures: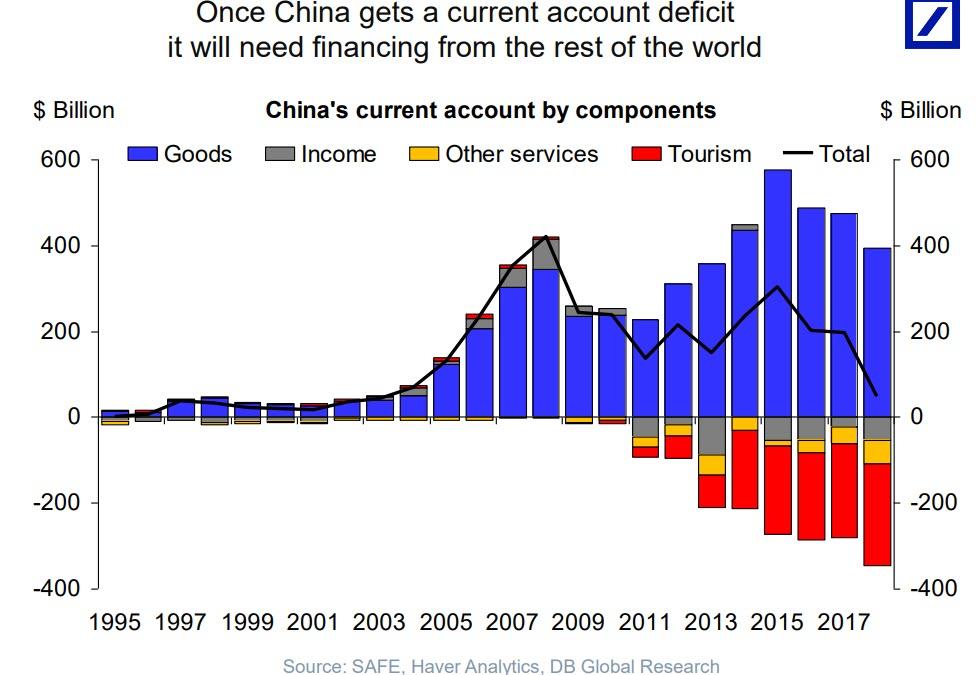 This means that more Chinese individuals and businesses will be unable to get money out of China and may, in fact, be forced to repatriate it.
We have already seen Chinese tourist and student arrivals fall, and there is the risk that it could snowball into the type of declines experienced in the late-1980s when Japanese arrivals crashed; although we see this as a tail risk.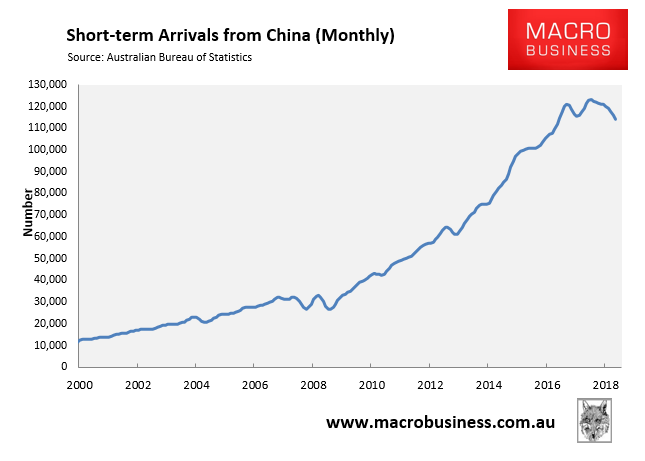 The third headwind is that the Australian economy is deteriorating and unemployment is expected to rise through the second half.
Jobs and the economy:
One large segment of Australia's jobs market that is set to worsen over the next 18 months is construction as Australia's record dwelling construction boom ends.
The ABS' Value of Construction Work Done data for the March quarter showed that residential construction activity fell for three consecutive quarters, down 6.1% from peak: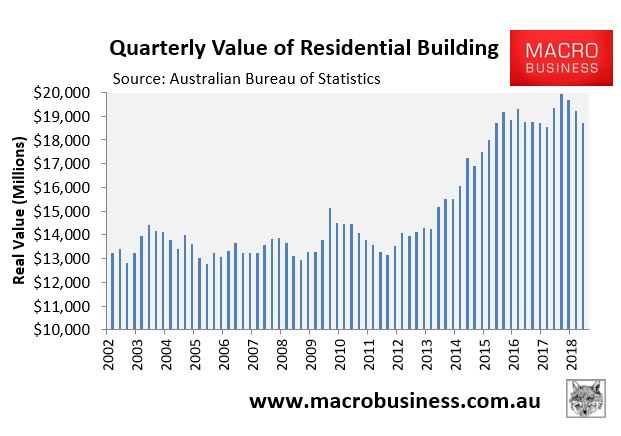 The ABS' forward looking dwelling approvals data also shows that approvals nationally are down by 27% in trend terms since initially peaking in March 2015, pointing to construction falls through 2020: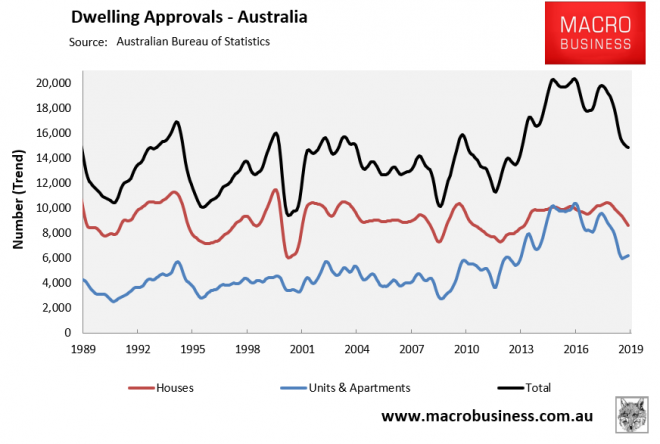 The housing construction downturn is yet to materially impact Australia's jobs market, with construction jobs down only slightly after peaking in May 2018: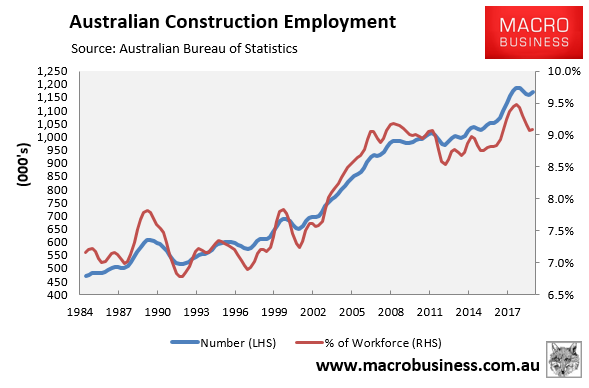 However, construction job ads have fallen sharply, according to Seek (below), with jobs site Indeed also posting a 25% decline. Alongside the crash in approvals, this points to troubles ahead.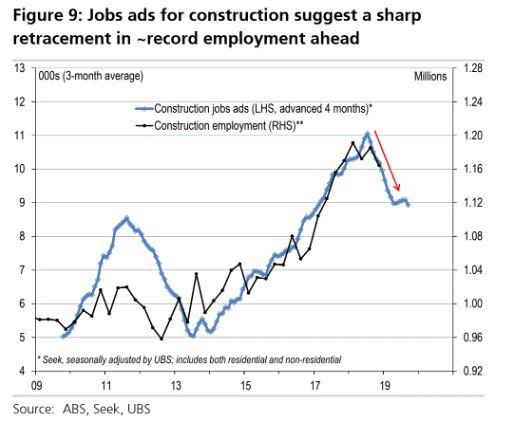 Meanwhile, the latest ASIC data shows that building industry insolvencies have risen to a four-year high in NSW and are approaching historical highs nationally: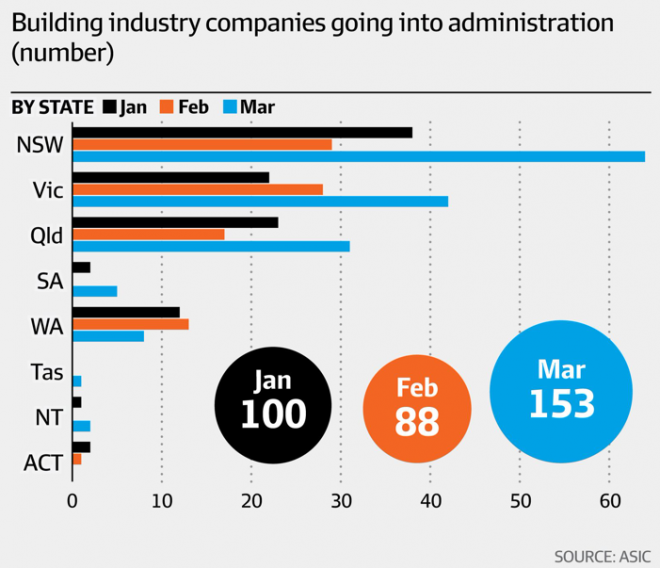 To add further insult to the construction outlook, the infrastructure construction pipeline is projected to fall over the next two years before rebounding in 2021-22: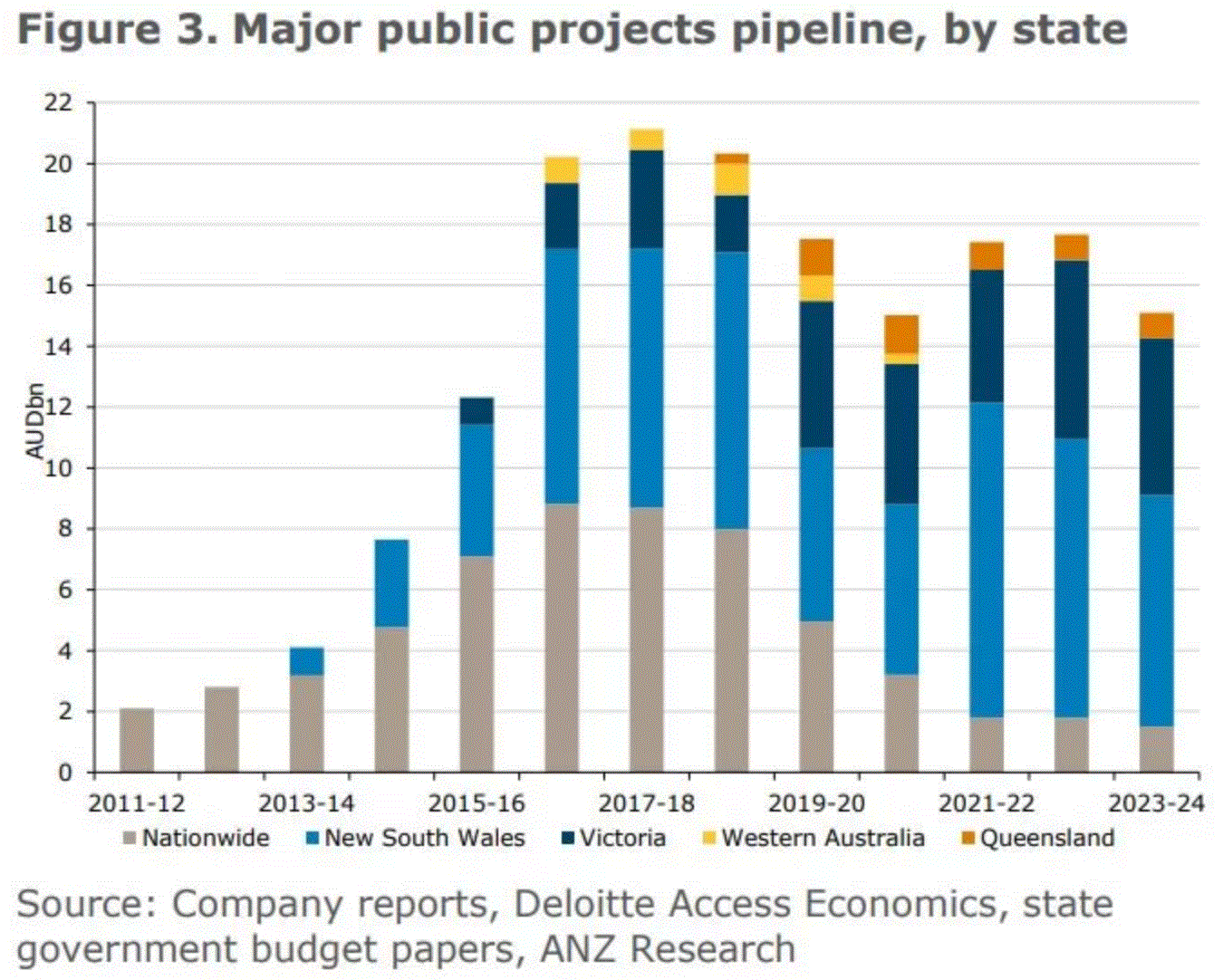 As shown above, construction alone makes up more than 9% of total employment across Australia, meaning that the housing and infrastructure construction downturn will necessarily drive up unemployment over the next 18 months (other things equal).
Another jobs risk is that ongoing weakness in house prices, whether prices falls or a modest rebound, further crimps household consumption, leading to more broad-based job losses across the economy.
According to the ABS national accounts, household consumption is worth 57% of GDP: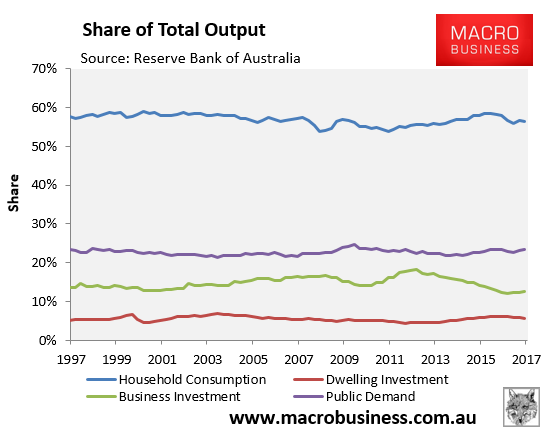 To date, Australian households have managed to maintain their consumption spending in the face of falling real household disposable income: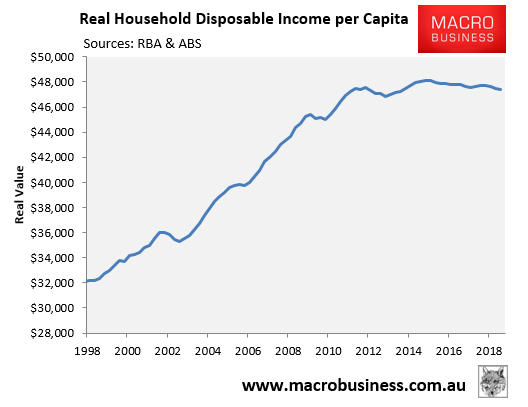 And this has been achieved by running down their savings and increasing debt to record high levels: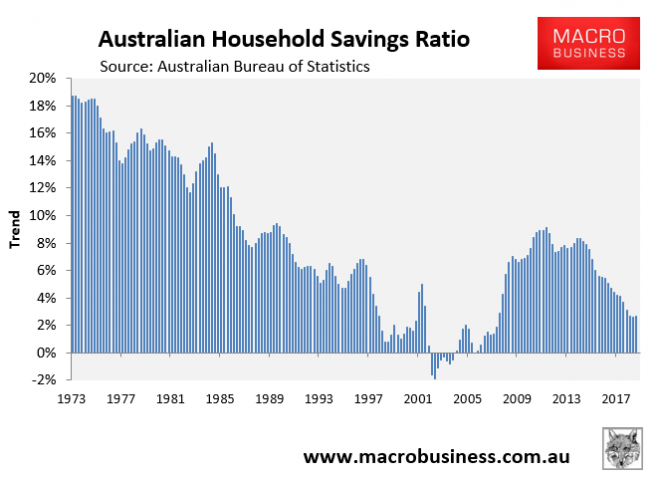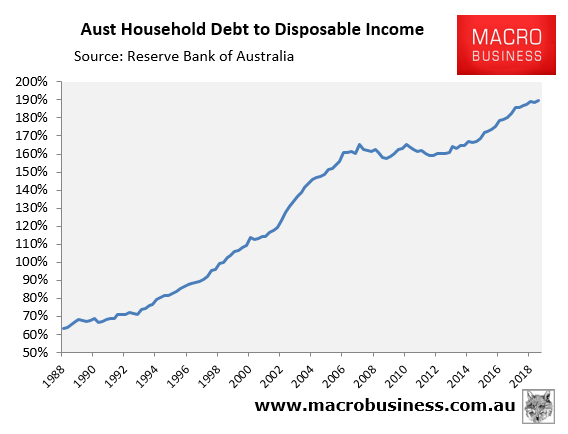 The saving rate has been falling since late-2011 and is currently tracking near the lowest level since the Global Financial Crisis (GFC). This means that expenditure growth over that period has outpaced income growth precisely because the saving rate has fallen and households have loaded up on debt in order to maintain a constant level of consumption.
There are obviously limits to this. At some point, the household savings rate must increase. And in the absence of a pick-up in wages growth, and housing wealth uncertain, this means household consumption growth must necessarily fall.
Reflecting these headwinds, the growth in real annual retail sales fell to just 1.1% in the March quarter – the lowest level since September 2011: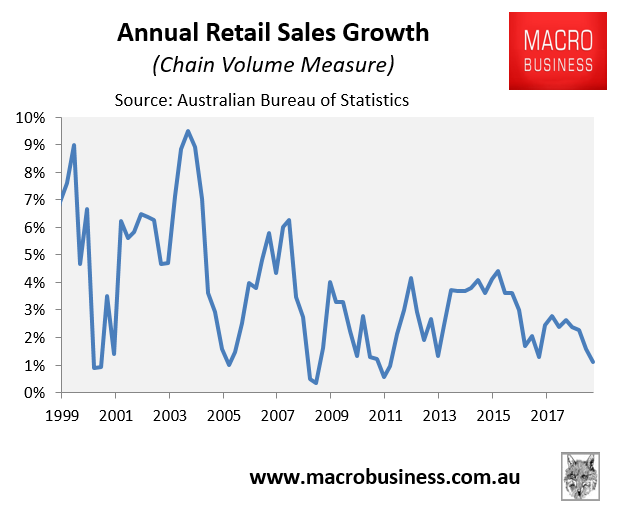 There has also historically been a solid correlation between dwelling price growth and retail sales: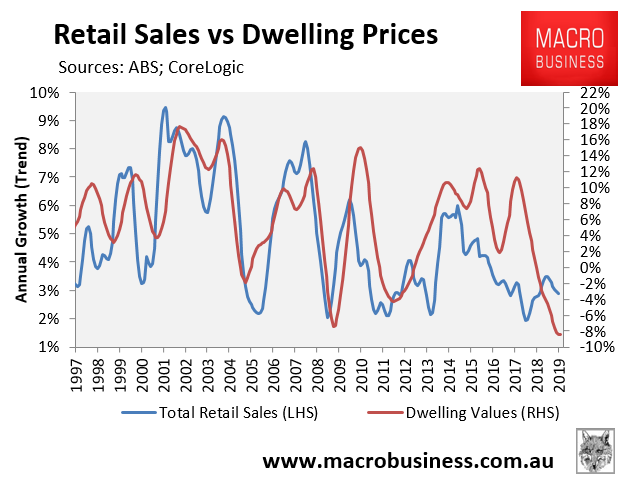 As well as dwelling price growth and household consumption: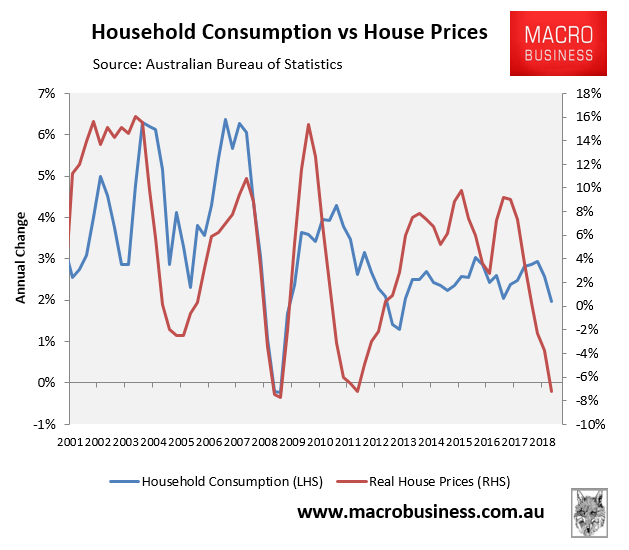 Therefore, the relative weakness of house prices will also help to determine household consumption, with direct implications for both 'jobs and growth' across the economy. There will be tax cuts to add some discretionary income for households but in such dour circumstances we expect some portion of them will also be saved.
The other job drivers of the economy are business investment and government consumption.
Based on the latest ABS Capex Expectations and NAB Business Surveys, we expect business investment – which accounts for 12% of overall final demand – to grow by 1% to 2% in 2019-20. Therefore, it should add slightly to overall final demand growth and negate the larger decline in dwelling investment. As the most recent NAB survey shows, capacity utilitisation in business has begun to fall and that generally meets with rising unemployment: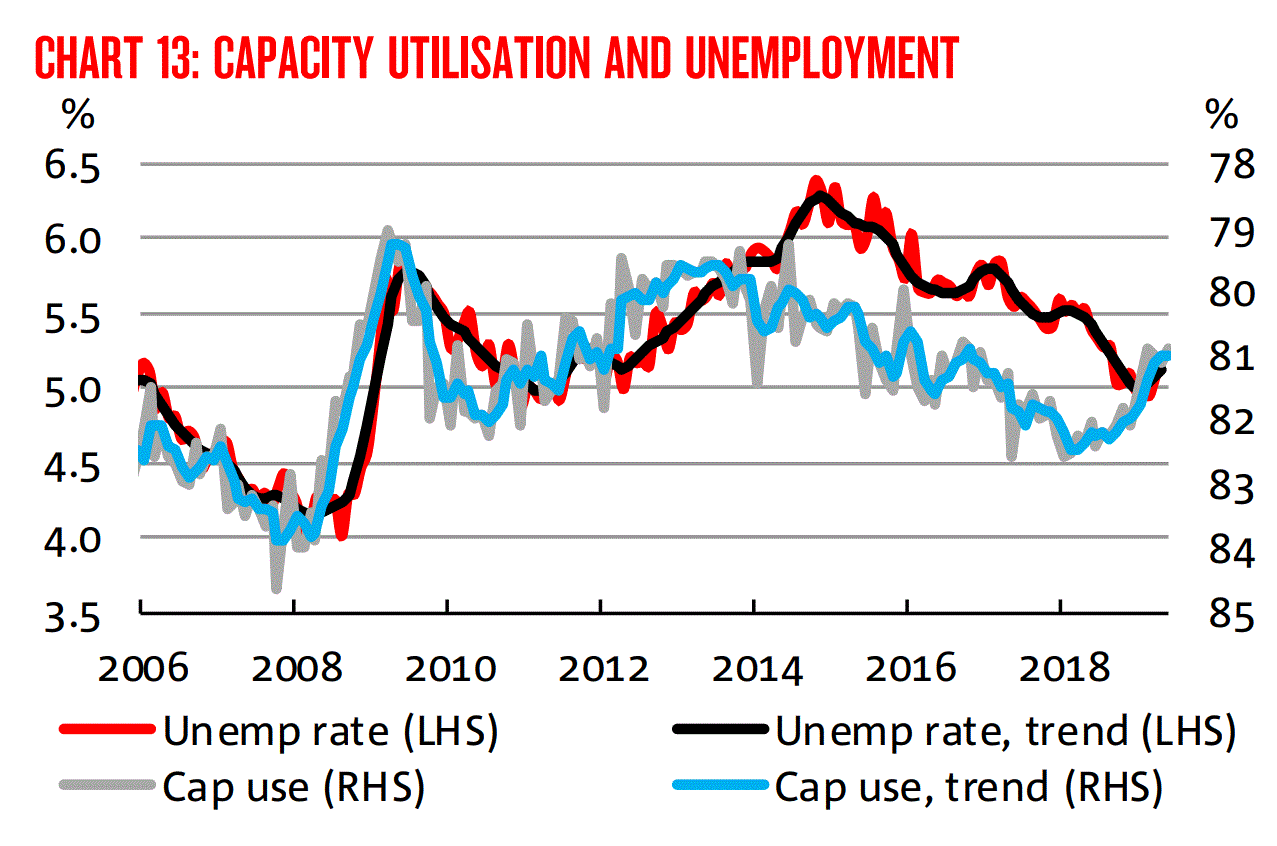 That leaves public demand which accounts for 24% of final demand and captures the current infrastructure boom as well as the roll-out of the NDIS. It has also been one of the biggest economic drivers over recent years, accounting for around half of final demand growth in the year to March 2019. We know public investment will stall, but government consumption spending is also being hit by state government austerity as property stamp duties collapse. VIC and NSW have announced nearly $6bn in job cuts and we also expect the contribution from the NDIS to slow. There will still be growth nationally but slower.
The upshot is that real final domestic demand has peaked and is expected to keep falling towards 2% over the next year, levels consistent with 2014/15: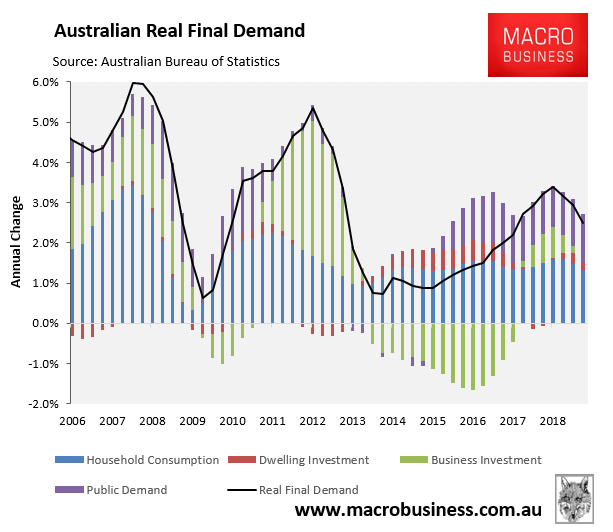 Housing to bottom, but rebound will be weak:
Weighing up the above factors, our base case is that house prices will bottom in the second half and post a weak recovery in 2020, perhaps at the rate of income growth, which will also struggle.
As explained above, Australia's authorities have moved swiftly to stimulate the market. Moreover, we believe that further policy stimulus is coming down the pipe. The RBA will cut all the way to a 50bps cash rate. APRA may also add more stimulus.
For example, Western Australia's Housing Minister, Peter Tinley, has been liaising with the Morrison Government on a nation-wide roll-out of Western Australia's Keystart low-deposit loan scheme, which allows eligible buyers to purchase a home with minimal deposit and without needing lender's mortgage insurance. Basically, it is a government-backed sub-prime loans scheme designed to suck marginal borrowers into the market.
We believe this is the thin edge of the wedge. Prime Minister Scott Morrison has been empowered by his election triumph and said explicitly above that "we don't want to see people's house prices go down". 
The earliest indications of a change in mood has arrived via the auction market, with both Sydney and Melbourne posting solid rebounds. But again, any rebound through 2020 is likely to be weak owing to the various headwinds outlined above, especially the stricter application of the HEM.
The global shocker and China:
The global context for Australia's next twelve months is quite complex and presents both headwinds and tailwinds, plus tail risks.
Currently, Australia is enjoying another of its periodic lucky booms in commodity prices. Based entirely on one mining accident in Brazil, which was very unfortunate for three hundred Vale workers, the iron ore price has skyrocketed to levels reminiscent of the mining boom good times: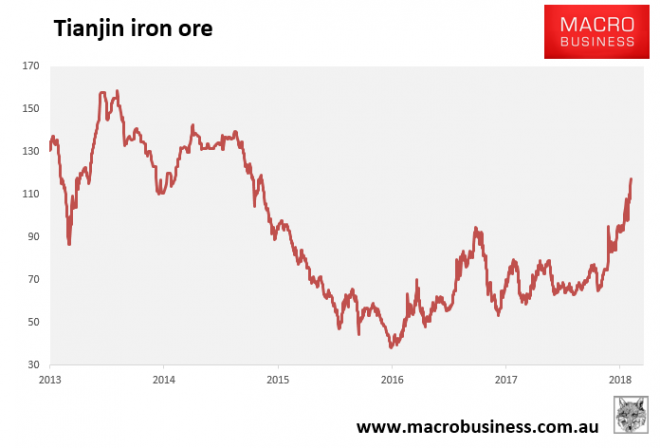 Typically such booms deliver positive income shocks via three channels:
share prices and dividends;
tax cuts as the Federal Budget overflows with corporate tax receipts, and
wage gains as investment increases.
Of these, the first channel has begun to work and will lift consumption at the margin. But it is by far the smallest impact of the three.
The second channel has been inhibited until now by a weak Budget coming out of the mining bust of 2015. But that is now passing as mining tax receipts surpass downgrades emanating from the weak economy and some modest tax cuts are planned in the short run, with more sizable relief much more distant. So this channel has been very constrained as well.
The third channel was the most powerful. But this mining boom is unique in that it based upon short term considerations for supply and investment is actually falling so not only is there no wage gains, they will weaken.
So, although the first of Australia's global impacts today is quite positive, relative to previous booms is it very weak. And as Vale's iron ore volumes return through 2019/20 will go swiftly bust. We expect iron ore to resume a structural bear market henceforth.
That brings us to the second of our global shocks to consider: China and its trade war with the United States.
Australia's key bulk commodities have so far benefited from the trade war as well. China has predictably responded to big declines in its industrial economy as global supply chains migrate to safer jurisdictions by building more empty apartments. Indeed, it has never built so many at any one time before: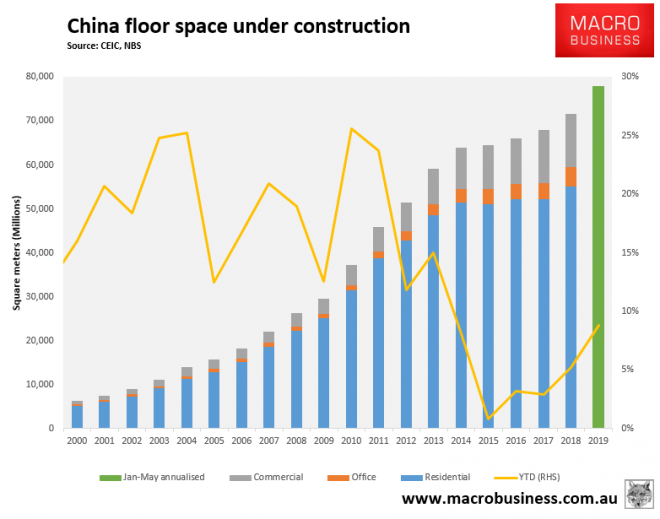 In the short term this is fair enough. But China is already estimated to have 60 million empty apartments and adding to that inventory obviously represents further large scale capital misallocation with negligible returns while adding to an already gigantic pile of debt.
We like to think of this as analogous to excessive and wasteful military spending in the USSR as it sought to compete with the US through the Cold War. In short, Russia's tanks are China's empty apartments and, at a certain point, the end result will be the same –  a total bogging down of the productive economy in useless activity that causes living standards to fall.
To be clear, we do not think that China will collapse at all like did the USSR. It is much more dynamic and diversified. But its growth rate is going to fall as productive output is choked off and income growth stalls. This will combine with a very poor demographic profile to shunt China into the "middle income trap" well understood in development economics. As this happens, the Communist Party of China will face increasing internal strife, making matters worse still.
The time frame is the tricky part but we're of the view that it will transpire in China steadily during the 2020s.
In short, the trade war represents a short term gain for Australia at the expense of a much longer term loss of Chinese economic support as a more dynamic future of services trade is replaced by closing borders and falling commodity prices. That means an ongoing Australian income shock from 2020 onwards, for as far as the eye can see, as bulk commodities fall.
As this drains Australia's fiscal firepower, we expect house prices and domestic demand to come renewed pressure, the RBA to be forced into QE and helicopter money and for the Australian dollar to keep falling, all the way back to 50 cents and below. Though we should be protected from worst case scenarios by other nations adopting QE and helicopter money to build infrastructure, helping offset the Chinese decline.
Other global shockers:
In the short term there are several other global risks worth mentioning. The US/China trade war is blowing back into US economic activity and, at a certain point, will also derail growth. That said, we do not see this as imminent because the Federal Reserve is now easing, supporting markets. But, if it does turn nasty, there is a very large pile US corporate debt that is an accident waiting to happen.
Second, Europe is not fixed. Brexit appears to be headed for a worst case outcome with Boris Johnston elected Prime Minister to execute a "hard" exit. This will be a material shock to markets, with all kinds of unknown consequences, the possibilities extending from roiled equities to debt events. We can expect a tanking euro and jumping US dollar to make matters worse. It is not a new GFC but could be enough drive global growth below 2%, effectively ending the business cycle.
There is also Italy which is still toying with a parallel currency and could exploit Brexit for its own ends.
Conclusions:
Australia has been whacked in the butt by another rainbow. The commodity save for the Federal Budget has prevented the housing bust from trashing the jobs market, almost exclusively thanks to public employment.
But we are already close to the peak of that happy circumstance with Australia fully deploying the last of it monetary firepower right now. It seems that it will be enough to kick off a new domestic housing cycle, but one that is little better than stillborn with constrained investment follow-through, weak wages, troubled consumption, soft jobs and growth.
And while we plod through that, the next shock creeps forward with every empty building erected in China. It will ultimately meet us naked of policy supports, demanding an historically lower currency.
Latest posts by MacroBusiness
(see all)