The Communist Party of China has turned deeply irrational. We've seen it paint itself into a corner on a trade deal, massively overreach in Hong Kong and now it is readying to push the trade war into commodities. Via Zero Hedge:
During a Monday press conference, the Chinese NDRC said it was developing new state policies on rare earth metals, and intends to make them public as soon as possible.

According to Deutsche Bank, the key conclusion from the recent meetings is that Chinese authorities are preparing to limit shipments of rare-earth permanent magnets in addition to rare-earth elements, thereby closing off what was termed an  "escape route" by the Global Times. Beijing's veiled threats to restrict exports of rare earth metals to the US have been called by many as one of China's nuclear options in a trade conflict with Washington. The US relies on China for about 80 percent of its rare earths supplies. The metals are used in everything from electric car motors and electronics to oil refining.

A second key conclusion, according to Deutsche Bank's Michael Hsueh, reflected the idea that traceability and illegal mining must be considered as possible circumvention modes. Traceability was tagged by the Ministry of Industry and Information Technology (MIIT) as an objective in January, along with suspension of licenses for companies violating limits. While China has yet to provide a description of the tracing technology, traceability would be doubly helpful in preventing the use of illegally mined materials domestically and enforcing any export ban. Illegal production was estimated at 40-50 kt in rare-earth oxides in 2015, compared to official output of 105kt that year.

As a reminder, the June 4-5 symposium between the NDRC and officials from key production regions resulted in recommendations to:

broaden, deepen and advance development of the rare earth materials industry,
study suggestions from local levels for innovation,
tighten total output control and crackdown on illegal activities,
strengthen export management with a traceability and review mechanism, and
improve protection of intellectual property in the rare earth industry.

In terms of timing, Deutsche believes that a post-G20 escalation of the trade conflict would likely be required for China to enact any export ban. From China's point of view, the ideal scenario would preferably involve a short period of export limits. Without the assurance of sustainably high prices, the rest of world is more likely to remain cost challenged and deficient in investment. In this regard, the ability to engineer rapid price declines is just as much of a 'weapon' as price spikes. To the extent that ex-China investment was hampered by the decline in prices after 2011, this suggests  ex-China incentive costs are likely above the USD 40/t level for PrNd oxide.
Talk about shooting yourself in the foot. The following chart tells the tale: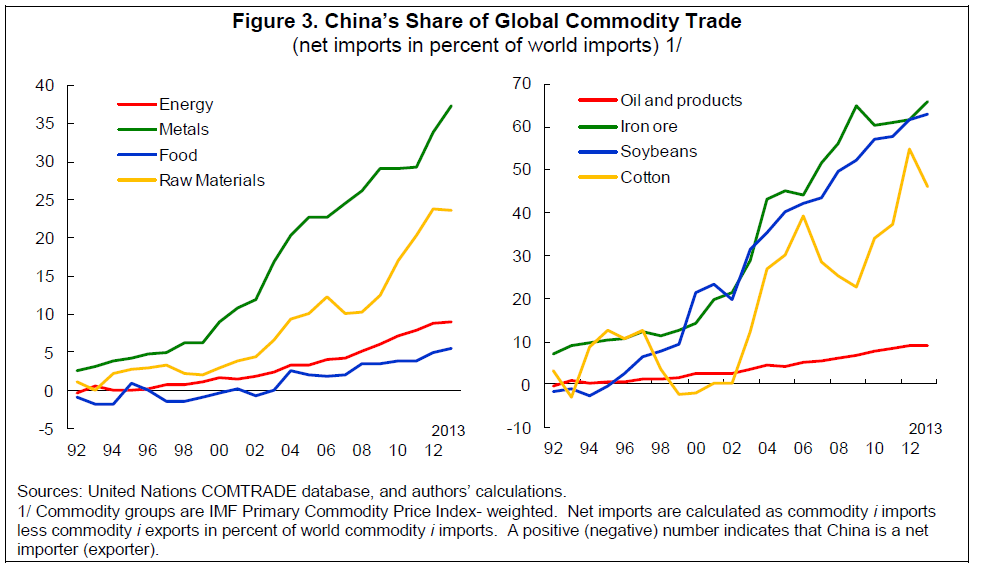 Yes, the chart is old but it's gotten worse not better. Meanwhile, the US is virtually self-sufficient in commodities and energy.
It's either crazy brave or crazy stupid. The US does not export much in the way of commodities to China but its alliance network certainly does. It might be argued that China is wedging US alliances by bringing commodities into the conflict. But is extraordinarily high stakes geo-politics. If an intensification of trade warfare does begin to draw in other commodities then only China loses. And massively so.
China is literally gambling everything on black.
Latest posts by David Llewellyn-Smith (see all)