Earlier this week, I provided a back-of-the-envelope estimate of the astronomical cost associated with Labor's reckless uncapped plan to allow migrants to bring two elderly parents into Australia for a continuous period of up to ten years.
In a nutshell, I argued that since there were already more than 7.3 million overseas-born migrants living in Australia (see below table), there is a good chance that Australia could see up to 1.5 million elderly migrants inundate the country, assuming just 10% of migrants take Labor up on its generous offer: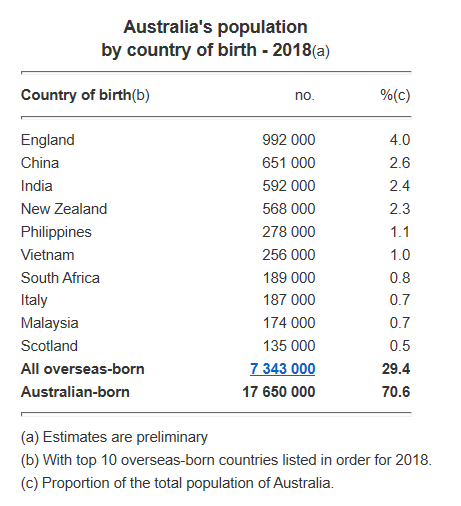 Moreover, with Australia's permanent migrant program running at around 180,000 annually (including the humanitarian intake), elderly migrant numbers would grow rapidly over time under Labor's policy.
There is also a strog likelihood that many of these migrants would transition to permanent residency once their 'temporary' 10 year period is up, since they will be too old to return home, thus making Labor's policy a de-facto permanent migration scheme.
My estimates were subsequently endorsed by Melbourne University Professor Peter McDonald, who also warned that 1.5 million to 2 million elderly migrants might come to Australia under Labor's policy, and that they would effectively become permanent residents:
McDonald said there might be 1.5 million to two million offshore parents eligible to come…

McDonald agree Labor's temporary visa could lead to a de facto permanent intake, with ministers facing heart-rending pleas not to send back aged parents after a 10-year stay, especially if their health has deteriorated.
In its 2016 Migrant Intake into Australia report, the Productivity Commission (PC) estimated that the cost of the 7,000 to 9,000 parental visas issued each year are between $335 000 and $410 000 per adult in net present value terms, and warned of these visas divert scarce taxpayer funding from other government programs:
Overall, the cumulated lifetime fiscal costs (in net present value terms) of a parent visa holder in 2015-16 is estimated to be between $335 000 and $410 000 per adult, which ultimately must be met by the Australian community…

Ultimately, every dollar spent on one social program must require either additional taxes or forgone government expenditure in other areas. It seems unlikely that parent visas meet the usual standards of proven need, in contrast to areas such as mental health, homelessness or, in the context of immigration, the support of immigrants through the humanitarian stream, and foreign aid.
The PC also presented the below chart showing that the estimated lifetime fiscal cost of migrants grows rapidly with age: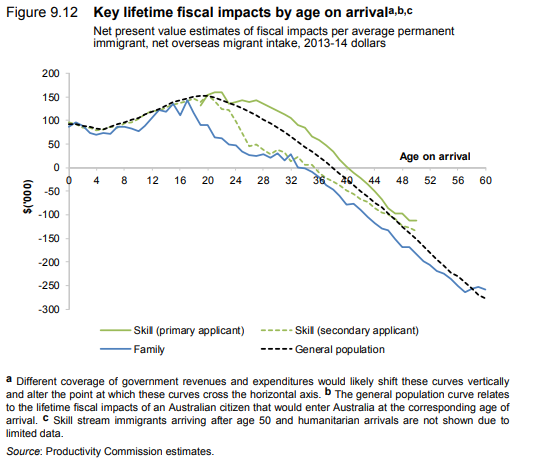 While the above chart cuts off at 60, given the steepness of the curve, it is fair to draw the conclusion that each elderly arrival under Labor's policy could have a negative fiscal impact of at least $300,000 if they stay permanently.
The PC also notes that these costs are likely to be underestimated, since "immigrants can also affect government budgets in ways that are more difficult to directly attribute. For instance, immigration can affect congestible public infrastructure which requires further government spending".
Regardless, having potentially millions of elderly migrants inundate Australia, with most settling in Sydney and Melbourne, is a disaster in the making.
Even if we conservatively assume that the cost per visa under Labor's policy is one quarter the figure estimated by the Productivity Commission above (i.e. around $75,000 per adult), then the cost to existing residents could easily top $100 billion in net present value terms, with a much larger number possible. The cost would also grow rapidly over time as Australia's stock of permanent migrants increases.
In short, Labor's policy will impose a massive burden on incumbent Australians and must be unwound.
See yesterday's post for a more detailed qualitative assessment of these costs.