In the wake of Dr Bob Birrell's startling report on Labor's proposed uncapped visa for parents of existing migrants, it is worth considering what the long-term costs could be to Australian taxpayers and whether Labor's policy is affordable.
Before considering these issues, below is Labor's policy as per its website:
The Liberals' unfair Temporary Sponsored Parent visa is completely different from the commitment they took to the 2016 election – with unfair conditions and higher fees for families wanting to reunite. Most cruelly, the Liberals are forcing families to choose which parents or in-laws they reunite with by limiting the visa to one set of parents per household.

LABOR'S PLAN

Labor's fairer Long Stay Parent visa will allow parents and in-laws to reunite with their families and let all grandparents spend quality time with their grandkids:

Labor's fairer Long Stay Parent visa will be more affordable for families – unlike the Liberal's expensive fees that see families paying up to $40,000 to access visas.

Only a Shorten Labor Government will deliver a fair go for Australia's proud migrant and multicultural communities with our fairer Long Stay Parent visa.
So, under Labor's policy, each migrant citizen or permanent resident will be permitted to bring two elderly parents into Australia for a continuous period of 10 years at a cost of just $5,000, or $500 per year.
We can confidently assume that after this 10-year period has expired, these elderly parents will not be forced to return home and will, in effect, become permanent residents; although it is uncertain whether they would then gain full Medicare and Aged Pension benefits.
Under immense pressure, Labor's immigration spokesman, Shayne Newman, stated via Twitter that "the new visa would apply the Coalition's minimum taxable income of $83,454 for migrant families, thereby limiting demand to households earning above that figure".
How many elderly migrants could Australia receive?
With the above facts in mind, let's now consider the potential numbers of elderly migrants that could come to Australia under Labor's policy.
According to the ABS' latest migrant data there were 7.3 million people born overseas living in Australia in 2018: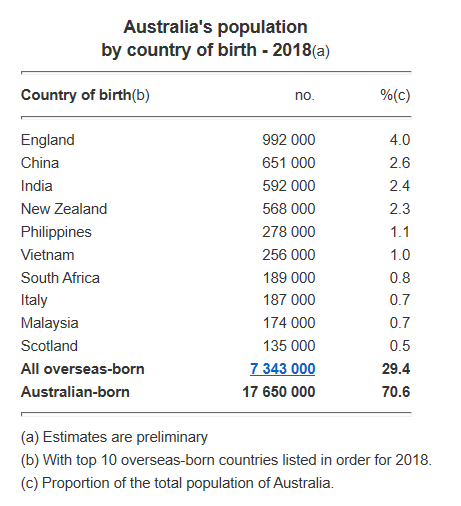 If we very conservatively assume that 20% of these migrants would seek to bring one parent to Australia under Labor's policy (let alone two as permitted), then Australia would be looking at around 1.5 million elderly parents flooding into Australia over the first few years of the scheme, most of whom would come to migrant-heavy Sydney and Melbourne.
The number of elderly migrants in Australia would also grow quickly over time under Labor's policy. Australia's permanent migrant planning level is currently set at 160,000, with another 16,000 under the humanitarian program: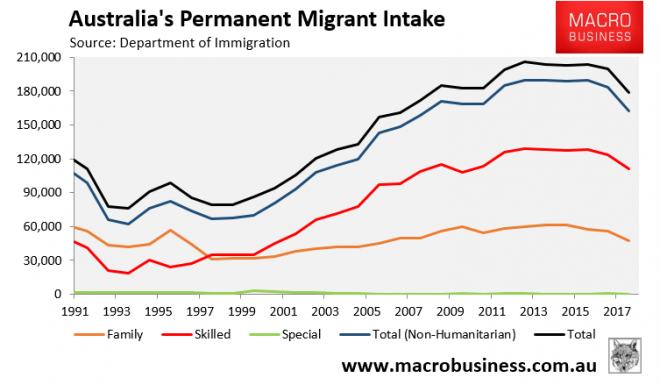 Subtracting permanent parental visas issued under the Family stream leaves around 170,000 permanent migrants per year that will be permitted under Labor to bring in two elderly parents each.
Therefore, Australia could easily be inundated with millions of elderly migrants in the first term of a Labor Government.
How much would these migrants cost taxpayers?
The Productivity Commission's (PC) Migrant Intake into Australia Report estimated that the circa 9,000 elderly permanent parental visas granted every year cost Australian taxpayers between $2.6 and $3.2 billion in present value terms, or between $335 000 and $410 000 per elderly adult, with the cost rising over time as numbers increase:
"The contributory visa charge of just under $50 000 meets only a fraction of the fiscal costs for the annual intake of roughly 7200 contributory parents. And an additional 1500 parents make a minimal contribution. Overall, the cumulated lifetime fiscal costs (in net present value terms) of a parent visa holder in 2015-16 is estimated to be between $335 000 and $410 000 per adult, which ultimately must be met by the Australian community. On this basis, the net liability to the Australian community of providing assistance to these 8700 parents over their lifetime ranges between $2.6 and $3.2 billion in present value terms. Given that there is a new inflow each year, the accumulated taxpayer liabilities become very large over time. This is a high cost for a relatively small group.

Ultimately, every dollar spent on one social program must require either additional taxes or forgone government expenditure in other areas. It seems unlikely that parent visas meet the usual standards of proven need, in contrast to areas such as mental health, homelessness or, in the context of immigration, the support of immigrants through the humanitarian stream, and foreign aid.

Given the balance of the costs and benefits, the case for retaining parent visas in their current form is weak".
It is true that Labor's scheme isn't as generous as the existing capped elderly permanent parental visa scheme, since they won't immediately qualify for Medicare. Instead, they will be required to take-out private health insurance.
That said, as these migrants will be heavy users of the health system (due to their old age), they will require cross-subsidisation from other private health insurance members and will likely force up premiums for everyone else.
The massive increase in demand for health services will also require heavy investment in new health care workers (e.g. doctors and nurses), whose training is paid for to a large extent by taxpayers, as well as significant investment into new hospitals and aged care facilities.
Taxpayers will also need to invest more heavily into roads and public transport, water and sewerage, and the like to cater for the bigger population of non-taxpayers.
If we conservatively assume that the net cost of each new elderly migrant under Labor's policy is one-quarter of the PC's estimate under the existing permanent scheme, then Australia is still looking at a bill of around $84,000 to $102,500 per elderly migrant.
Multiplying this cost by the conservative 1.5 million estimate above, and the cost to Australian taxpayers could easily surpass $150 billion in net present value terms within the first term of a Labor Government, and thereafter grow proportionally alongside the growth in Australia's migrant stock.
Labor's policy could end the welfare state
There is no magic pudding when it comes to public finances, and the massive fiscal cost of Labor's policy would necessarily divert funding away from other social programs, such as:
funding for schools and hospitals;
funding for infrastructure;
funding for the Aged Pension and Newstart; and
funding for the NDIS.
The cost of Labor's policy would be enormous and could end Australia's welfare state as we know it.
It also obliterates the false claim that a strong migration program is needed to mitigate an ageing population. Instead, Labor's policy will dramatically age Australia's population.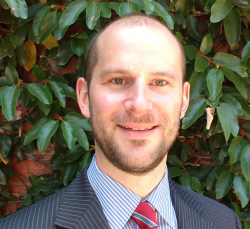 Latest posts by Unconventional Economist
(see all)