The Australian Population Research Institute's Dr Bob Birrell and Melbourne University's Professor Peter McDonald, who are typically at opposing ends of the immigration debate, have united to slam Labor's reckless uncapped visa for parents of existing migrants. From The Australian:
[Labor's] policy has united in alarm two leading demographers normally at daggers drawn in the immigration debate: Bob Birrell, who wants a radical cut in population growth; and the University of Melbourne's Peter McDonald, who shares the view common in government and business circles that our large intake of migrants brings many benefits.

The states have reason to worry, too. The lion's share of new arrivals goes to Sydney, and the NSW Treasury has made clear its concern that migrant parents needing costly hospital treatment may be unable, or unwilling, to pay…

Birrell said there could be 200,000 visas in the first term of government, McDonald said there might be 1.5 million to two million offshore parents eligible to come…

He and McDonald agree Labor's temporary visa could lead to a de facto permanent intake, with ministers facing heart-rending pleas not to send back aged parents after a 10-year stay, especially if their health has deteriorated. These uncapped visas will grow "inexorably", according to Brisbane migration agent Peter Kuek-Kong Lee, who lectures in immigration law at Griffith University. He points out that the most pricey variant of the permanent visa has failed in its purpose to curb demand. So the temporary visa would probably generate a rush, he says, citing the "emotionalism" of family reunion, the ever-rising number of overseas-born Australians, and the lack of the restraining "balance of family" rule…
According to the ABS' latest migrant data, there were 7.3 million people born overseas living in Australia in 2018: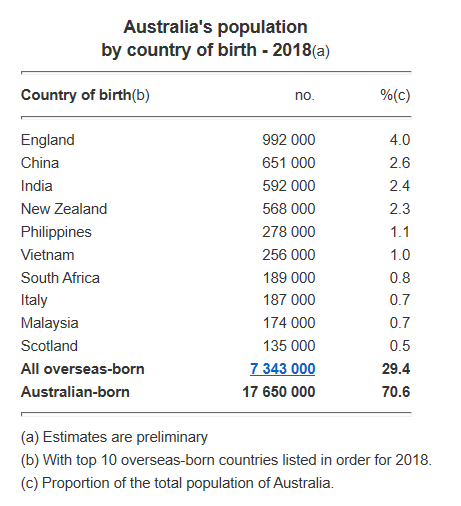 Given Labor's policy allows migrants to bring two parents each into Australia – albeit provided they meet the minimum family income threshold of $83,454 – it is easy to fathom that millions of elderly migrants could flood Australia, as suggested by Peter McDonald.
Worse, these elderly migrant numbers would grow strongly over time in line with Australia's annual permanent migrant program: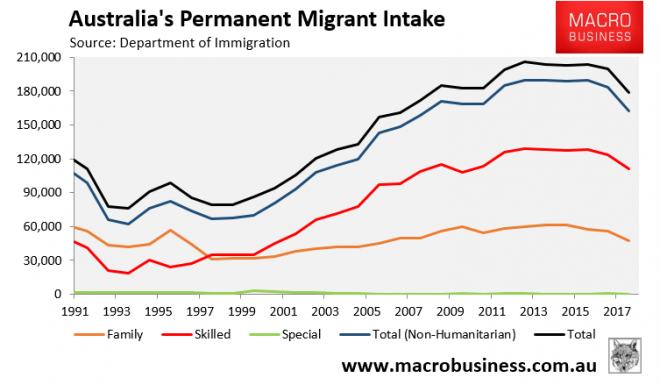 That is, around 160,000 migrants each year would each be permitted to bring with them two parents – effectively a 'buy one, get three policy'. While not all migrants would take up this option, there are many who would.
Therefore, Labor's policy would add massively to Australia's net overseas migration, as well as massively age Australia's population.
The costs of Labor's policy for existing Australian residents would also be astronomical. As we noted on Monday, the Productivity Commission estimates that the cost of the 7,000 to 9,000 parental visas issued each year are between $335 000 and $410 000 per adult in net present value terms. Even if we conservatively assume that the cost per visa under Labor's policy is one quarter this level, then existing Australian residents are still facing a bill of around $84,000 to $102,500 per elderly migrant.
If we multiply this figure by the millions of elderly migrants that are likely to arrive under Labor's policy, then the cost to existing residents could easily top $100 billion. At the outer edge of real possibilities this number could be preposterously higher.
There is no magic pudding with public finances. The gigantic cost Labor's elderly parent visas would necessarily divert funding away from other social programs, including the Aged Pension, Newstart, disability services, schools and hospitals funding, as well as infrastructure. Labor's policy could effectively bankrupt Australia's welfare state.
Not to mention that Labor's entire tax reform platform targets older Australians and all of this revenue and more will effectively cross-subsidise the older people of other nations. What is the point of having an Australian government?
The fact of the matter is that Labor's policy will impose a massive burden of direct and indirect costs on the Australian community. Especially in cities on the East Coast where chronic population pressures are already biting. The policy completely disregards the interests and well-being of existing citizens and taxpayers of this country in a shameless attempt to buy the votes of migrants in a few key seats.
Those migrants chose to leave their families when they migrated to Australia. They knew the deal when they made the decision to leave. They should not expect the Australian people to subsidise reuniting them with their families. Australia cannot afford to look after other countries' older people when there are so many of our own citizens in need.
Labor's policy breaches every principle of economic, social and environmental sustainability. It trashes the principle of inter-generational equity across the budget, living standards and house prices. It devalues the citizenship of Australians by subordinating their legitimate interests to those of the elderly in foreign nations. It pays no regard to Australia's strategic outlook. It abdicates every duty of care that any elected government has towards its people.
For these reasons it is done nowhere else in the world, by any other government, and frankly, going solo pushes Labor into the category of an immigration lunatic.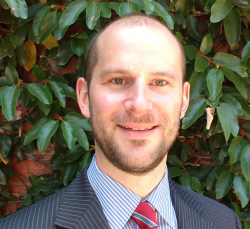 Latest posts by Unconventional Economist
(see all)