by Chris Becker
According to US President Donald Trump, there's been "progress" made in the ongoing trade talks with China, enough to delay the tariff increase that was set to kick in on March 1st. In tweets (that look written by his staffers given the proper grammar and multi-syllabic words), he said:
"I am pleased to report that the US has made substantial progress in our trade talks with China on important structural issues including intellectual property protection, technology transfer, agriculture, services, currency, and many other issues. As a result of these very productive talks, I will be delaying the US increase in tariffs now scheduled for March 1.

"Assuming both sides make additional progress, we will be planning a summit for President Xi and myself, at Mar-a-Lago, to conclude an agreement. A very good weekend for US & China!"
Official state media in China have repeated Trump's missives, an indication that there maybe some substance and not the usual malarkey behind the late night toilet twittery that usual emanates from the bowels of the White House. Markets here in Asia are up on the news, given it was released late on Sunday night, US time. The Australian and New Zealand dollars are up from their modest weekend gap open: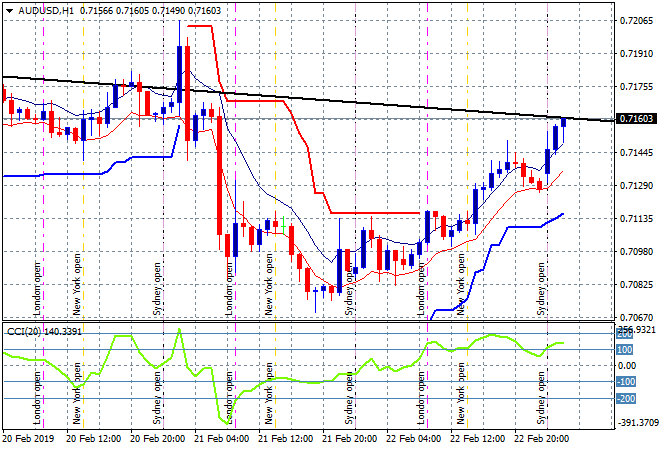 While the Hang Seng Index opens in about half an hour, with futures indicating a big surge at the open, the Nikkei 225 and ASX200 are both higher on the news.
Next we await more "deals" as the summit with little Kim approaches.
Latest posts by Chris Becker
(see all)