Following yesterday's article entitled "Australia's visa system 'gamed' by international students", the vice chancellor of the University of NSW, Ian Jacobs, has defended the university's extreme reliance on foreign students. From The Australian:
…the most frustrating criticism in 2018 has been a growing chorus of commentators chiding the sector for an over-reliance on international students…

Our international education sector offers overseas and domestic students alike the chance to learn about other cultures and share experiences, while serving as Australia's third largest export industry behind iron ore and coal…

The international education conducted by the Go8 universities generates $19.5bn of economic activity each year.

The fact China makes up a substantial proportion of our international students reflects our success in competing in the highly competitive education market…

The constant undermining of brilliant research and teaching not only damages our global standing but also hurts Australians.
Of course Ian Jacobs would defend the system. His university, after all, is extremely reliant on foreign students, which made up a whopping 42.9% of commencing students in 2017 – way up from 30.2% in 2012: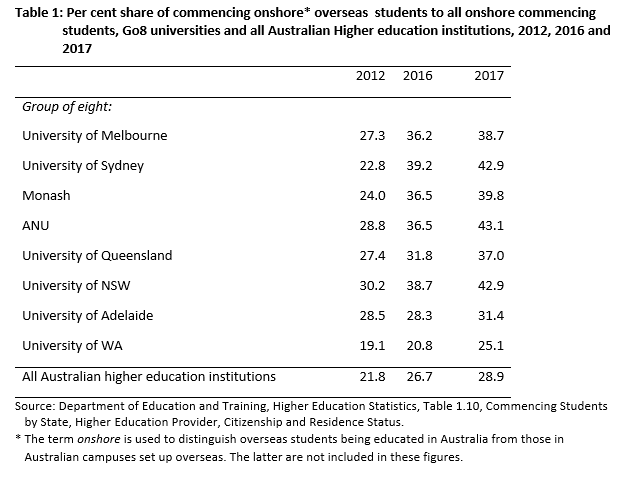 Ian Jacobs has also done very well financially from the flood of foreign full-fee paying students, with his salary topping $1.2 million in 2016, as noted by The Conversation:
These 38 vice-chancellors were paid an average A$890,000 in 2016. Twelve earned more than A$1 million. The best-paid vice-chancellor was Sydney University's Professor Michael Spence, who received A$1.4 million, after a 56% increase over five years.

Professor Greg Craven at the Australian Catholic University followed on the heels of Spence, earning A$1.25 million. Just behind Craven was Professor Ian Jacobs at UNSW on A$1.22 million. The lowest remuneration went to vice-chancellors at Southern Cross (A$500,000) and Murdoch universities (A$585,000).

In addition to these lucrative salaries, many vice-chancellors get performance-related bonuses.

By comparison, vice-chancellors at a number of prestigious UK universities earn considerably less…

In fact, university bosses in Australia are among the highest paid in the world. They also fare extremely well when compared to other public sector employees in Australia. Prime Minister Malcolm Turnbull earns less than all but one vice-chancellor, taking home around A$527,000 a year…

Central to this calculus is income generation and the achievement of a surplus. That's duly rewarded by a performance-related salary bonus.
Obviously, stemming the flood of foreign students would reduce this cash cow, lowering vice chancellors' hefty remuneration.
Ian Jacobs' claimed economy-wide benefits also do not consider the costs from not only the additional population pressures placed on our cities (paid for by ordinary residents), but also the degradation of education standards and quality.  These costs have been laid out in all their hideous glory by Dr Cameron Murray – an economics lecturer at the University of Queensland:
A thread on my experience:

1. 90% of students in my economics masters classes are international.
2. Half of them struggle with basic English
3. When I ask in tutorials why they are doing the degree, half tell me that they "need more points for their residency visa" (1/n)
4. They tell me they choose economics because they can do the maths but don't need to understand anything or write anything.
5. I always set written essays or reports. Students tell me that they know other students are using paid 'essay writing' services to pass my class (2/n)
6. If half the class can't understand English it brings down standards. It must—unless I fail half the class.
7. Think about the incentives—a casual lecturer who costs $25,000 fails 50 students paying $250,000. Change lecturer next year or reduce intake to keep standards? (3/n)
8. It is frustrating when top international students from foreign governments/central banks come to your class, then sit next to rich Chinese (almost always Chinese) who can't understand a word and are there to buy a visa (4/n)
9. The evidence shows the effect on standards is real. https://www.sciencedirect.com/science/article/abs/pii/S027277571200028310
None of this is a secret. That research is from 2011. Here's an article from 2014: https://www.smh.com.au/education/academics-accuse-universities-of-addiction-to-international-students-and-their-cheating-20141112-11lbdi.html
10. Unfortunately, this reality conflicts with the widely believed myth that our immigration program brings in "high skilled" workers.
11. 350,000 international students paying $25,000+ per year to study is $9billion being pumped through our top dozen universities. (6/n)
12. Halving the number of international students would keep all the good students, boost standards for all, and remove the visa scams.
13. But this would remove $4.5billion per year of revenue to the universities. (7/n)
14. In sum, universities are being degraded so they can be used as a back-door immigration program, and no one at the senior levels of universities or major political parties want to change it.
15. It is nearly career suicide for younger academics to say anything about it (8/8)

I forgot to add that almost every student I failed or called out for plagiarism got second and third chances until they passed. After the first chance it is taken out of my hands to higher ups at the faculty…

There is nothing new in this thread. @4corners did a big investigation a few years ago. Nothing changed AFAIK. People are just used to the new reality. https://economics.com.au/2015/04/17/universities-corruption-and-standards-its-not-just-academic-anymore/

More here: https://www.theaustralian.com.au/higher-education/free-ride-past-language-barrier/news-story/9082a4d2234f019af2ddd1f68be73a8f  and here: https://economics.com.au/2011/03/16/are-we-going-easy-on-foreign-students-in-order-to-get-more-revenue/
As I noted yesterday, Australia's education system has become an integral part of the immigration industry and Australia's population ponzi – effectively a way for foreigners to buy backdoor permanent residency to Australia.
Not only are these students helping to crush-load our major cities and placing downward pressure on wages, but they are dumbing down education standards, as revealed by three recent Australian reports (here, here and here), as well as above by Dr Cameron Murray.
It is, therefore, time to put a leash on the university sector, starting with removing the link between foreign students studying at university and gaining work visas and permanent residency, as well as lifting entry standards. Let our universities compete on quality and value alone.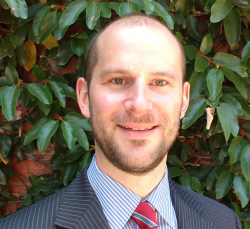 Latest posts by Leith van Onselen
(see all)