Examples of foreign students 'gaming' Australia's visa system to obtain permanent residency are plentiful.
First, International students are behind the ballooning in bridging visas, which have blown-out by 40,000 over the past year, as well as by 90,000 since 2014: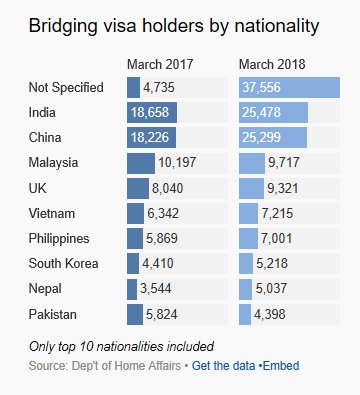 That's right, In August it was revealed that foreign students have been 'gaming' Australian immigration system by appealing their decisions en masse to the Administrative Appeals Tribunal (AAT) to extend their stay:
The number of outstanding student visa refusal cases before the tribunal at the end of May totalled 8603. This compared with 4394 active cases at the end of June 2017 — an increase of more than 95 per cent in a little under a year. The 8603 active student visa refusal cases represented 30 per cent of all active migration cases…

Victorian Liberal MP Jason Wood, the chair of the joint standing committee on migration, said the backlog of cases at the AAT was "outrageous" and argued that the appeals process was "working in favour of the visa holder and not necessarily the Australian taxpayer". He said foreign students could game the system to extend their stay by several years — an outcome which he said would deny Australian citizens more part time jobs.
Worse, Chinese students have helped to drive an absurd 311% increase in asylum seeker claims, according to The ABC:
Key points:

People claiming to be Christian, LGBTI and love children are among those seeking asylum
All arrived by plane using temporary visas, mainly for study and tourism
Experts warn bogus asylum claims are a way to overstay visas

The number of Chinese nationals applying for refugee asylum in Australia has risen by 311 per cent in just one year, according to figures from the Department of Home Affairs…

Onshore protection visa applications from those who arrived by plane from the People's Republic of China jumped from 2,269 in 2016-17 to 9,315 in 2017-18, the data reveals.

Despite the surge in claims, Chinese nationals had one of the lowest success rates for protection visas, with the Department only recognising 10 per cent of those claims as being genuine.

The total number of onshore asylum claims for all nationalities soared 225 per cent from 8,587 in 2014-15 to 27,931 in 2017-18 with Chinese nationals making up a third of all claims over that period.

Refugee Council of Australia director of policy Joyce Chia told the ABC the number of student visas had increased with the booming international student industry in Australia, now worth an estimated $32 billion.

"I think the fact that Chinese people have increasing access [to Australia] is a large factor," she said.

"We are seeing a massive increase in people coming by plane generally, and obviously with the massive increase in international students from places like China, it's now much easier for those students to get to Australia"…

Transcripts from hearings at the Administrative Appeals Tribunal (AAT), which has the power to overturn decisions made by the Department of Home Affairs, reveal a range of reasons applicants claim to be refugees, including being: a love child, Christian, a cult member or LGBT…

Many claimants are arriving on temporary migrant visas such as international student visas, of which there are 652,000 currently studying in Australia — including almost 200,000 are from China, according to the federal Department of Education.

Associate professor of law at Murdoch University Mary Anne Kenny said an obvious reason for the spike in questionable protection claims was the bridging visas you could obtain while awaiting a decision.

"Once you are in the country, either as a tourist or a student, if you then apply for a protection visa, you are eligible for a bridging visa," she told the ABC.

"Depending on the type, [it] may give you the right to work and can take some time [to process] depending on how long it takes the department to process the application.

"It doesn't cost very much to make an application and you can then extend your period of stay here, because you will be on the bridging visa while your application is [being] determined."

In August 2018, there were 176,000 people on bridging visas in Australia — a massive jump from 40,000 at the same time last year…

Experts say the significant number of appealing applicants who do not show up to hearings raises further concerns that the process is being abused by fraudulent claims in a bid by some visa holders to extend their stay…

The average time the AAT took to decide migration cases was about a year, allowing students who had a visa cancelled or expired to extend their stay by appealing.

If unsuccessful they could then apply for a protection visa, which took an average time of about eight months to be decided…

Associate professor Anne Kenny said it was possible the number of false claims was rising because word was spreading among temporary visa arrivals of the success of others in lengthening their stay.
Regional migration schemes are also being widely rorted by international students. Earlier this year it was revealed that applicants from the Sub-Continent using state-based nominations in Tasmania and the ACT for backdoor permanent residency into Sydney and Melbourne, which are suffering from crush-loading:
During recent months and years, a large number of prospective permanent residents – particularly international students from the Indian subcontinent – moved to Tasmania and the ACT for a relatively easier pathway to permanent residency.

But, the latest set of changes, including increased work experience in Tasmania and closing down of occupations in the ACT, has sent the visa aspirants scurrying for alternatives…

Jujhar Bajwa from Bajwa Immigration Consultants in Melbourne says many of his clients are extremely worried due to these changes.

"They [visa seekers] moved from Melbourne and Sydney to Tasmania and ACT, worked hard in order to fulfil one set of requirements hoping that they will get the state nomination, and now suddenly they have another set of requirements to fulfil," he told SBS Punjabi…
The rorting was particularly rampant in Canberra:
In July last year the ACT government widened the criteria for those seeking to be nominated by the territory government for permanent residency. If a potential migrant's occupation was not on the list of in-demand jobs, they could apply by proving a close connection to Canberra. This included living in the ACT for at least 12 months and studying a Certificate III or higher qualification at a local institution…

"When the subclass 190 visa popped up, the students started streaming in," Min Gurung, marketing and sales manager from JP International College, in Mawson said. The college experienced an increase of 300-400 students in the past year, with many students moving to the ACT with their partners and young families…

Unity College in Belconnen experienced an almost two-fold increase in its student numbers to about 50…

Some operators of the colleges are reluctant to speak out, with one reporting his institution had about 100 students before July last year. In the past year, that number grew to about 300 students…

It's believed up to eight colleges have opened in the past year and more applications could be in the works…
And now the ACT Government facing legal action from these students for partially closing the rorted scheme down:
International students who moved to the ACT after July 2017 in hopes of being nominated for a subclass 190 visa have "good prospects of success" in legal action against the ACT government, according to new legal advice…

The ACT government partially closed the program in June this year, months after it became aware that large numbers of international students were streaming into the territory in order to study at private colleges for one year and apply for the visa.

The program was reopened at the end of November with a new system for deciding on eligibility. Under the new system, applicants gain points depending on what job they have, how long they have lived in Australia and how qualified they are. The new program doesn't have a minimum number of points that guarantees an applicant will be invited to apply for a visa…

The legal advice says "the students would have good prospects of succeeding in an action against the ACT under the Australian Consumer Law for both 'misleading and deceptive conduct' and 'unconscionable conduct' by the ACT".
Nobody should be surprised about this pervasive rorting. After all, the lobby group representing foreign students in Australia – the Council for International Students in Australia (CISA) – point blank admitted that students come here to migrate, not because of the quality of education on offer:
The Council for International Students in Australia said foreign potential students were attracted to Australia by the possibility of migrating here.

But Mr Dutton's strong views on border policy and his statement that Australia should reduce its intake of migrants "where we believe it is in our national interest" would tip the balance for some would-be students…

The national president of CISA, Bijay Sapkota, said… "For people coming from low socio-economic backgrounds there has to be a value proposition. If they go home they will not get value. So there has to be a possibility of immigration."

He said international students were not satisfied with the way Mr Dutton had run the immigration portfolio, where some visas were at risk of being closed down at any time…
The reality is that Australia's education system has become an integral part of the immigration industry and Australia's population ponzi – effectively a way for foreigners to buy backdoor permanent residency to Australia.
Not only are these students helping to crush-load our major cities and placing downward pressure on wages, but they are dumbing down education standards, as revealed by three recent Australian reports (here, here and here).
It's time to put a leash on the university sector, starting with removing the link between foreign students studying at university and gaining work visas and permanent residency, as well as lifting entry standards. Let our universities compete on quality and value alone.
Leith van Onselen is Chief Economist at the MB Fund and MB Super. Leith has previously worked at the Australian Treasury, Victorian Treasury and Goldman Sachs.
Latest posts by Unconventional Economist (see all)