Just when I thought he'd hit peak stupid in the negative gearing debate, Terry McCrann has launched another embarrassing attack on Labor's policy. From The Herald-Sun:
Treasurer Josh Frydenberg has nailed the double-sided disaster that the Labor duo Bill Shorten and Chris Bowen's attack on negative gearing would be for both owner-occupiers and renters…

From Frydenberg it's: For anyone who owns a home Labor will make it worth less. For anyone who rents their home, Labor will make them pay more.

As that covers pretty much 100 per cent of the population — and 100 per cent of voters — it's a powerful political message.

He — and prime minister Scott Morrison and every member of the coalition — need to keep repeating it five times a day, every day, and twice as many times on Sundays, Donald "build the wall" Trump style.

Apart from being simple and easy to understand, the message has the virtue of being true…

It's the most basic reality: if you reduce the number of buyers you reduce the potential selling price. For anyone who owns a home (or indeed buys one, whether as an owner or investor) Labor will make it worth less.

…over time the stock of rental properties will fall as there will be fewer investors; and, very importantly, people will "invest" more and more in the one totally tax-free "family home". If you rent your home Labor will make you pay more.
We all get that reducing investor demand will lower house prices (other things equal). Nobody disputes this. It is a housing affordability policy, after all, which necessarily requires lower prices and/or rents.
But McCrann's logic for why rents will magically rise is flat out idiocy. The fact of the matter is that 90% of investors buy existing dwellings rather than new construction. Therefore, they do not materially add to supply, but rather are transferring homes for sale into homes for let: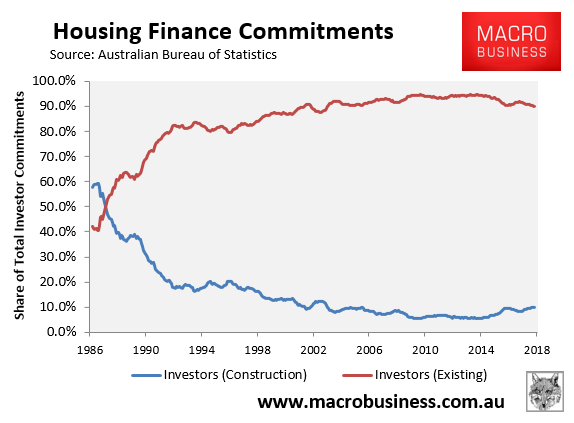 So, at worst Labor's policy would reverse this process and turn houses to let into houses for sale, turning renters into home owners and leaving the supply-demand equation for rental properties unchanged.
However, as we all know, Labor's policy of restricting negative gearing to new construction would very likely also boost rental supply and place downward pressure on rents, as suggested by Deutsche Bank:
"Our sense is that the relative attractiveness of new dwelling investment compared to investment in established dwellings should be a positive, at least at the margin, for new dwelling construction".
As well as by developer Stockland:
The Labor Party's plan to limit negative gearing tax breaks to new housing would put a rocket under the business of residential developers because demand from investors would surge, Stockland chief executive Mark Steinert says…

"Our business will rip," he said at the Property Council of Australia's annual congress in Darwin.
Let's also remember that Labor's policy on negative gearing is practically identical to the Coalition's policy restricting foreign investment to newly constructed dwellings, which is aimed at boosting dwelling supply, economic activity and jobs. Here's the chair of the foreign investment inquiry, Liberal MP Kelly O'Dwyer, explaining the benefits of this 'new homes only' policy:
"Currently the framework seeks to channel foreign investment in residential real estate into new dwellings in order to increase the housing stock for Australians to build, buy or rent. Foreign investment is encouraged in new dwellings whether they be apartments, units or homes because in addition to creating more supply, it also creates more jobs for the building and construction sector – all of which helps to grow our economy".
Substitute "foreign investment" for "negative gearing" and the argument is exactly the same.
Terry McCrann needs to stop recycling the same tired lies and produce some genuine arguments if he hopes to derail Labor's policy. Because, every time he writes such a piece, his credibility sinks even lower.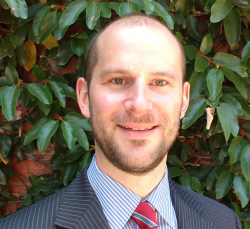 Latest posts by Leith van Onselen
(see all)