In the lead-up to last year's September general election, the New Zealand Labour Party launched a plan to reduce immigration by around a third in a bid to relieve chronic housing and infrastructure pressures (especially around Auckland):
…in recent years our population has been growing rapidly as record numbers of migrants arrive here. This has happened without the Government planning for the impact immigration is having on our country… This has contributed to the housing crisis, put pressure on hospitals and schools, and added to the congestion on roads…

Labour will… take a breather on immigration… In total, these changes are estimated to reduce net migration by 20,000-30,000. Without these changes there would be up to 10,000 more houses needed and up to 20,000 more vehicles on our roads annually.
Back in June, the Labour-led Government announced that it would triple the amount of time that 'no-strings attached' degree-level student visas can work in New Zealand before transferring to permanent residency. Interest.co.nz's David Hargreaves argued that these changes would leave the door "wide open for people coming to New Zealand ostensibly for study to then seek to stay permanently" and "could INCREASE the number of immigrants" coming to New Zealand.
Separately, David Hargreaves provided evidence showing that work visas have driven most of the immigration increase, doubling over the past six years: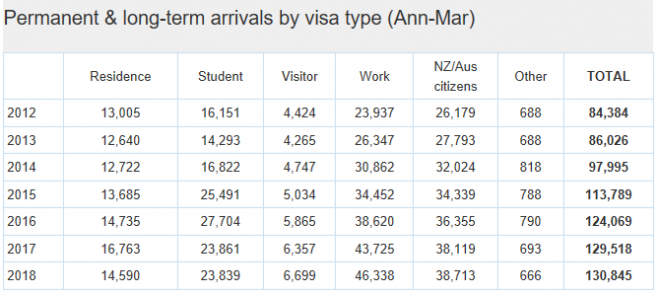 On Tuesday, Interest.co.nz reported that the Labour Government is no closer to cutting immigration, and has instead launched a 'smoke and mirrors' inquiry into rorting of the temporary migration program:
The Government is sticking to its word and making moves to prevent migrant workers from being exploited.

However it isn't any closer to reducing annual net migration by 20,000 to 30,000 people a year, as it estimated it would before the 2017 election.

The Immigration and Workplace Relations and Safety Minister Iain Lees-Galloway has directed the Ministry of Business, Innovation and Employment to set up a working group to research temporary migrant worker exploitation.

"Migrant exploitation takes many forms, including workers not getting paid properly, working excessive hours or in unsafe conditions," he says.

"Crucially, far too many migrant workers do not feel empowered to speak up or seek help when they are being subjected to unfair conditions."

The review will be done with Auckland UniServices and will see migrants, businesses, workers, academics and international students consulted with.

Lees-Galloway says the research will take some time to complete, so he'll only make decisions on it in 2019.
Such a review was already completed two years ago by Auckland University, entitled "Worker Exploitation in New Zealand: A Troubling Landscape". At the time, Iain Lees-Galloway scolded the National Government for ignoring the issue:
"…exploitation of migrant workers is pervasive in New Zealand… migrant workers continue to report high levels of abuse, intimidation, underpayment, debt bondage, and a host of other exploitative employment practices… it is the same industries—dairy farming, fishing, hospitality, horticulture, construction, and international education—that keep coming up as the most exploitative… migrant exploitation has a chilling effect on wages and conditions for all workers in those sectors… too many employers rely on exploiting migrant workers so that they can avoid paying decent wages and meeting basic employment standards"…
No matter which way Labour tries to spin this, it has broken a core election commitment to cut immigration.
Prime Minister Jacinda Adern needs to be held to account on this issue.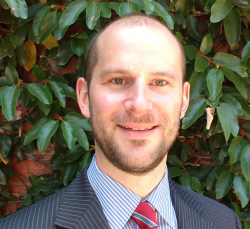 Latest posts by Leith van Onselen
(see all)