Yesterday's Roy Morgan Research survey revealed that Netflix had lifted its Australian subscriber base to 9.8 million households after a 30% annual surge in subscribers. By contrast, Foxtel's subscriber base slid by 2.7% to 5.4 million households: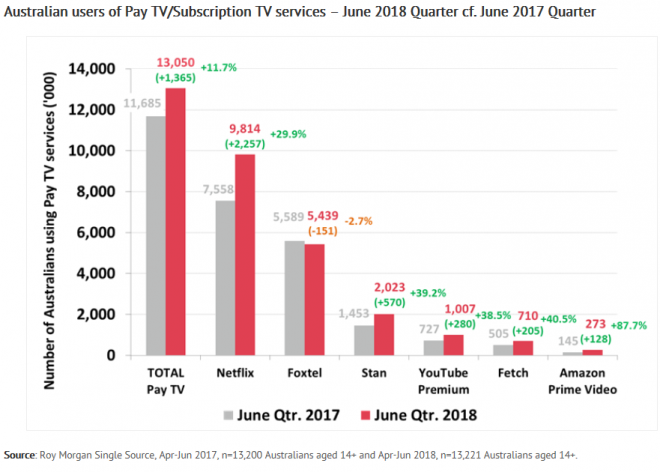 As Foxtel has lost its monopoly grip on the pay TV space, it has pivoted desperately to ward off  competition from online streaming services, with only limited success.
For example, prior to Netflix and Stan entering the market in early 2015, Foxtel halved the cost of its basic package as well as expanded content to its existing customer base.
Foxtel also began offering no contracts and equipment-free packages from December 2016 in a bid to attract price-sensitive customers. This included monthly packages starting from $15, such as the "Pop" pack and the "Drama" pack.
While it is good to see Foxtel competing harder for customers and offering a better deal for consumers, it is facing a losing battle against Netflix, which will continue to dominate the market and steal market share.
First, Netflix recently passed Disney as the largest media company in the world. It has a global reach of around 124 million paid subscribers, very deep pockets, and a wide variety of first party content that is unavailable elsewhere and appeals to a wide variety of tastes.
Second, Netflix's cost base and price point is far lower. Unlike Foxtel, Netflix is unburdened by legacy hardware like set top boxes attached to traditional cable. This keeps its costs low and enables Netflix to offer Australian subscriptions for around $10. This is 50% below Foxtel's cheapest offering and, arguably, provides deeper content.
Finally, Netflix's technology is far superior. Its App works seamlessly on most devices, allows content to be downloaded offline, time stamps progress, and rarely crashes. By comparison, Foxtel's App is clunky, regularly crashes, and cannot download content for offline viewing.
Overall, Netflix represents a classic disruption of an entrenched monopoly by a new technology.  Barriers to entry have been smashed and costs lowered, with consumers the ultimate winners.
The best Foxtel can hope for is to stem the loss of subscribers through its sports offering. But ultimately, it can't win against the internet.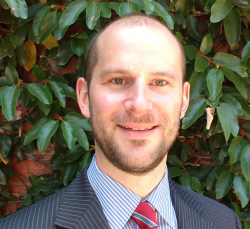 Latest posts by Unconventional Economist
(see all)