Last week, I questioned the efficacy of the announced $10 billion rail link connecting Melbourne airport to the CBD, noting that:
the cost of a rail ticket is likely to be exorbitant, since Melbourne Airport's private operators are likely to impose significant rental charges on any railway station that is built on their land (as has occurred in Sydney);
the rail link is likely to be significantly underutilised, since it is suitable only to tourists and those living in the CBD; and
the existing SkyBus system could be expanded at much lower cost to taxpayers.
Since its announcement on Thursday, other commentators have also questioned the project's merits.
Infrastructure Partnerships Australia chief executive, Adrian Dwyer, is also concerned that the ticket cost is likely to be excessive:
"Ticket sales alone will not be able to support the construction and operation of the airport rail link, meaning the commonwealth will need to put hard-­dollar grant funding on the table to keep fares affordable"…

"For the airport line to be well used by the community and to open up the areas surrounding the precinct, ticket prices will need to be accessible and attractive to consumers"…
Of course, keeping "fares affordable" means taxpayers providing operational subsidies as far as the eye can see, which comes on top of the proposed $10 billion cost to taxpayers to build the project.
The Guardian's Greg Jericho is even more sceptical:
…those who use the airport will like it, but despite the prime minister's claims that "everybody in Melbourne uses this airport" the reality is they don't and not in sufficient numbers that will see the benefits from a rail link be widely spread.

The prime minister argued that the rail link will be a "congestion-busting piece of infrastructure" and yet it is unlikely to do much…

A study for Infrastructure Victoria by KPMG-Arup and Jacobs concluded that that the project will "have minimal impact on overall demand for road and public transport" and that as result the main beneficiaries would not be users of the Tullamarine Freeway but rather "travellers and people accessing Melbourne airport for leisure purposes".

Similarly, as Infrastructure Victoria noted in its 30-year plan, the optimum need for link will be in 15 to 30 years' time – with the economically optimal opening year for such a rail link estimated to be between 2036 and 2039…

But the project is popular – not surprisingly Bill Shorten quickly came out in support of the proposal – and in a pre-election budget, popularity rather than economic need will take precedence.
As I noted last week, there are far many other infrastructure projects far more worthy of $10 billion of taxpayer funding (let alone ongoing operational subsidies). A good start would be to examine Infrastructure Australia's Priority List: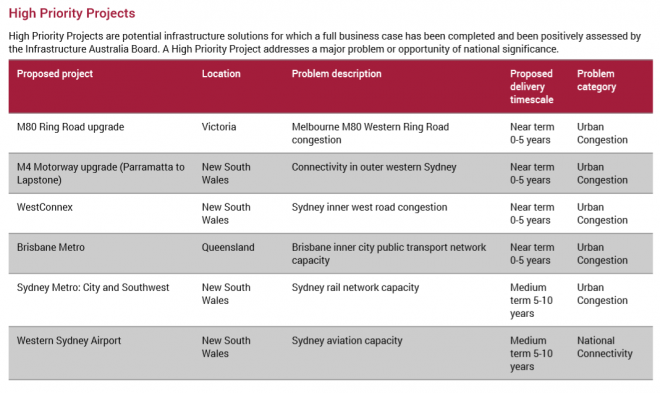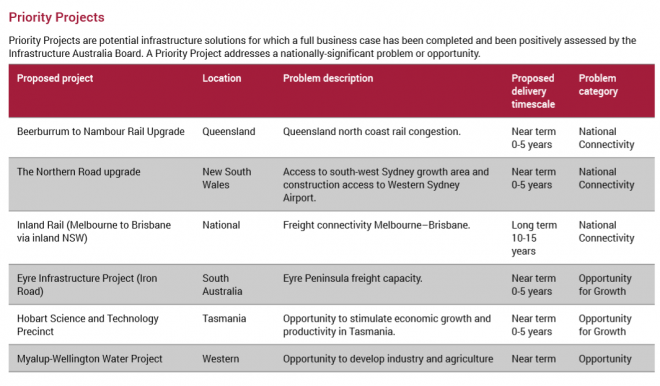 As you can see, an airport rail link is nowhere to be seen.