MB has noted previously (here and here) how the Scanlon Foundation is a front organisation for property developers that are pro-mass immigration and 'Big Australia'.
This view is based on the fact that founder, Peter Scanlon, is a major real estate developer and has a clear vested interest in mass immigration, as explained by John Masanauskas:
MAJOR investor and former Elders executive Peter Scanlon hardly blinks when asked if his conspicuous support for a bigger population is also good for business.

Mr Scanlon, whose family wealth is estimated to be more than $600 million, has set up a foundation with the aim to create a larger and socially cohesive Australia.

It also happens that Mr Scanlon has extensive property development interests, which clearly benefit from immigration-fuelled high population growth.

"My primary driver in (setting up the foundation) is if we don't have growth we are going to lose all our youth because the world is looking to train people around the world," he explains. "Instead of having stagnant growth, we're going to have a serious decline."

Mr Scanlon believes that governments aren't doing enough to sell the benefits of a bigger population so he has put his money where his mouth is…
Last month, we witnessed paid Scanlon Foundation shill, Andrew Markus, make disparaging remarks about the Australian Population Research Institute's (APRI) recent survey showing that nearly three-quarters of Australian voters believe Australia already has enough people: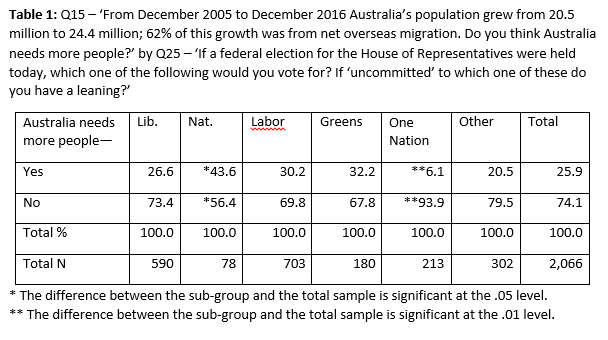 With 54% of voters wanting a reduction in Australia's migrant intake: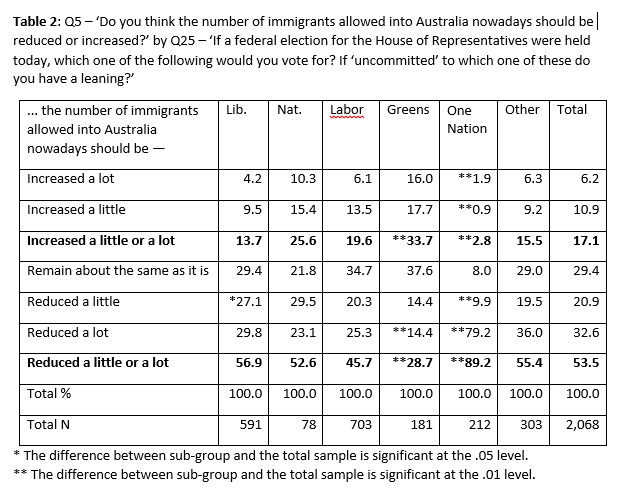 Because most voters believe that high immigration is placing pressure on Australia's liveability: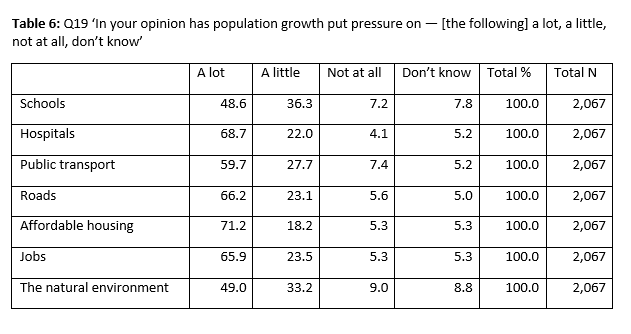 On Friday, Markus penned another article in The Conversation effectively labelling those seeking to lower Australia's turbo-charged immigration intake racist extremists:
Far-right political groupings are a constant feature on the fringes of Australian politics… they are united by their nationalism, racism, opposition to "alien" immigration and disdain for democracy…

The distinctive mindset that characterises supporters of minor political parties of the right is evident in public opinion surveys, but findings on members of fringe political groupings are less reliable because their numbers in national surveys are very small.

Nevertheless, we can confidently conclude that a high proportion of people attracted to the far-right have a heightened negative view of their life circumstances, a stronger sense that the area in which they live – and their country – is on a downward path, and negative views of immigration and ethnic diversity.

The 2017 Scanlon Foundation national survey, which I led and analysed, disaggregated attitudes by political alignment. In response to the open-ended question "What do you think is the most important problem facing Australia today?", immigration (viewed negatively) was the most important issue for One Nation supporters. By contrast, it ranked fifth for Coalition voters, sixth for Labor, and was not ranked at all by Greens voters.

When asked for their view of the level of immigration, 86% of One Nation supporters indicated that the intake was too high, compared with just of 37% of the national sample.

Heightened concern over immigration links to nationalist values. Asked to respond to the proposition that "people who come to Australia should change their behaviour to be more like Australians", 78% of One Nation voters strongly agreed, compared with 37% of Coalition voters, 30% of Labor and 4% of Greens. An overwhelming 92% of One Nation voters strongly agree that "in the modern world, maintaining the Australian way of life is important"…

The influence of the far-right should not be overstated, but it is a danger sign when mainstream politicians associate themselves with its hateful agenda.
Polls will be polls. I can see Mr Markus' dubious poll and raise him with many others. Probably the most credible is the APRI's survey (see second table above) which shows a clear majority of Australian's want to see an immigration cut. The APRI's survey methodology is superior to the Scanlon Foundation's, since 1) it gauges the opinions of Australian voters only (i.e. citizens), rather than migrant non-citizens that are ineligible to vote; and 2) it is conducted online (rather than by telephone) where honest answers are far more likely.
Is this majority really all hateful extremists? Phewy. Most of middle Australia is just reasonable enough to know when we've had too much of good thing. Mr Markus is a rent-seeker employed to keep pumping people into his boss's apartment sales centres.
Another immigration proponent from the Fake Greens has also been quick to deploy the "racism" label in recent days with immigration spokesman, Senator Nick McKim, slamming an attempt by Immigration Minister Peter Dutton to stem the migrant intake. From The Guardian:
A special pathway for New Zealand citizens to apply for skilled migrant visas will shrink Australia's immigration intake by allowing New Zealanders already resident in Australia to apply to remain permanently as migrants…

While the Turnbull government resolved to keep the cap at 190,000, a number of measures including the New Zealand pathway and an increase in support requirements making it harder for poorer migrant families to financially back their relatives in visa applications have contributed to a reduction in numbers.

The skilled independent subclass 189 visa, which was introduced in July 2017, is given to New Zealanders who have been Australian residents for five years and provides a pathway to citizenship after 12 months.

New figures from the home affairs department provided to the ABC reveal that 1,512 of the visas had been issued by the end of February, with 7,500 applications still being processed…

If Australia maintains the ceiling of 44,000 people on skilled independent visas each year, the addition of New Zealanders already resident in Australia will effectively crowd out applicants from other source countries…

The Greens immigration spokesman Nick McKim told Guardian Australia people should be "deeply concerned" by Dutton's agenda.

"[Dutton] is seeking to cut immigration by stealth and to have more English-speaking, white and wealthy people migrate to Australia," he said.

"This has been made clear through his changes to visas for New Zealanders, higher costs for family reunions, his 'special attention' for white South Africans as well as his attempts to introduce high-level English tests for potential citizens."
Check out the below Census data, compiled by Tim Colebatch, showing the composition of migrants by source country into the hotspots of Sydney and Melbourne in the 25 years to 2016: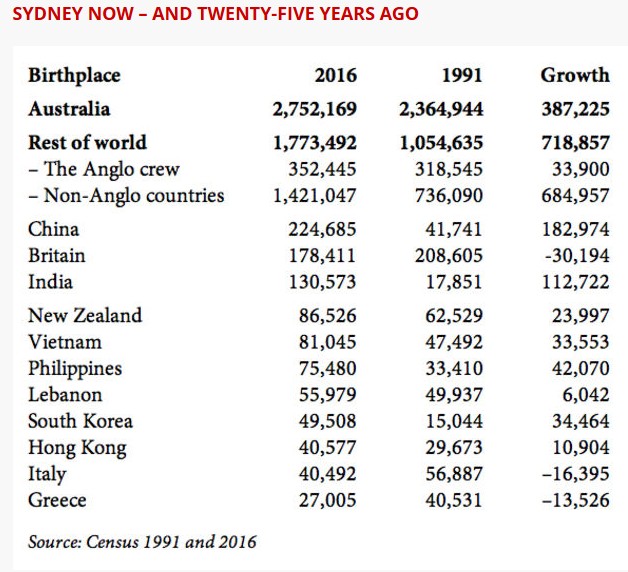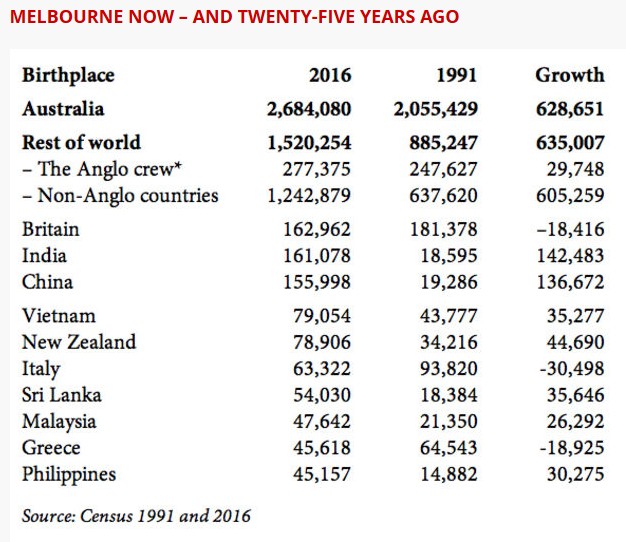 As you can see, immigration from non-Anglo nations (principally Asia) has dwarfed that from Anglo nations.
Therefore, it is a bit rich for Nick McKim to complain that Dutton's modest changes to the permanent migration program will have "more English-speaking, white and wealthy people migrate to Australia", when the immigration program is so heavily biased towards migrants from non-English speaking nations (notwithstanding Dutton's statements around white South African farmers).
Nor are Senator McKim's complaints about "higher costs for family reunions" and the Coalition's "attempts to introduce high-level English tests for potential citizens" justified.
Regarding family reunion visas, the Productivity Commission's (PC) 2016 Migrant Intake Australia report explicitly recommended tightening parental visas and raising their price, given they are costing taxpayers an estimated $335 000 to $410 000 per adult, or between $2.6 and $3.2 billion per annual intake in present value terms (and growing):
There is a strong case for a substantial increase in visa pricing in relation to some elements of the family reunion stream. This would provide scope to recoup at least a portion of the high fiscal costs typically associated with immigrants in this category. In the medium term, the allocation of parent visas should be revised…

The contributory visa charge of just under $50 000 meets only a fraction of the fiscal costs for the annual intake of roughly 7200 contributory parents. And an additional 1500 parents make a minimal contribution. Overall, the cumulated lifetime fiscal costs (in net present value terms) of a parent visa holder in 2015-16 is estimated to be between $335 000 and $410 000 per adult, which ultimately must be met by the Australian community. On this basis, the net liability to the Australian community of providing assistance to these 8700 parents over their lifetime ranges between $2.6 and $3.2 billion in present value terms. Given that there is a new inflow each year, the accumulated taxpayer liabilities become very large over time. This is a high cost for a relatively small group.

Ultimately, every dollar spent on one social program must require either additional taxes or forgone government expenditure in other areas. It seems unlikely that parent visas meet the usual standards of proven need, in contrast to areas such as mental health, homelessness or, in the context of immigration, the support of immigrants through the humanitarian stream, and foreign aid.

Given the balance of the costs and benefits, the case for retaining parent visas in their current form is weak.
The PC's more recent Shifting the Dial: 5 year productivity review also doubled-down against parental visas, claiming that their long-term costs to the Budget are immense:
… parent visas, which provide a short-term benefit to the budget via visa charge income, but impose very large costs in the longer term through their impacts on expenditure on health and aged care, and social transfers. In previous work, the Commission estimated the budgetary costs associated with the 2015-16 parent visa intake alone to be $2.88 billion in present value terms over the lifetimes of the visa holders. By comparison, the revenue collected from these visa holders was only $345 million. Ten year estimates of the fiscal effects of the current parent visas would show a similarly stark disjuncture between revenue and costs, and would therefore provide the insights for a more informed policy decision on the pricing or desirability of these visa types than the current decision-making framework.
With regards to English language proficiency, the PC's Migrant Intake Australia report noted "the fundamental importance of strong English-language skills for an immigrant's integration and wellbeing in Australia" and explicitly recommended "significant reforms within the current system" and "'raising the bar' by shifting to a universal points test while tightening entry requirements relating to age, skills and English-language proficiency".
The latest report from Dr Bob Birrell also revealed that only 24% of recently arrived skilled migrants from non-English speaking backgrounds were employed as professionals as of 2016, compared with 50% of skilled migrants from Main English-Speaking-Countries and 58% of the same aged Australian-born graduates: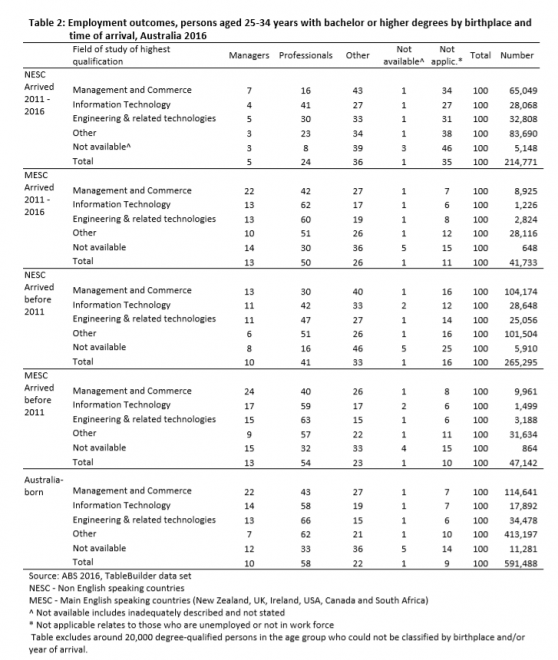 Thus, it makes perfect sense for prospective migrants to be required to speak and read fluent English. It is Australia's national language and being able to understand and effectively communicate in English is central to integrating into the broader community, gaining employment, as well as to fulfil the responsibilities of residency.
Richard Denniss of The Australia Institute is a part of the sensible policy centre and his riposte to the above is as clear and simple as a bell, via the AFR:
While big business and governments love all the revenue that comes from all those extra wallets entering the country, the Australian community has never been as keen. Not because they are all racist, although some clearly are, but because with long waits to get into hospitals, clogged roads, crowded trains and dwindling amounts of public space they simply couldn't see the plan to accommodate even more.

But the public's inability to see the plan doesn't mean there isn't one. There is, and it was working a treat until divisions in the Liberal Party shone a spotlight where darkness had been preferred. Rapid population growth without a similarly rapid increase in infrastructure spending delivers better budget outcomes at the expense of worse public services. Rapid population growth delivers better customer numbers without any need to deliver better customer service. And rapid population growth puts downward pressure on wages without the need to train your existing workforce.
Let's put it to a plebiscite at the next federal election so that the sensible centre can run the real extremists out of town.