The usually sensible Adam Creighton has well and truly joined the 'Big Australia' spruikers, doubling down on February's effort and penning another article warning against any cuts to immigration:
The world's foremost expert on the economics of cities is bewildered by former prime minister Tony Abbott's call to halve the ­nation's immigration intake, ­arguing Australia has an "extraordinary capacity to grow".

Harvard professor Edward Glaeser said Sydney and Melbourne could have much denser populations that would benefit their economies without compromising quality of life.

"If there's one country in the world that doesn't need to worry about adding more people, it's got to be Australia… you have a huge landmass… You've got extraordinary ­capacity to grow."

Professor Glaeser's most recent book, The Triumph of the City, ­explains how metropolises underpin innovation and attract the highest skilled workers. "Big cities are fun," he said…

Professor Glaeser's colleague at Harvard Business School, William Kerr, said immigrants in the US accounted for at least a quarter of US patents and start-ups, as well as a quarter of science, technology, engineering and mathematics employment…

"There's a lot of evidence to suggest grater agglomerations of people lead to more productivity," Professor Glaeser said.
First, the suggestion that Australia is under populated is a classic strawman. Has Glaeser not noticed that, unlike the United States, Australia is mostly arid with little rainfall outside the coastal strip? As noted last month by Bob Carr on Q&A (and supported by Tim Flannery):
… every river on the Australian continent would fit in the Mississippi and the Mississippi wouldn't notice it. There are geographic limits about Australia and these really do undermine the happy faith we, as Australians, have sometimes invested in decentralisation.

One is water. Don't forget, in the last drought, that you had inland cities running out of water. It was particularly acute in Goulburn and Canberra, for example. And that is really a restraint on how you could build population in those centres. And, second, decentralisation only works where you have some terrific value-adding industry. An efficient abattoir, for example, or a mine, like the Cadia gold and copper mine in Orange.
Water security is a key limiting factor against Australia having a large population, and yet Glaeser has ignored it entirely.
Moreover, while Australia's land mass might be huge, the overwhelming majority of migrants don't see it, instead cramming into already overcrowded cities like Sydney and Melbourne.
Secondly, the suggestion that migrants necessarily boost productivity is completely debunked by the evidence. Clearly Glaeser has not seen that Australia has no "skills shortage", that there is widespread visa rorting going on, and that Australia's so-called skilled visa system is a giant fraud, whereby:
many recently arrived skilled migrants (i.e. arrived between 2011 and 2016) cannot find professional jobs;
many skilled migrants have gone into areas that the government's own Department of Employment has judged to be oversupplied (e.g. accounting and engineering); and
migrants have generally worse labour market outcomes than the Australian born population?
Further, when you funnel millions of extra people into the big cities without the infrastructure investment to match – as Australia has done – you necessarily lower productivity, as noted by Ross Gittins:
What economists know but try not to think about – and never ever mention in front of the children – is that immigration carries a huge threat to our productivity.

The unthinkable truth is that unless we invest in enough additional housing, business equipment and public infrastructure to accommodate the extra workers and their families, this lack of "capital widening" reduces our physical capital per person and so reduces our productivity.

Think of it: the very report announcing that our population is projected to grow by 16 million to 40 million over the next 40 years doesn't say a word about the huge increase in infrastructure spending this will require if our productivity isn't to fall, nor discuss how its cost should be shared between present and future taxpayers.
Nor has Glaeser considered that the cost of building infrastructure in built-out cities like Sydney and Melbourne to cope with population growth has become increasingly expensive due to dis-economies of scale (e.g. tunelling, land buybacks, water desalination, etc) – a point explicitly noted by the Productivity Commission:
Growing populations will place pressure on already strained transport systems… Yet available choices for new investments are constrained by the increasingly limited availability of unutilised land. Costs of new transport structures have risen accordingly, with new developments (for example WestConnex) requiring land reclamation, costly compensation arrangements, or otherwise more expensive alternatives (such as tunnels).
Finally, the notion that piling millions more people into Sydney and Melbourne will create "grater agglomerations of people" and thereby "lead to more productivity" is deluded and not supported by the data.
The lion's share of Australia's export revenue comes from commodities and from Western Australia and Queensland in particular: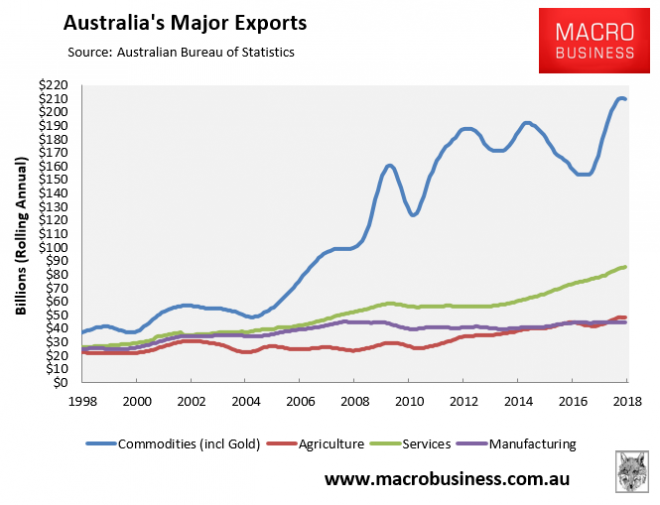 However, the majority of Australia's imports and indeed private debt flows to our biggest states (and cities), New South Wales (Sydney) and Victoria (Melbourne), which are also the key magnets for migrants.
So, increasing the number of people via mass immigration does not materially boost Australia's exports but does significantly increase imports (think flat screen TVs, imported cars, etc.). One only needs to look at both New South Wales and Victoria, which have driven huge trade deficits as the extra imports have far outweighed exports: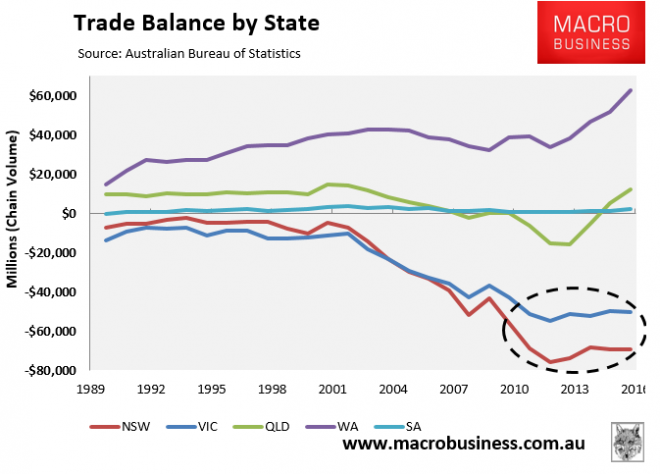 All of these extra imports must be paid for – either by accumulating foreign debt, or by selling-off the nation's assets. Australia has been doing both.
Australia would improve its trade balance and current account deficit, as well as reduce the need to sell-off assets and binge on debt, if it simply reduced immigration.
Australia would still ship the same amount of hard commodities and agriculture regardless of how many people are coming in as all the productive capacity has been set up and it doesn't require more labour. However, we would import far less.
Essentially, by running a mass immigration program, Australia is diluting its fixed mineral wealth among more people, which necessarily lowers residents' welfare.
In short, Creighton and Glaeser needs to articulate far better arguments than these if he is to win the immigration debate.
Addendum: Adam Creighton has contacted me and stated that this is a news article that has merely quoted Ed Glaeser and the views expressed do not necessarily represent his own.
Fair enough, but Creighton has clearly aligned himself on the 'Big Australia' side of the debate, given recent opinion pieces and his appearances on the Today Show and at the CIE debate.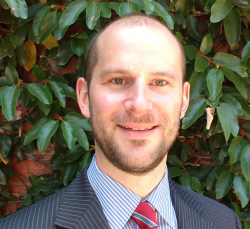 Latest posts by Unconventional Economist
(see all)