Last week's Productivity Commission (PC) report, entitled Shifting the Dial: 5 year productivity review, included a recommendation for the states to shift from stamp duty to land taxes:
Recommendation 4.8

Remove stamp duties and implement transition to land tax

State and Territory Governments should move from stamp duties on residential and commercial properties to a broad-based land tax on the unimproved value of land.

HOW TO DO IT

Phase out stamp duties on residential and commercial property transfers and replace them with a broad-based tax based on unimproved land value.

Transition over several years to aid adjustment.

A shift to land-based taxes should include provision for low income households to defer property taxes and fund them from their estate at death or on the sale of the asset (whichever comes first), with low interest rates applying to debts…

In summary, key elements of reform would include:

Replacement of stamp duties on property transfers with a broadly-based tax based on land values. The shift to a broad base is essential to ensure that revenue is raised efficiently and the tax burden is not disproportionately imposed on a few groups.
Provision for tax deferral for certain low income groups, so that taxes do not force people with less capacity to move. These include people such as owner-occupier retirees, who may be attached to the family home and their community.
Deferred taxes would be paid from estate at death or on the sale of the property (whichever comes first). › Low interest rates on deferment of taxes, for example bond rates, consistent with the policy objective of deferment.

Depending on the sequence and pace of States undertaking reforms, the Commonwealth may need to be involved in facilitation, among other things to ensure that the Commonwealth Grants Commission's horizontal fiscal equalisation (HFE) process does not provide disincentives to improve the efficiency of State taxes in this way. The Productivity Commission's report into HFE, which will be produced in draft October 2017, will look at the incentives the current system creates for undertaking such reforms.
Much to my surprise, the property lobby responded seemingly amenable to reform:
Implementing the Productivity Commission's recommendation to scrap stamp duty would increase housing affordability and boost transactions, cutting the average holding time of a house from 13 to eight years, according to the property industry.

The chief executive of one of the largest developers in Australia, Mirvac's Susan Lloyd-Hurwitz, welcomed the Commission's recommendation to replace stamp duty with a broader-based land tax…

Property Council chief executive Ken Morrison said stamp duty was a "monster" tax that trapped people in homes that were a poor fit for the size of their families…

Laing+Simmons managing director and President-elect of the Real Estate Institute of NSW, Leanne Pilkington, said  removing stamp duty would greatly assist the proper matching of demographics to property…

"We need to move to a fairer system that removes barriers for those who may be looking to upgrade to larger homes, downsize to smaller homes, or get into the market to begin with," she said.
Yesterday, Fairfax's Jessica Irvine also pushed the case for reform:
With a rapidly growing population, supply of new homes has failed to keep pace, causing higher house prices and increasing social segregation between high income inner-city dwellers and lower income outer-urban dwellers…

Any impediments to the efficient allocation of land need to be swept away.

Inconvenient then, that the single biggest impediment to efficient land allocation is also the biggest single source of revenue for most state governments.

Yes, we need to keep talking about stamp duty.

Almost a decade ago, the Henry tax review recommended abolishing it, in favour of a broad-based land tax.

Treasury recently estimated every additional dollar raised in stamp duty on residential property reduces the living standards of Australian households by 72¢ in the long run…

The tax also acts as a barrier to older households downsizing and to owners over-investing in home renovations…

Abolish all stamp duty and raise the exact same amount of revenue by levying an annual charge to all homeowners, according to the unimproved value of their land.

Wealthier people pay more than poorer people. Low income households, such as retirees, can get a concession, or only have the land tax deducted when they come to sell…

Land taxes would also provide governments with a more stable source of ongoing revenue than volatile stamp duties…

The commission has laid down a compelling argument for change. All that's missing is more politicians with the courage to implement it.
Leaving aside the fact that both Irvine and the PC's report are completely blind to role played by mass immigration in creating the 'housing shortage', the case for shifting from stamp duties towards land taxes is compelling.
The Australian Treasury has already shown that stamp duties on real estate are one of the least efficient taxes going around whereas land taxes are the most efficient source of tax available, actually creating positive welfare gains to the domestic population since non-resident home owners are also taxed (see below chart).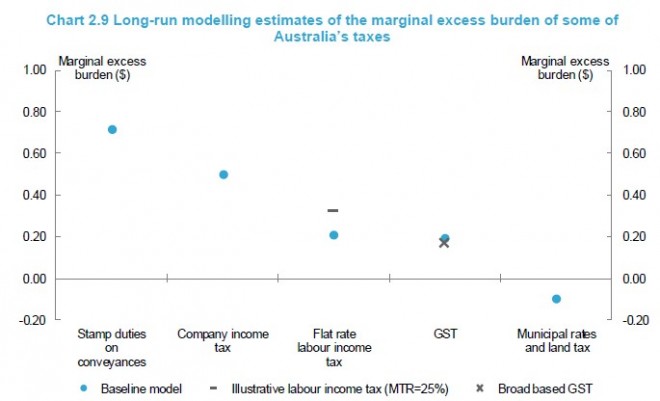 Abolishing stamp duties in favour of a land tax would obviously remove the penalties currently attached to relocating while incentivising households to move to more appropriate houses or employment. In turn, there are likely to be benefits to congestion and commuting times as the housing stock is utilised more efficiently.
With the PC, most economists and policy experts, as well as the property lobby all seemingly aligned on this issue, now is the time for the federal government to push through reform via the COAG process.
Given that there is a productivity pay-off in switching-out the taxes – some of which would flow to federal government coffers via the broader tax system – the federal government should provide incentive payments to the states to facilitate reform.
In last year's housing affordability speech, Scott Morrison pinned the blame for Australia's housing affordability woes on supply not keeping-up with demand. Obviously, part of this problem relates to the mis-match between supply and demand created as older empty nesters occupy most of Australia's family friendly homes, whereas younger growing families are forced to live in ill-suited units and apartments.
In order to facilitate the transition from stamp duties to land taxes, I would like to see the government give home buyers a credit for the stamp duty paid, and then deduct the theoretical land tax that would have applied since the home was purchased.
For example, if someone purchased a home in October 2011 and paid $30,000 in stamp duty, and their annual land tax bill would have been $3,000 per year had the new regime been in effect, then their credit would be $12,000, which can be applied against future years' bills.
Regardless, the stars have aligned and a consensus has seemingly emerged. Thus, the time for reform is now while the window is ajar.
Latest posts by Leith van Onselen (see all)