I have written previously (here and here) how the Australian Greens have shut down discussion and rational debate over population policy, in turn giving voice to divisive figures like Pauline Hanson. This comes despite population size having a direct impact on the Australian environment, which The Greens are supposed to care about, as well as housing affordability, infrastructure and overall living standards.
In November 2016, NSW Greens MP, Jenny Leong, penned a rant in New Matilda linking Sustainable Australia's sensible call to moderate immigration with fascism [my emphasis]:
Throughout the election campaign, on any given day, there were literally hundreds of 'satirical' takes on Trump…

Whether it be cut together footage of Trump saying China on youtube, Tina Fey's portrayal of Sarah Palin or, closer to home, mocking Pauline Hanson's mis-statements or the Sustainable Population Party's poster that blames traffic congestion on immigration, it's time we considered the implications of this laughter…

If a revolution sounds like a whisper, perhaps the rise of fascism sounds like a joke. And as we probably would all agree, fascism is no laughing matter.

Trump's victory as President – and Pauline Hanson's recent electoral success in Australia – make it clear that we laugh at our own peril…
At the time I noted that Sustainable Australia's poster actually called for "better public transport and lower immigration".
I also ridiculed Ms Leong's lack of understanding of basic math: that ramming 80,000 to 100,000+ extra people into Sydney and Melbourne each year, primarily via mass immigration, will necessarily worsen traffic congestion.
Yesterday, in response to this week's Fairfax-ReachTel poll, which found that two-thirds of Sydney's population believe Sydney is full and that its growth should stop, we got the following response from Jenny Leong:
We're not "full." We're being failed.

At the last census, the electorate of Newtown had the highest density of any electorate in NSW, but this is far from a bad thing. Newtown, like much of Sydney, is a vibrant, bustling place and that's what we love about it.

So let's get real about the reason it feels "full" – it is not because of all the amazing people who live in our community, it's because successive state governments have failed to invest in the services and infrastructure we need for our international city to thrive.

YES, our trains are crowded and our roads congested. YES, our classrooms are full and our hospital waiting lists dismal. YES, our green spaces are shrinking and we need more recreational playing spaces. But this doesn't mean we're full. It means we're being failed by Gladys Berejiklian and the state governments before her who have let property developers make Sydney their playground.

I have been to countless community consultations since I was elected – and not once have I heard someone say 'we are full'. The overwhelming call is always for an integrated urban planning approach that recognises that we can't continue to add new dwellings to our wonderful city without also investing in more public transport, more schools, more childcare, more public spaces, more healthcare and community amenities.

Let's seize this moment to call out the real culprits here – the Liberal Government and their failure to put our community needs first. This is not about closing Sydney's "borders" and deciding who should and shouldn't live here.

Let's start working on solutions for a connected city that's liveable for everyone.

We're not full. We're growing and we need to make sure the infrastructure of our city can keep up.
Here we have yet another iteration of the 'better planning and more infrastructure' solution to Sydney's crush-loading. But if it was true, then how come it is never solved? Why can no government of whatever political party, in any fast growing city, get infrastructure or planning right?
It's not like the State Governments of NSW and VIC have not been trying to keep up with population growth. As noted by Dr Jane O'Sullivan in a submission to the Productivity Commission:
A fiscal burden of more than $100,000 per additional person, or tens of billions of dollars per year, is a huge cost for the government to omit from its balance sheet of costs and benefits of population growth. The cost single-handedly accounts for all increase in government debt since the escalation of population growth from 2004. The Grattan Institute reported "unprecedented infrastructure spending by states and territories is largely responsible for a $106 billion decline in their finances since 2006," and "after a threefold increase in capital spending over the last 10 years, states are paying 3 per cent more of their revenues in interest and depreciation."

These figures are based on what has actually been spent. It is evident that expenditure has not been enough, with congestion mounting in transport systems, hospitals, schools, prisons, housing and community facilities.
You read that right: our governments have massively increased infrastructure expenditure and taken on more debt, but have still failed dismally to keep up with rampant population growth.
The end result is sardine packed trains, more time stuck in traffic, less affordable (and smaller) homes, schools and hospitals bursting at the seams,  increasingly costly infrastructure 'solutions', as well as a degraded environment (not to mention lower wages).
The situation facing Sydneysiders is destined to worsen as long as the federal government's mass immigration 'Big Australia' agenda remains, with the NSW Government's own population projections showing that Sydney's population will balloon by a massive 1.74 million people (87,000 people a year) over the next 20 years, with almost all of this growth (1.53 million or 76,500 people a year) coming from net overseas migration: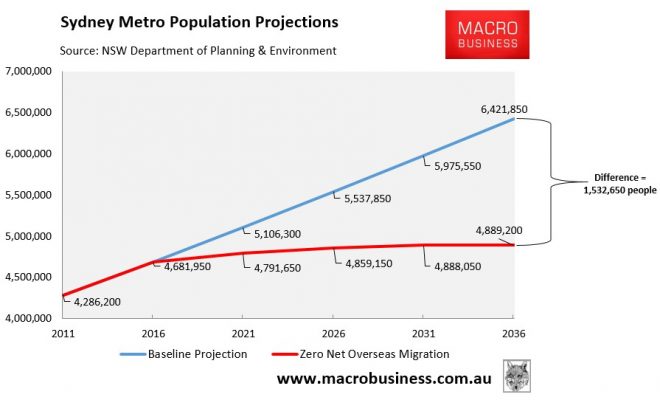 Moreover, long-suffering Western Sydney residents will bear the brunt of the population increase while those that reap the profits will fatten their profits in the east at no cost: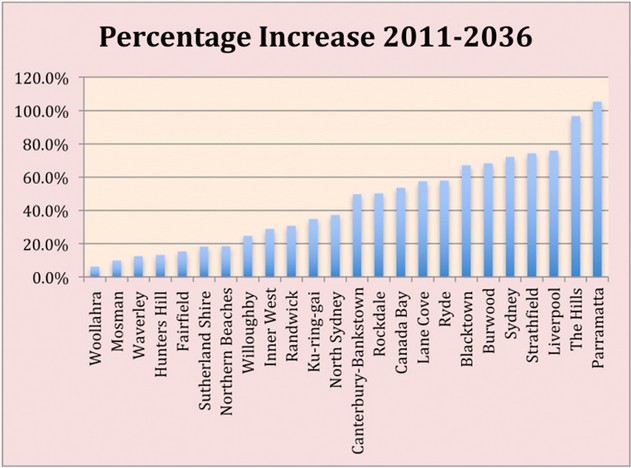 This is pure class warfare.
Blind Freddy – but not The Greens it seems – can see the direct link between overly swift population growth, the environment, congestion, housing affordability, wages and overall living standards for lower income households.
What's quite unclear is what The Greens stand for beyond more and more and more people?
There is a way for The Greens to once again become a genuine "green" party as well as ensuring social justice concerns are met: follow Dick Smith's (and Sustainable Australia's) plan to increase Australia's humanitarian intake (currently 14,000 people per year) while cutting Australia's economic intake (currently around 190,000 people per year) to 70,000.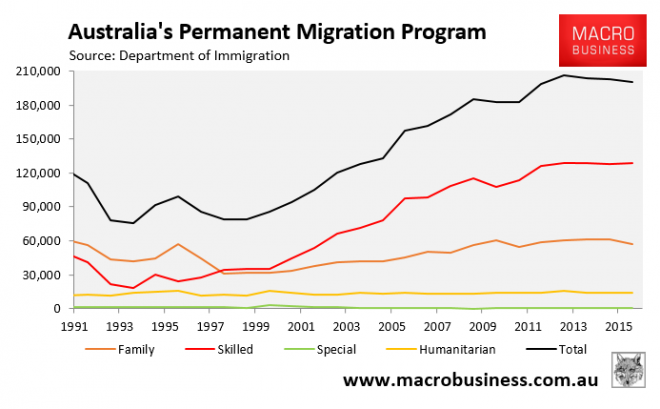 This way, The Greens could achieve two goals: significantly reducing population growth and saving the environment while also being a good and caring global citizen.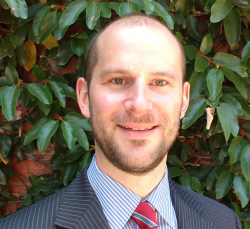 Latest posts by Unconventional Economist
(see all)