One of the reasons why an increasing number of Australians voted for Pauline Hanson's One Nation at the recent Federal Election is because they felt their concerns were not being represented by the mainstream parties.
One example of this is Australia's immigration-driven population growth, which for a decade has lead the world and is on track to nearly double the nation's population by 2050 to more than 40 million people.
The massive rise in immigration began in the mid-2000s when former Prime Minister, John Howard, performed a 'bait-and-switch' on the Australian people whereby he slammed the door shut on the relatively small number of refugees arriving into Australia by boat all the while stealthily shoving open the door to economic migrants arriving here by plane.
John Howard never articulated to the Australian people that the Government was going to dramatically expand the nation's immigration intake. Why? Because he knew the electorate would be against it. Instead, Howard scapegoated refugees to give the impression that he was stemming the migrant inflow while proceeding in secret with his 'Big Australia' plan.
Rather than being honest with the electorate, the Rudd/Gillard Governments and the Abbott/Turnbull Governments continued the subterfuge. There has never been any community consultation, any national discussion, nor any mandate to proceed with such high levels of immigration.
An Essential Research opinion poll conducted in May showed that the overwhelming majority of Australians do not support the high levels of immigration experienced over the past decade: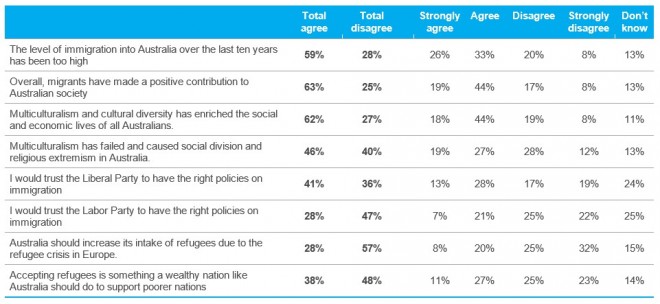 As shown above, 59% of Australians surveyed believed that "the level of immigration into Australia over the last ten years has been too high",  more than double the 28% of Australians that disagreed with the statement.
And yet, all major parties at the recent Federal Election agreed not to debate immigration policy, effectively shutting down discussion and rational debate, and in effect giving voice to divisive figures like Pauline Hanson.
I have been most surprised at The Greens' refusal to debate publicly Australia's excessive population growth, despite population size having a direct impact on the environment. Like the major parties, the Greens seem to have wrongly conflated the issue of immigration with boat people and asylum seekers, despite the overwhelming majority of new arrivals being economic migrants arriving here by plane.
Indeed, in the lead-up to the Federal Election, Sustainable Population Australia sent a questionnaire to six political parties asking for their positions regarding population issues, including:
Their views on the optimum population for Australia and the basis for their figure;
Whether they recognise that there are environmental constraints to population growth and which constraints are the most significant;
Skilled migrant intake versus training local workers; and
Failure of infrastructure to keep pace with population growth and whether they would consider limiting population growth as a means of containing infrastructure cost.
The questionnaire was sent out on 17th and 18th May, with a request for answers by 10th June – a reasonably generous three-and-a-half week turnaround. Only the Labor Party, the Nick Xenophon Team and Sustainable Australia submitted responses. Numerous attempts were made to ensure responses from The Greens, but they failed to reply.
Earlier this month, we got another example of The Greens' failure on this issue when party member Geoff Dowsett was harassed and threatened to have his membership revoked by candidate Tamara Ryan for daring to question population growth's detrimental impact on the living environment. Here is Dowsett's question to Ryan via We Can Do Better:
GEOFF DOWSETT: "As a candidate for John Kaye's Upper House seat how about a strong statement and policy improvement suggestion from you to address the desperate need to stabilise Australia`s population growth? The current "economic"—middle class so called skilled (non refugee) immigration rate of 500,000 per year including 457 Visa (a world record high intake) is not sustainable. Sydney's population is growing by 83,000 net pa under the Liberal Govt's Immigration scam. It is causing excessive impact on inadequate infrastructure-impact on natural eco-systems through urban growth and consumer demand. Increased traffic congestion in our major cities – sky rocketing housing prices. Of course the immigration rate is just what big business wants particularly the housing industry while our quality of life, natural environment and urban environment goes down the gurgler. The immigration rate is also closely linked with the insane growth economy which is addicted to continuing growth in consumption. It is HYPOCRISY of the Greens to have a policy of sustainable economy without a policy for a substantial reduction in immigration. Priority should be humanitarian i.e. for political and environmental refugees NOT wealthy middle class business migrants. When will the Greens members such as yourself bite the bullet on population ? I won't vote for you unless you make a statement indicating a clear commitment to reducing Turnbull's excessive Immigration and 457 Visa intake."(Geoff Dowsett. Member. Hornsby Kuringai Greens. Population/Sustainability Working Group Member. Statement above does not represent the views of all of the working group.)
These are all legitimate questions raised by Dowsett. Sydney and Melbourne, in particular, are straining under the weight of continual high population growth, experiencing widespread infrastructure bottlenecks, rising congestion, and record low housing affordability.
And Australia's turbo-charged immigration intake does impact many facets of life, including:
whether you can afford a decent home a reasonable commute from work;
how long you spend stuck in traffic;
whether you can find a seat on a train, bus or tram;
whether there is a bed for you in hospital or a spot for your child at the local school;
environmental sustainability and amenity;
etc
Dowsett also could have highlight that for a major commodity exporter like Australia, which pays its way in the world by selling-off its fixed endowment of resources, ongoing high immigration can be self-defeating from an economic standpoint. That is, continually adding more people to the population year after year means less resources per capita. It also means that Australia must sell-off its fixed assets quicker just to maintain a constant standard of living (other things equal).
But instead of getting a considered response addressing these concerns, the Greens candidate instead labeled Dowsett "sexist" and "racist", threatened to revoke his party membership, and stated that The Greens support "open borders":
TAMARA RYAN: "Geoff. I understand your membership is being collectively reconsidered for your frequent racist and sexist comments like these Jeff. Your views on climate action via controlling immigration have no place in this party or represent the Environment.

I don't care about your vote, but I do care fiercely about advocating for women's autonomy over their bodies, rejecting racism and opening borders. Capitalist structures that promote continuous growth and waste by corporations and governments are responsible for stifling efforts on climate change, not people seeking a place and way to live".
Instead of playing the 'race card' and shutting down debate, The Greens and the other major parties need to openly and maturely discuss the whole immigration and population growth issue.
Again, there has so far been no proper debate within the community about the appropriate level of immigration and no political mandate for pursuing a "Big Australia". And as long as Australians' concerns are ignored, some will continue to defect to extremist elements like Pauline Hanson's One Nation in protest. We have seen this already with Brexit, and we are seeing it again with the rise of Donald Trump.
Population policy is far too important an issue to be segregated into pro-and anti-immigration corners based upon views about race and cultural supremacy.
Australia desperately needs a frank and honest national conversation about population policy, which focuses on whether or not large-scale immigration is benefiting the living standards of the existing population. Not the current 'smoke and mirrors' approach that conflates immigration with refugees, or the divisive "Hansonites vs progressives".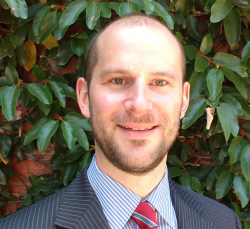 Latest posts by Unconventional Economist
(see all)