As Melbourne's population surges by a projected 97,000 people a year to 8 million mid-century: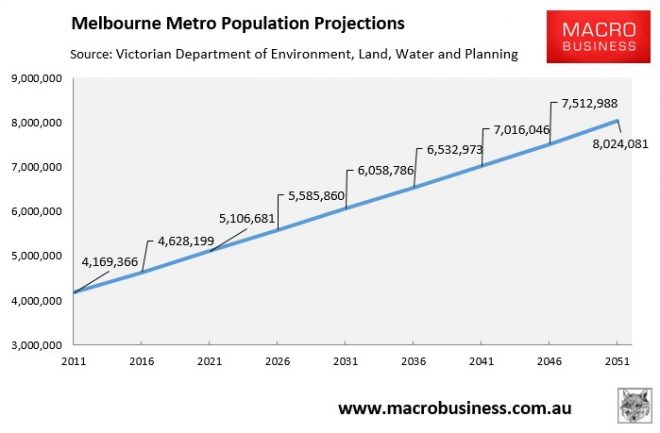 Melbourne's sardine can future was revealed in May with new 'pack-em in' configuration trains slated to enter service from mid-2019 along Metro routes:
The days of getting a seat on a Melbourne train will soon be replaced by the kind of shoulder-to-shoulder commute people experience daily in mega-cities such as Tokyo.

Designs for a planned fleet of 65 new high-capacity trains that will enter service from mid-2019 reveal a radical change is in store for Melbourne train travellers.

The trains will be built to carry between 1200 and 2000 passengers each, depending on their configuration, and they will be designed to maximise standing room, with seats provided for just 30 to 40 per cent of passengers in a fully loaded train.

The bumper loads will be accommodated by enabling "standing passengers to safely travel at a density of up to six passengers per square metre", technical documents seen by Fairfax Media say.

According to studies, this level of crowding is comparable to that experienced in the Tokyo metro.

By way of comparison, the city's current fleet of trains are designed to comfortably fit 900 people and seat about two-thirds of them…

Public Transport Minister Jacinta Allan said that without larger trains and more services, passengers would be left stranded on platforms in peak hour.
But wait, its not just Metro trains that will be packed cheek to jowl. As reported Wednesday in the Geelong Advertiser, regional commuters on the Geelong V-Line passenger service are also facing a sardine can future:
"V/Line was not prepared for the strong growth in patronage and the resulting increase in service demand following the opening of the RRL (in mid-2015)…

Significant overcrowding occurred as passenger numbers on the Geelong line soared by 69 per cent within the first year.

The soaring use was matched by a drop in performance, with the punctuality of services in the south-western corridor dropping to 78.3 per cent.

New stations in metropolitan areas — at Wyndham Vale and Tarneit — have lead to Geelong having the highest rate of services reaching maximum capacity.

Data shows that all Waurn-Pounds-bound trains in the afternoon peak were overcrowded before they even left Southern Cross Station in March.

On the same route during the morning peak, all trains were full from Tarneit Station.

Passengers are now being told to prepare to spend more time standing, as V/Line moves towards more of a commuter-style service…

"V/Line's performance over the past 10 years has mostly fallen short of its targets and community expectations, despite infrastructure improvements and timetable changes…

Coalition public transport spokesman David Hodgett said regional commuters were being let down by poor service, reliability issues and overcrowding.

"If we want to manage Melbourne's and Victoria's population growth and ease the squeeze, we need to ensure regional Victoria has the infrastructure and opportunities it needs," he said.
Who would have thought: cramming hundreds of thousands of people into the city's west would crush-load the Geelong line?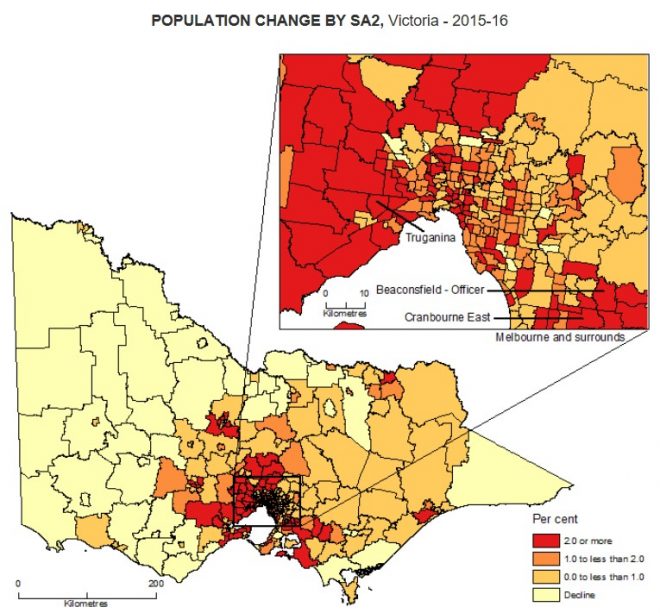 Sardine packed trains. More time stuck in traffic. Less affordable (and smaller) homes. Schools bursting at the seams. This is what "prosperity" looks like to the 'open borders' advocates on the left.
Of course, anyone with half a brain knows what is driving Melbourne's falling livability: the federal government's mass immigration program.
According to the Productivity Commission's recent Migrant Intake into Australia report, Australia's population is projected to grow to around 41 million mid-century under current mass immigration settings. This is roughly 14 million more people than would arrive into Australia under zero net overseas migration: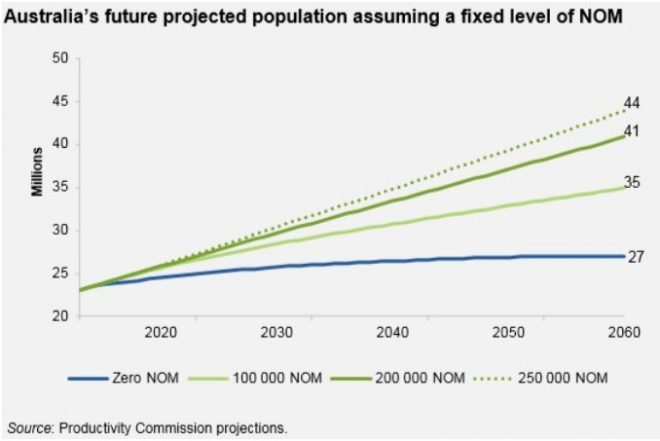 Clearly, the best way to avert Melbourne's looming infrastructure disaster, as well as maintain decent living standards, is for the the State Government to tap its federal counterpart on the shoulder and demand it slash Australia's immigration program.
Sadly, the Turnbull Government in May announced it would maintain Australia's permanent migrant intake at a record 205,000 people a year in 2017-18 without a whiff of opposition from Labor or the fake Greens: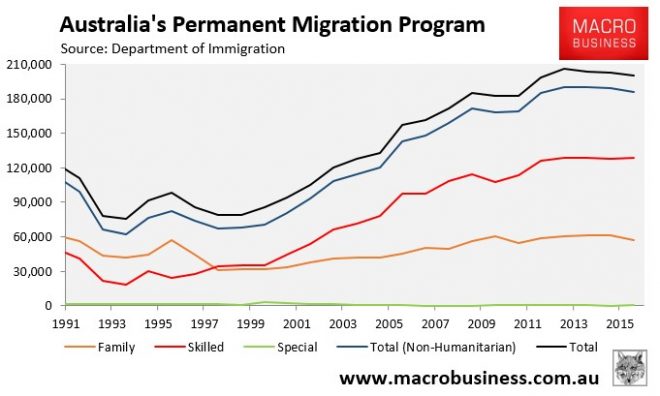 Hence, Melbourne's living standards are destined to be crush-loaded into little tins for the foreseeable future.
And for what?