From SBS comes disappointing news that the Turnbull Government will retain Australia's record permanent migration intake in 2017-18:
Australia's permanent migration programme for 2017-18 will remain at a ceiling of 190,000 places.

This was announced by Department of Immigration and Border Protection Minister Peter Dutton on budget day.

After recent announcements of abolishing the 457 visas and strengthening the requirement to gain Australia's citizenship, all eyes were on government to see if the skilled migrant intake would be reduced or would it be maintained…

Even former Prime Minister Tony Abbott opined that reducing migrant intake could solve the problem of housing crisis in Australia.

Immigration amounts to approximately 55 per cent of Australia's population growth annually and "High rates of immigration put upward pressure on land and housing prices in Australia's largest cities," a 2016 Productivity Commission report into the migration intake said…

Applicants wishing to come to Australia on work visa from March 2018 will have to nominate an occupation on the occupations list. Along with abolishing the 457 visa, government also removed 200 occupations from the occupations list.

However, despite a huge rejig with work visa programs, the government has decided not to cut the migrant intake for 2017-18.
As shown in the next chart, Australia's permanent migrant intake is already running near record high levels of circa 200,000 a year (including the humanitarian intake), which is even higher than during the mining boom: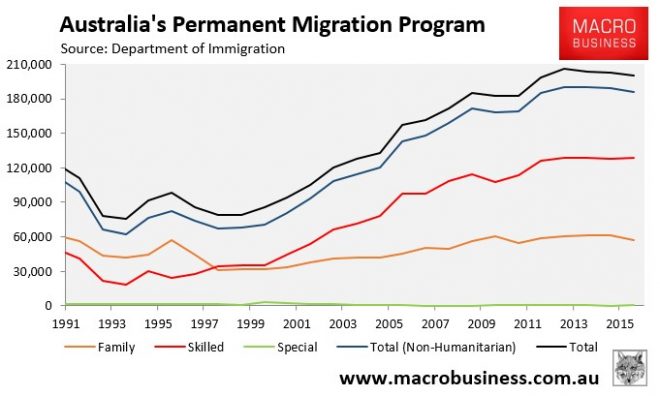 Under the announced intake for 2017-18, permanent migration would hit around 205,000 (including the humanitarian intake) – an equal record – despite high labour underutilsation, record low wages growth, as well as woeful housing affordability and widespread infrastructure bottlenecks in the major cities. In short, you could not pick a worse policy to destroy the living standards of incumbent residents.
The announcement by the Coalition is also stupid politically. The Coalition could have stopped One Nation in its tracks and wedged Labor simply by halving the permanent migrant intake by targeting so-called 'skilled' migrants. If not now, when?
The Coalition has missed a golden political opportunity here. And residents of Sydney and Melbourne, in particular, will pay the price as living standards are eroded further.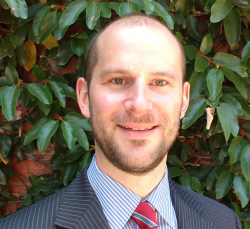 Latest posts by Unconventional Economist
(see all)