DXY held small gains last night: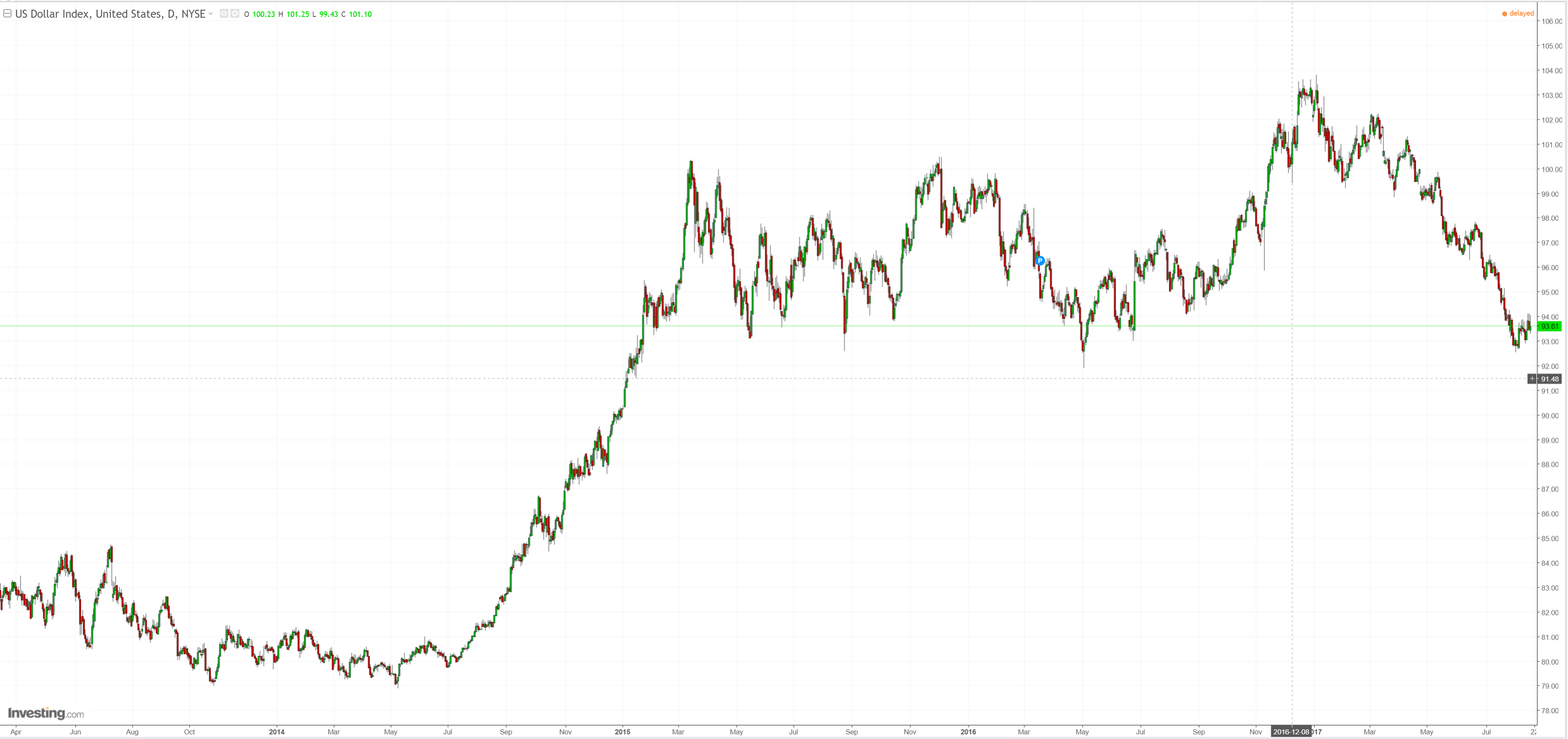 The Aussie fell against DMs: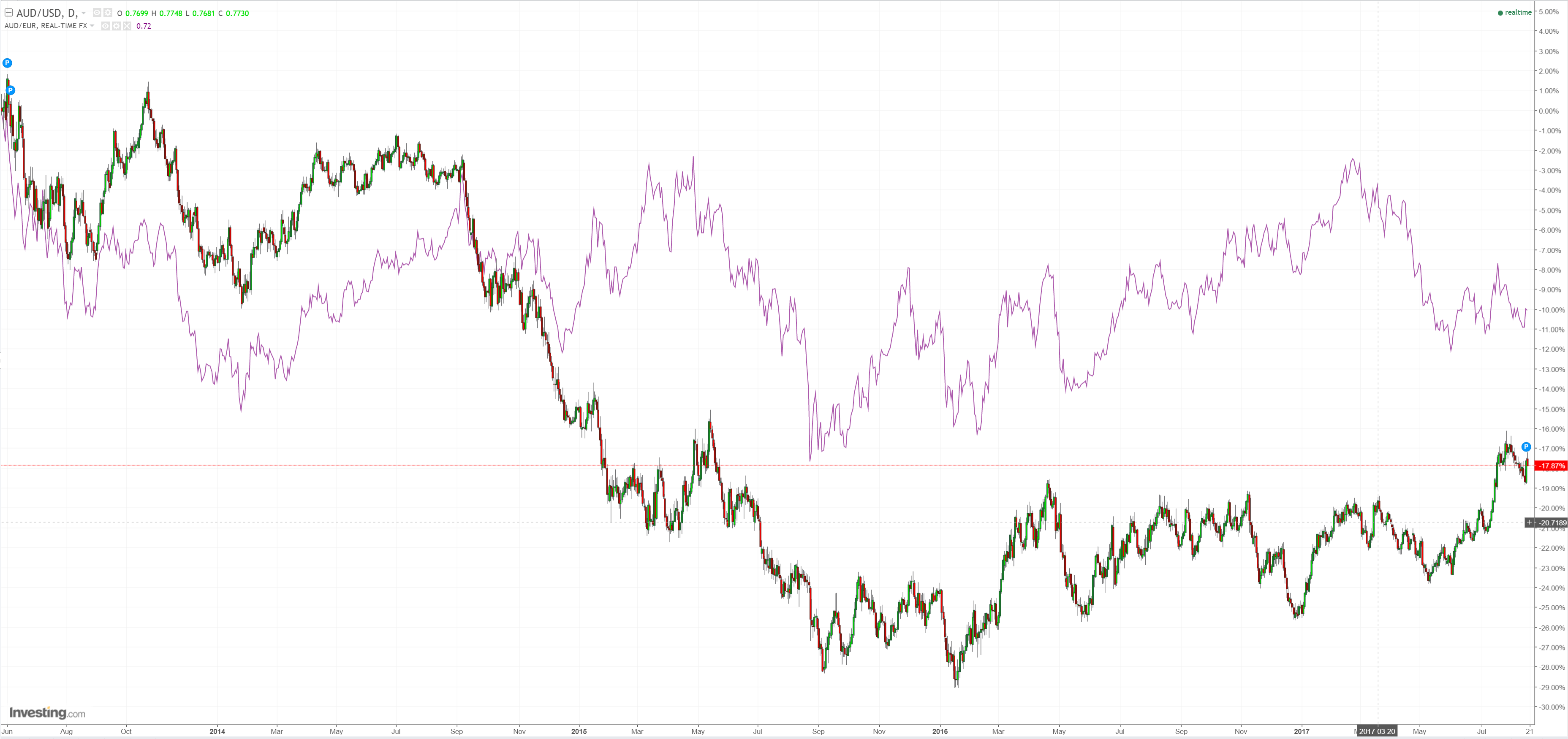 And was mixed against EMs: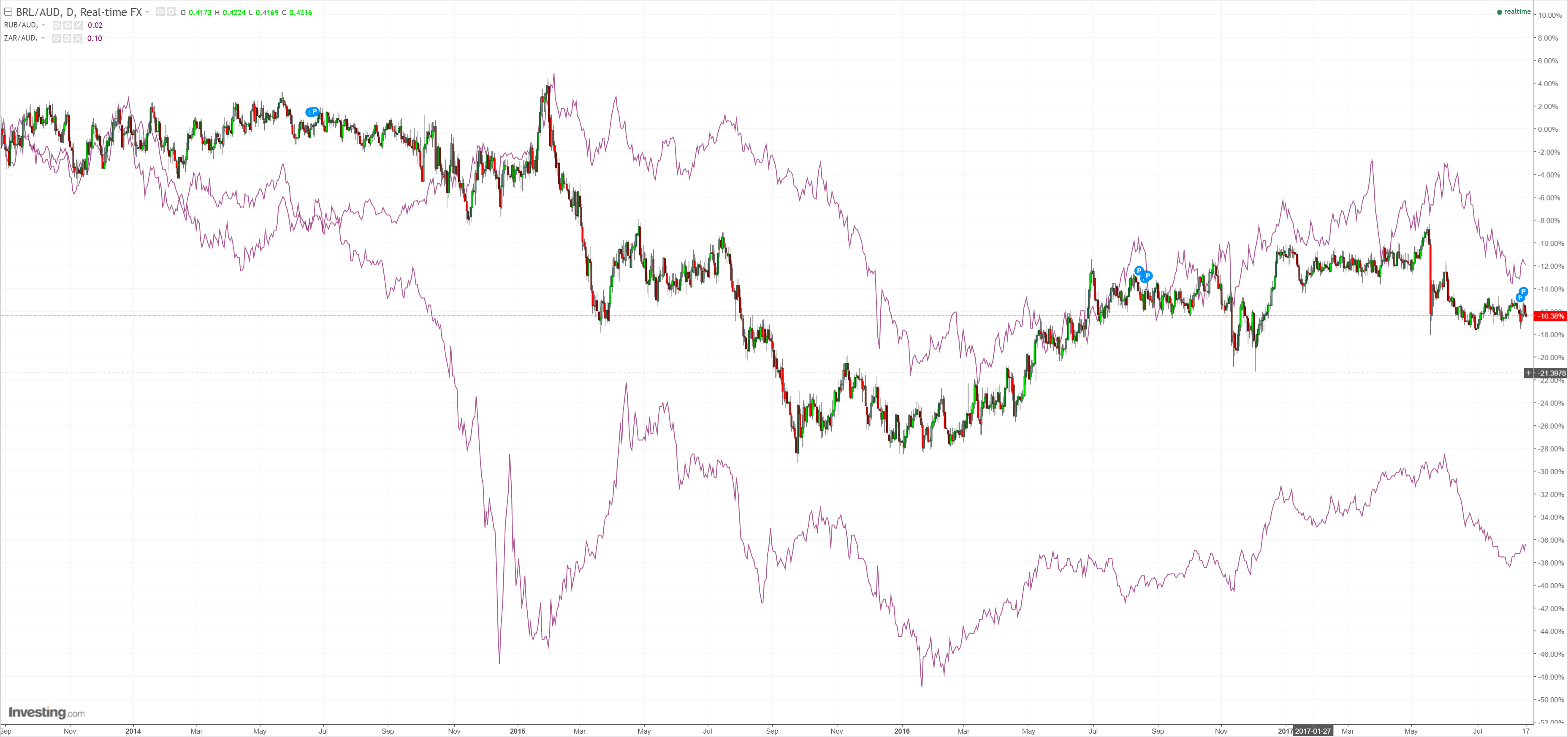 Gold signaled more risk for USD weakness:
Brent held on: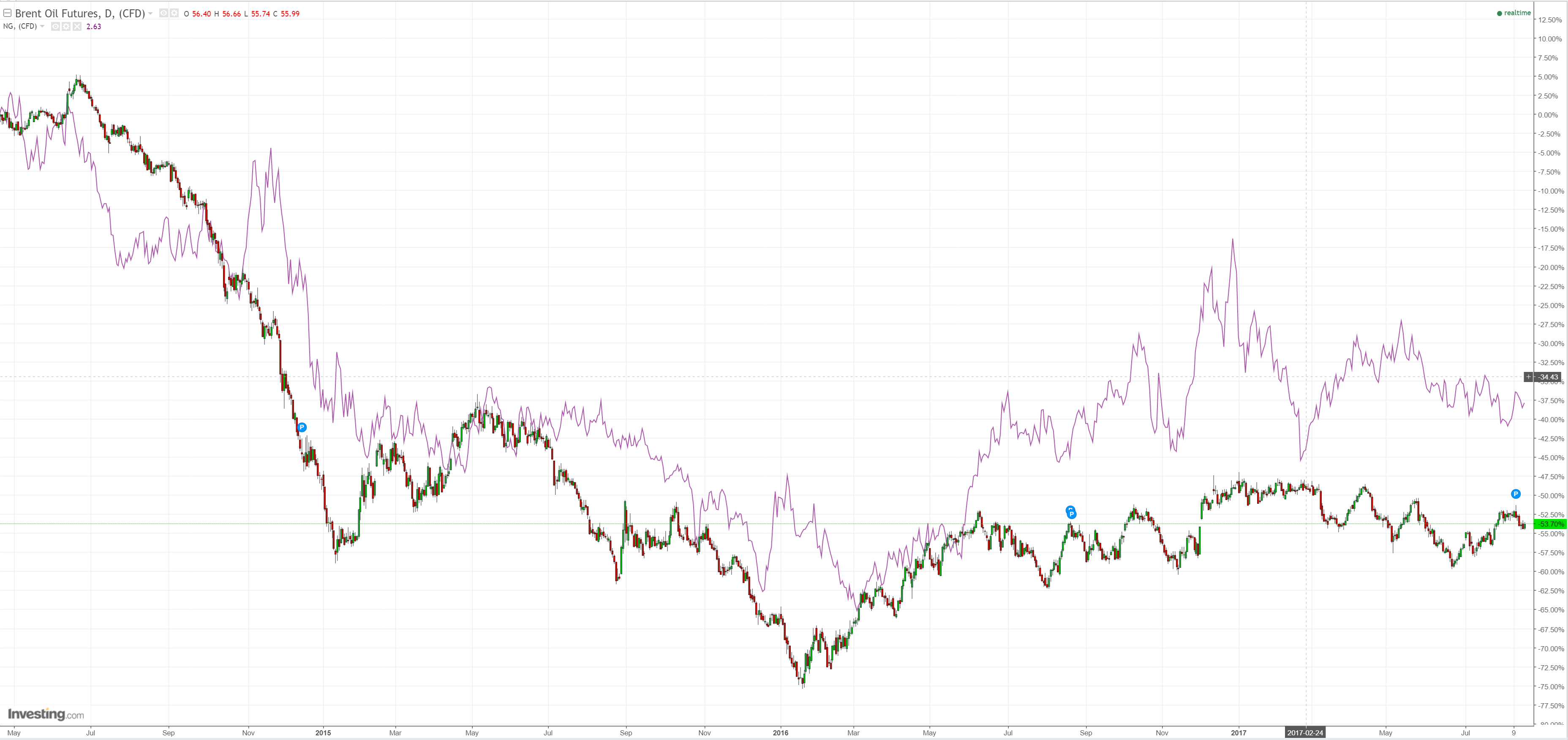 Base metals unwound the hysteria a little: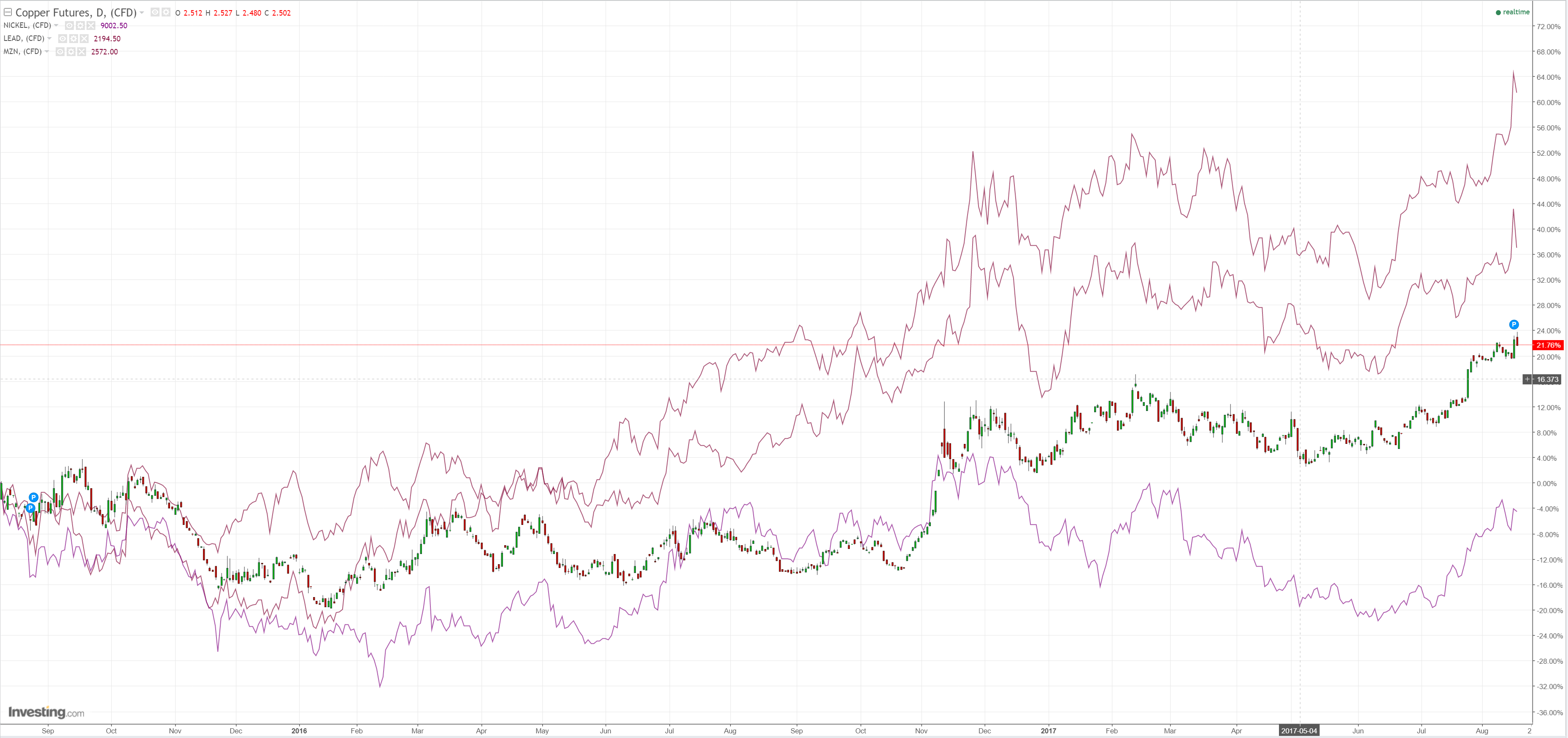 EM stocks took a hit: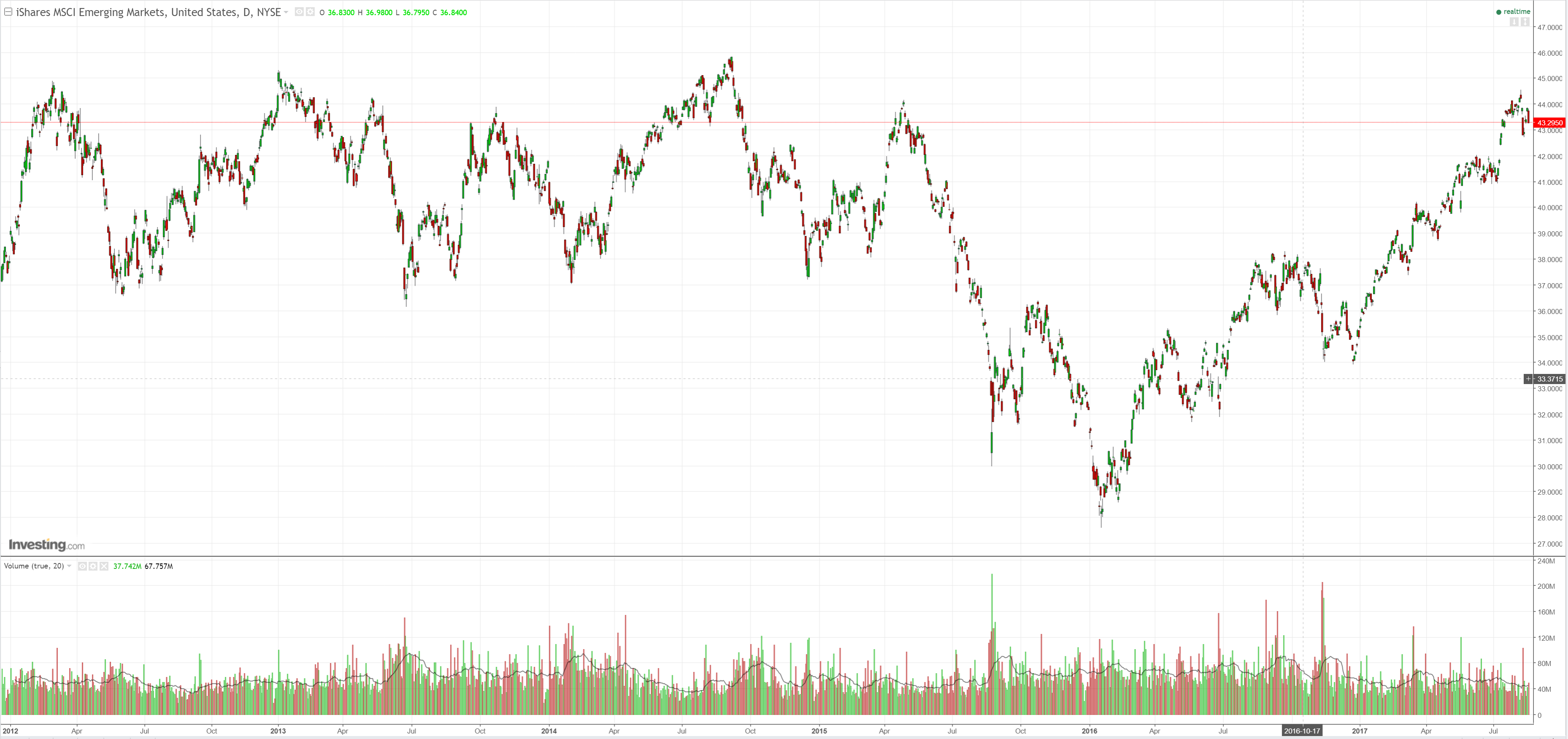 US high yield did too. EM was better: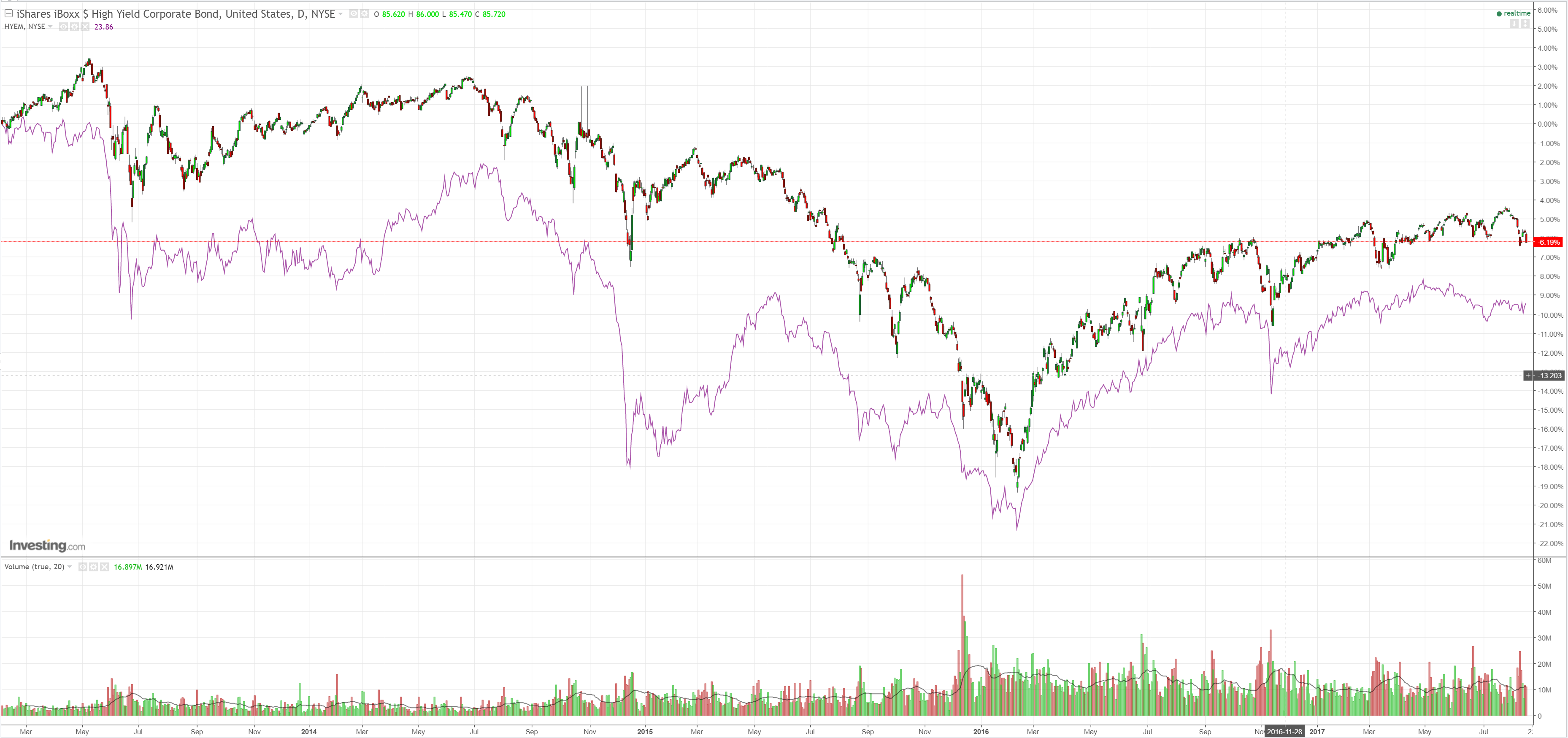 US yields fell sharply: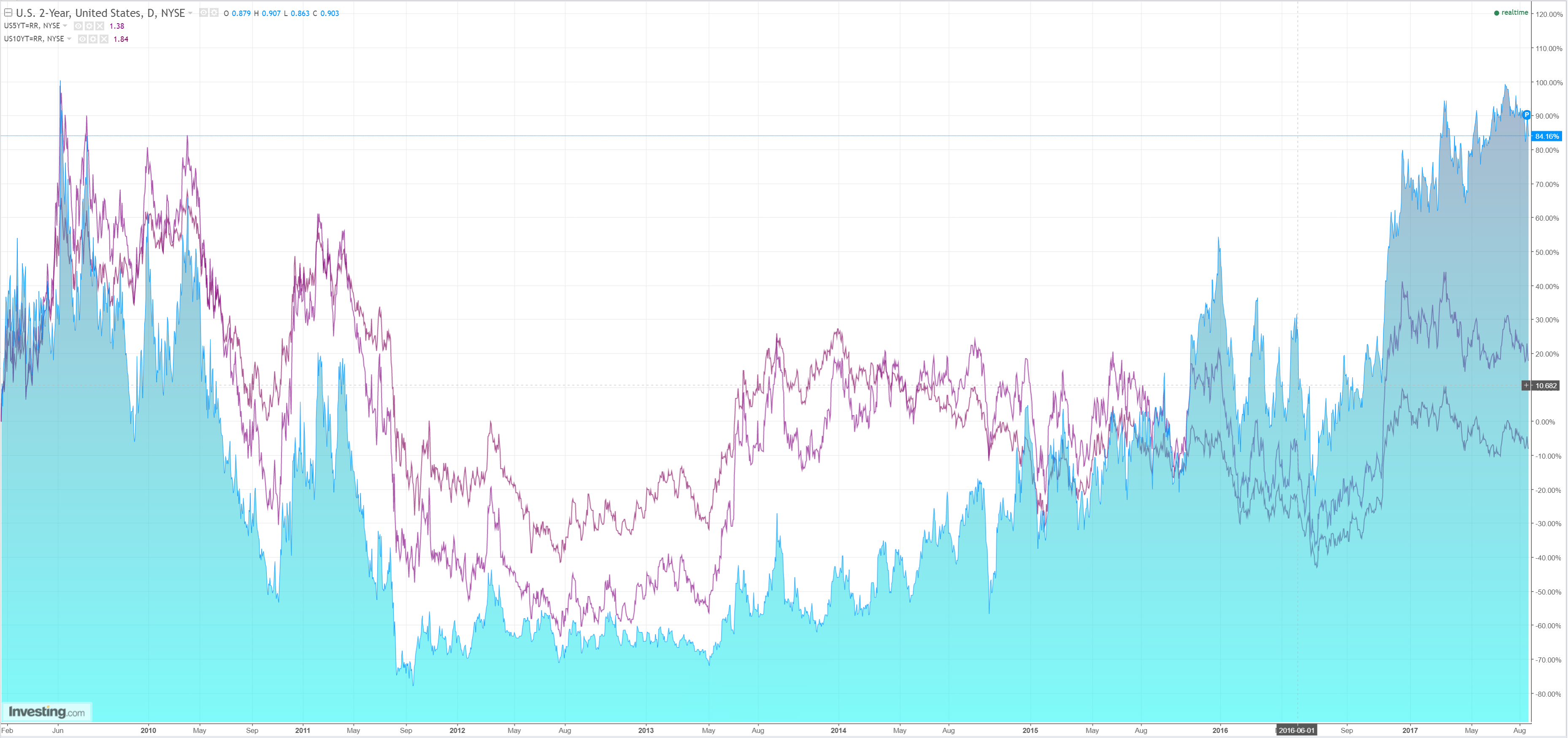 Europe a little less: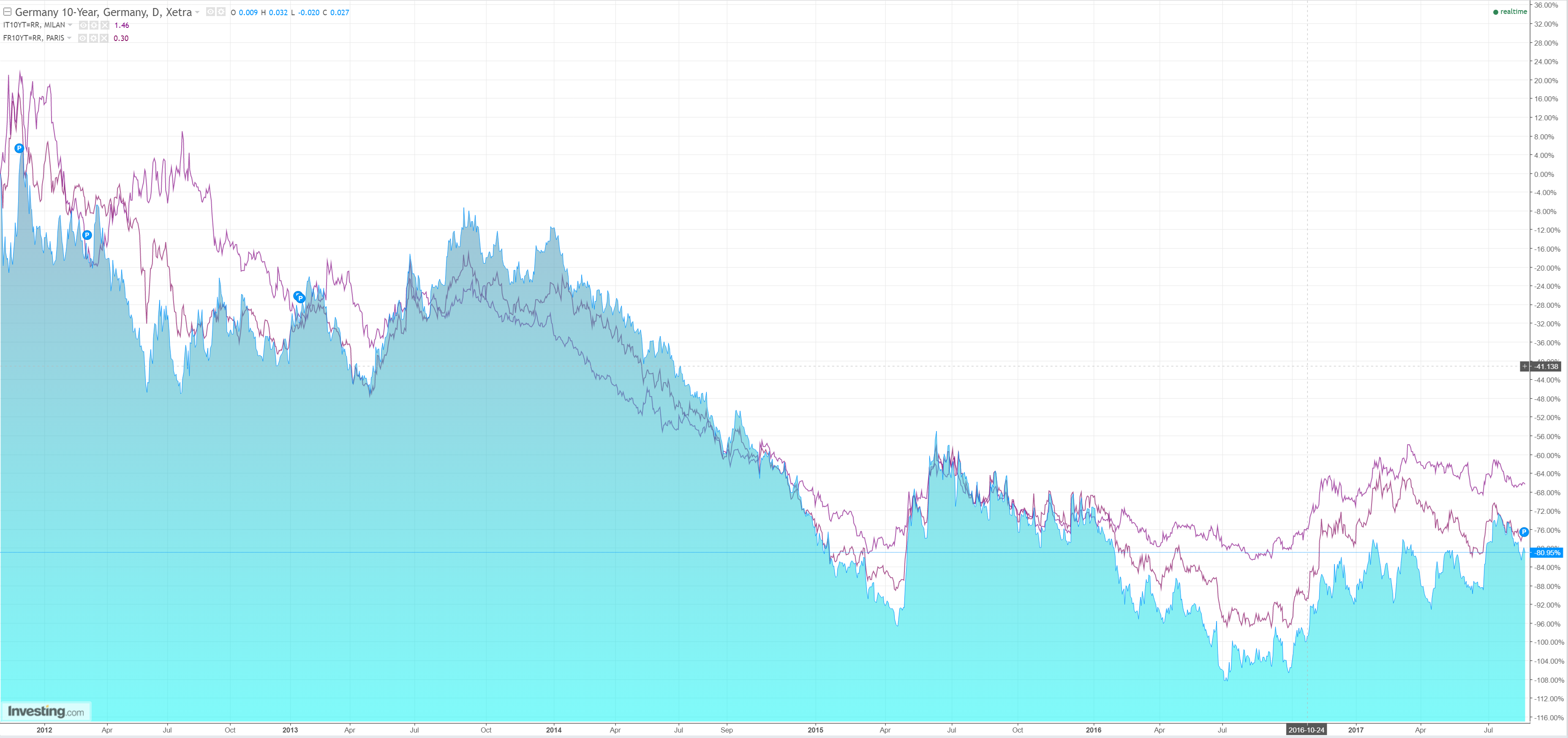 Stocks got hammered: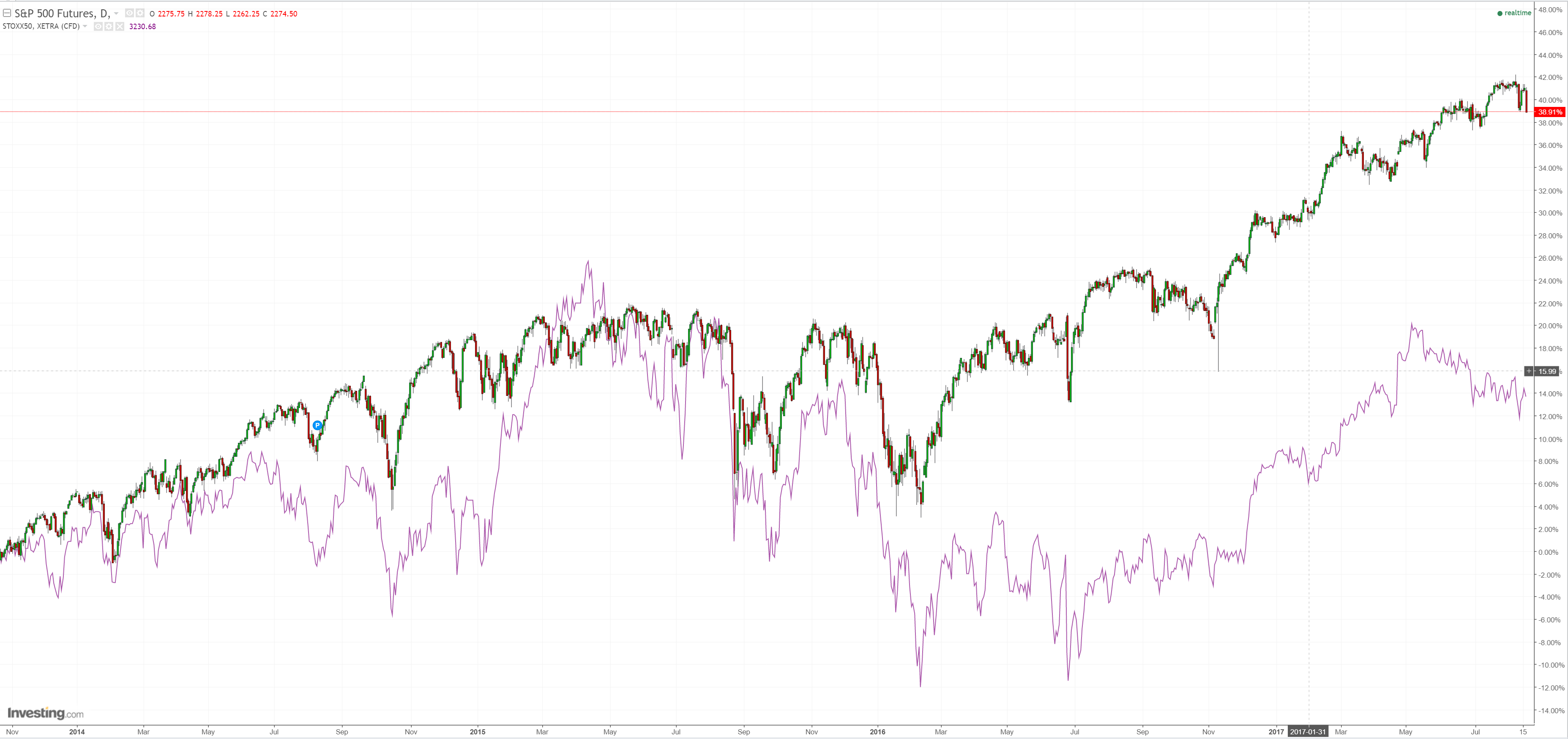 As it turns out, social crisis is economic, via CNBC:
After corporate CEOs abandoned President Donald Trump, markets are worried Trump's key advisors and Cabinet members will be the next to leave him, threatening his economic agenda.

But political strategists doubt the key financial advisors like Gary Cohn, director of the National Economic Council or Treasury Secretary Steven Mnuchin are close to resigning. The two former Wall Street executives have high credibility in the markets and are viewed as key drivers of the Trump economic agenda, particularly tax reform.

"For the first time, people are now questioning if he can get anything done policy-wise. His agenda is under threat," said Peter Boockvar, chief market analyst at The Lindsey Group.

Stocks slumped Thursday morning as rumors circulated that Cohn was leaving the White House. They recovered slightly after it was denied by the White House, but selling accelerated later in the day and the market was at lows in afternoon trading, with the Dow down more than 180 points.

"I think it's Trump-related. People are worried about the unraveling of his team, his administration's authority and what this means for tax reform. Every day, he makes a new enemy in Congress. Today's he's picked a fight with [South Carolina Sen.] Lindsey Graham," said Boockvar.

Trump alienated members of his two corporate councils, after he on Tuesday appeared to defend some of the people who marched at a white nationalist rally and noted that "many sides" were at fault in the violence that claimed the life of one woman and injured other protesters in Charlottesville, Virginia, last weekend. He dissolved the two CEO councils, after one high-profile group of CEOs had already voted to disband and others were exiting.

"What has been the story for the last six months is that at least he has decent people around him … and that would change instantly" if Cohn or Mnuchin were to leave, said Art Cashin, UBS director of floor operations at the New York Stock Exchange. Cashin said the selling accelerated Thursday when Trump denounced the removal of Confederate statues in a tweet, during morning trading.

The market has been particularly uneasy about Cohn, who was reportedly appalled after Trump turned an infrastructure announcement on Tuesday into a tirade about Charlottesville. The looks on the faces of the advisors surrounding him ranged from disgust to disbelief.

"Cohn's probably the front-runner to replace Janet Yellen, so I can't see him voluntarily giving up an opportunity like that. I don't see him getting fired. I think he's held in high regard. It was clear to me and I think a lot of people on Tuesday that he was distressed by Trump's doubling down on the Charlottesville stuff, but I don think it's sufficient for him to quit," said Greg Valliere, chief global strategist at Horizon Investment. "I think like everyone at the White House, he's distressed about what Trump has done."
It's appalling to anyone with a half-arsed grasp of history but Cohn and Mnuchin are both very prominent Jews so this neo-Nazi stuff must be galling them to the core.
Meanwhile, the FT is reporting that Cohn is at war with Bannon:
Longstanding divisions in President Donald Trump's White House burst into the open on Thursday, with defenders of his response to white nationalists facing off against the administration's moderates. At the centre of the power struggle: the president's chief strategist, Steve Bannon, and his chief economic adviser, Gary Cohn.

On Thursday, the administration was forced to dismiss reports that Mr Cohn planned to leave the administration following Mr Trump's controversial comments on the violence in Charlottesville, and an interview with Mr Bannon in which the chief strategist attacked his White House rival.

People close to Mr Cohn denied reports that he intended to quit even though he had been offended by Mr Trump's remarks, which appeared to equate the actions of white nationalist demonstrators with those of counter-protesters in Charlottesville.

"Nothing has changed," a White House spokesman said. "Gary is focused on his responsibilities as [National Economic Council] director and any reports to the contrary are 100 per cent false."  While tensions have long existed between Mr Bannon, an avowed economic nationalist, and Mr Cohn, who has urged Mr Trump to take a more centrist stance on issues such as trade, the events in Charlottesville have exposed the extent of the faultlines. They have also raised further questions on which side is likely to emerge as winner.

In his interview with The American Prospect, a left-leaning magazine, Mr Bannon asserted that he was engaged "in a fight every day" with Mr Cohn and "Goldman Sachs lobbying" — never mind that Mr Bannon, like Mr Cohn, also used to work at the New York investment bank.

On Thursday, Breitbart News, the far-right news site until recently headed by Mr Bannon, ran a news story with the headline: "As Gary Cohn Fails, President Trump Disbands His CEO Council".

It is still unclear whose side will emerge on top. Mr Cohn is seen as a strong ally of Mr Trump's daughter Ivanka Trump and son-in-law, Jared Kushner, as well as Dina Powell, another top adviser and former Goldman Sachs banker. Mr Bannon, meanwhile, shares many of the views of Stephen Miller, a fast-rising star in the administration who is the president's chief speech writer.
Piling on top that was the atrocity in Barcelona, via the BBC:
At least 13 people have died and 80 were injured after a van ploughed into crowds in Barcelona's famous Las Ramblas tourist area, police and local officials say.

The vehicle sped along the pedestrian area, mowing down people and sending others fleeing for cover.

Police are treating it as a terrorist attack.

The head of the Catalan region said two people had been arrested.

Spanish media are reporting another suspect died in a shootout. El Mundo newspaper said the shootout happened in Sant Just Lesvern, on the outskirts of the city.

Police have released a photo of a man named as Driss Oubakir, who is alleged to have rented the van used to drive into pedestrians.

Local media say he is in his 20s, and was born in Morocco. It is unclear if he is one of those arrested.
It's a nasty cocktail to be sure. An Administration led by a President with no moral compass surrounded by warring social liberals and conservatives, torn between home grown nationalist militants that are being fed by fear of persistent Islamic murderers.
It's a very unusual interplay of political and cultural flash points that is potentially capable of fracturing the Administration.
It is appropriate to discount some policy risk here.