Treasurer Scott Morrison's declaration that the great Australian adjustment is over has lasted for a full four days. Recall:
Treasurer Scott Morrison says governments can build infrastructure projects more cheaply and effectively than the private sector, justifying the "good debt" focus of his second budget that next week will foreshadow a turning point to "better times" for Australian households.

In a wide-ranging interview with The Australian Financial Review, Mr Morrison expressed cautious optimism that international ratings agencies would retain Australia's AAA sovereign credit rating given his "very high goal" of keeping to the projected return to budget to balance by 2021.

He said Sydney's apartment market was "already turning" due to prudential controls on bank lending to investors that were flexible enough to avoid a "hard landing" for housing.

And he suggested the "very encouraging" economic news from the US, Europe and Asia could relieve the frustration of Australians over unexpectedly low wages and income growth since the global financial crisis eight years ago.

This positioned Australians for "the end phase of what has been a pretty long road for them".

"All of that sacrifice is going to be soon worth it so long as we keep making the right choices," he said. "After all all these years of really hard slog, not long to go now."
And the RBA this week:
There has been a broad-based pick-up in the global economy since last year. Labour markets have tightened further in many countries and forecasts for global growth have been revised up. Above-trend growth is expected in a number of advanced economies, although uncertainties remain. In China, growth is being supported by increased spending on infrastructure and property construction, with the high level of debt continuing to present a medium-term risk. The improvement in the global economy has contributed to higher commodity prices, which are providing a significant boost to Australia's national income. Australia's terms of trade have increased, although some reversal of this is occurring.

Headline inflation rates have moved higher in most countries, partly reflecting the higher commodity prices. Core inflation remains low. Long-term bond yields are higher than last year, although in a historical context they remain low. Interest rates have increased in the United States and there is no longer an expectation of additional monetary easing in other major economies. Financial markets have been functioning effectively.

The Bank's forecasts for the Australian economy are little changed. Growth is expected to increase gradually over the next couple of years to a little above 3 per cent. The economy is continuing its transition following the end of the mining investment boom, with the drag from the decline in mining investment coming to an end and exports of resources picking up. Growth in consumption is expected to remain moderate and broadly in line with incomes. Non-mining investment remains low as a share of GDP and a stronger pick-up would be welcome.

Indicators of the labour market remain mixed. The unemployment rate has moved a little higher over recent months, but employment growth has been a little stronger. The various forward-looking indicators still point to continued growth in employment over the period ahead. The unemployment rate is expected to decline gradually over time. Wage growth remains slow and this is likely to remain the case for a while yet.
Poor sods. It's such a burden being pathologically optimistic. The truth is iron ore is about to open a trapdoor under the economy again: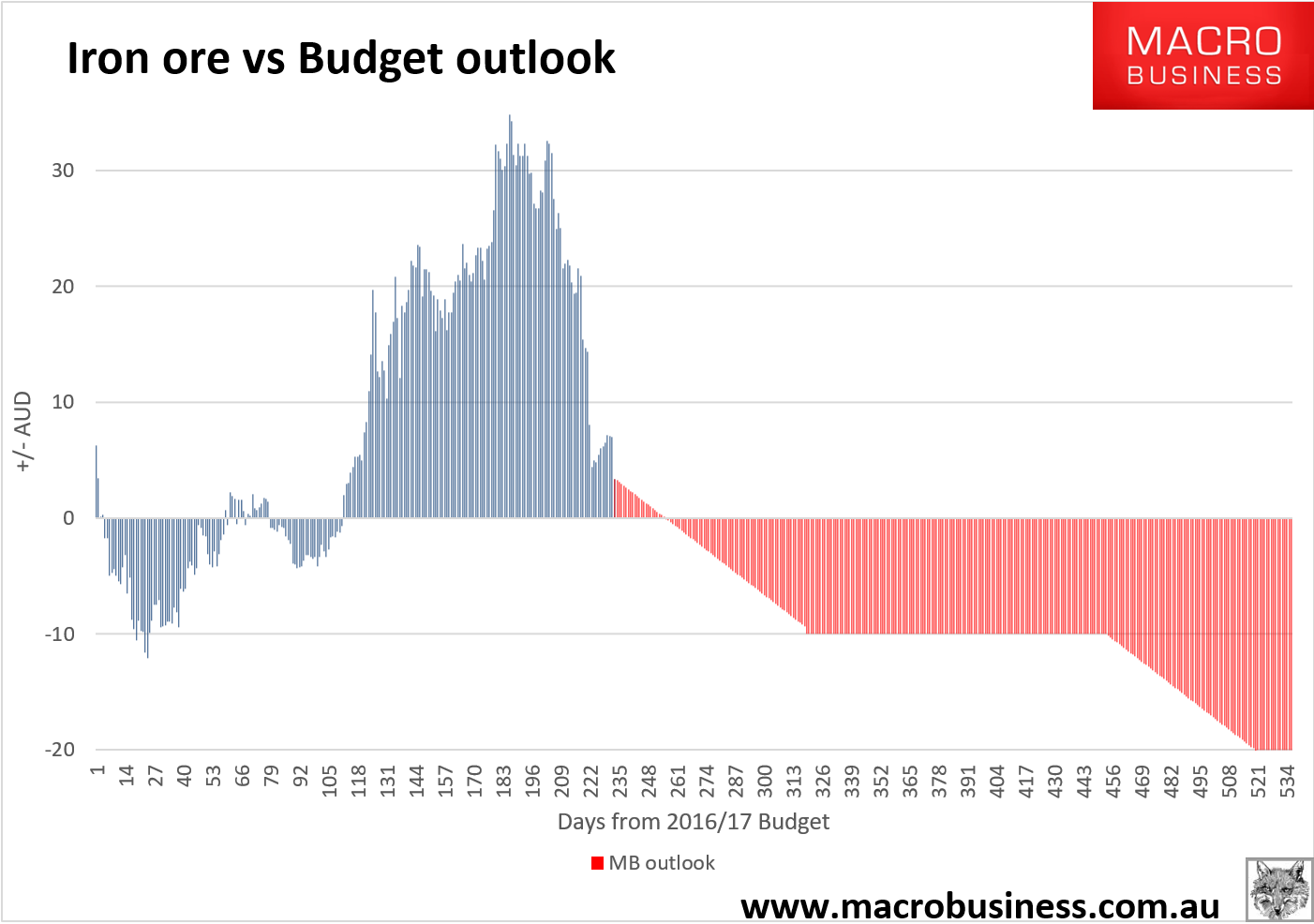 As:
China is tightening hard and the risk is growing that it is going to overshoot in addressing shadow banking;
regardless, there is enough slowing baked-in to crash commodity prices;
Australia's terms of trade are headed for new lows as iron ore crashes to nightmare levels;
the car industry is shutters;
regulators stall house prices and the dwelling construction boom tumbles;
mining investment continues to fall and there will be little offset in non-mining, and
the energy shock persists.
We'll have some net exports growth, a little public investment (without a AAA rating) and a lower dollar but not enough: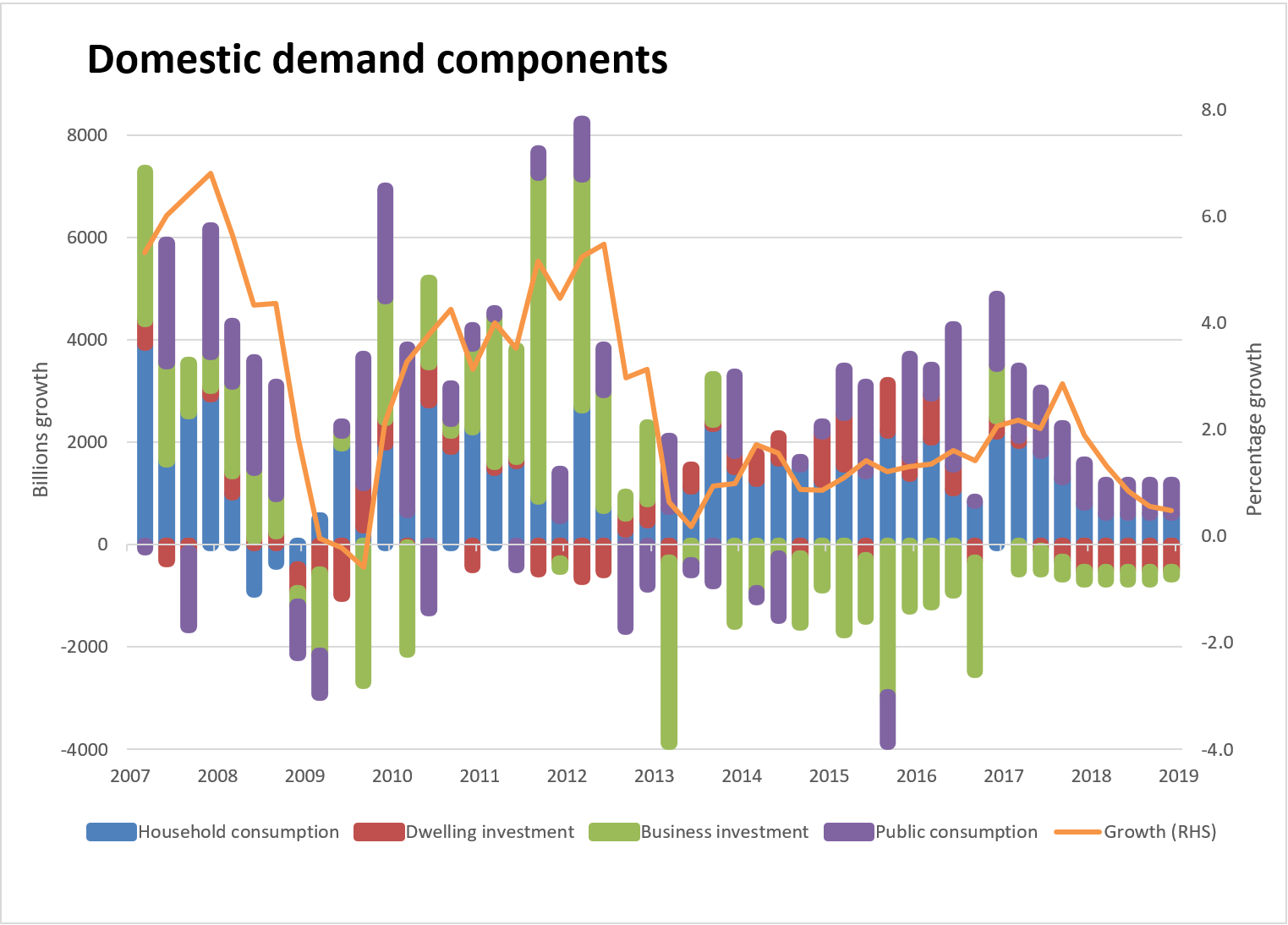 A renewed income recession is a certainty as the terms of trade crash resumes: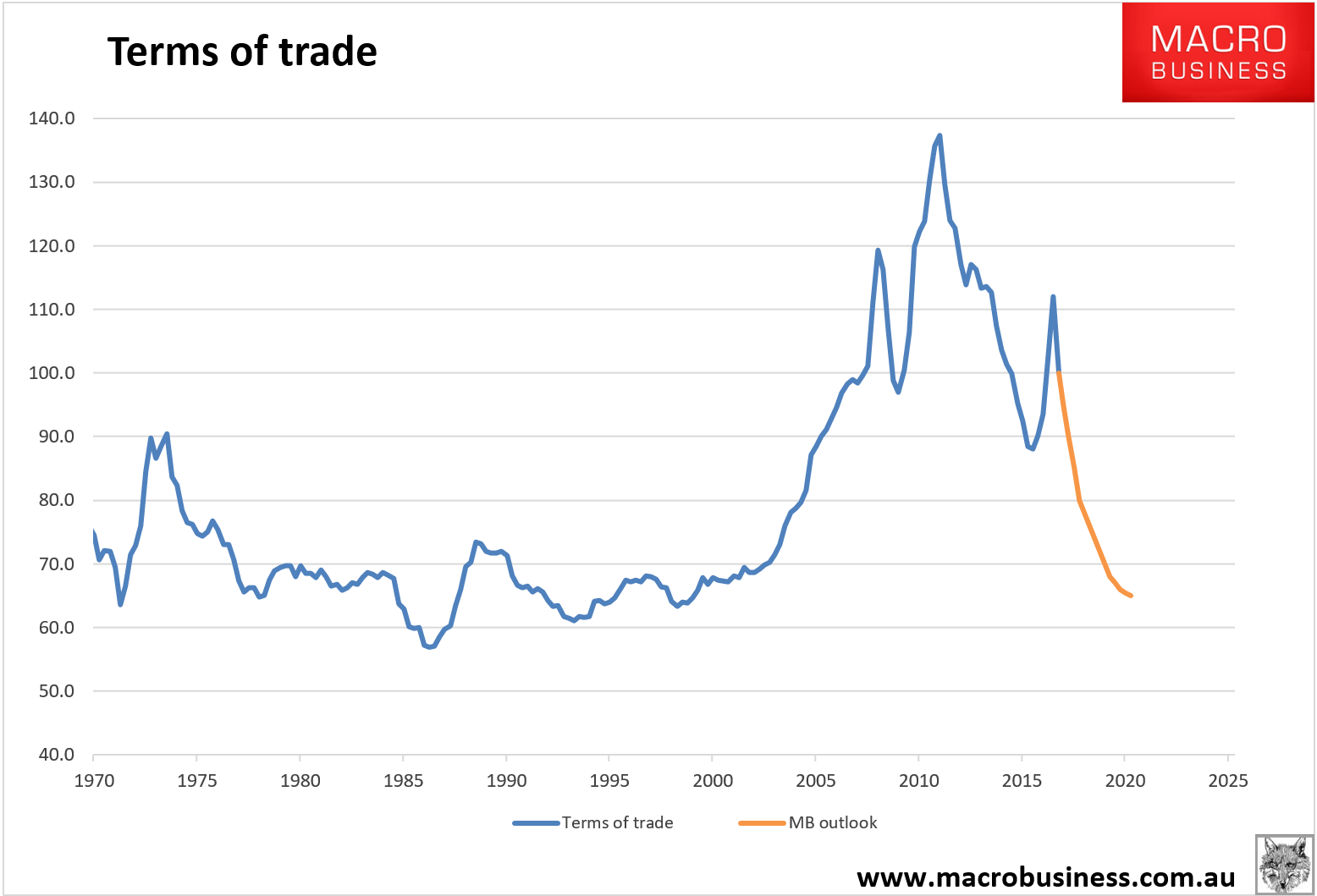 Income falls again: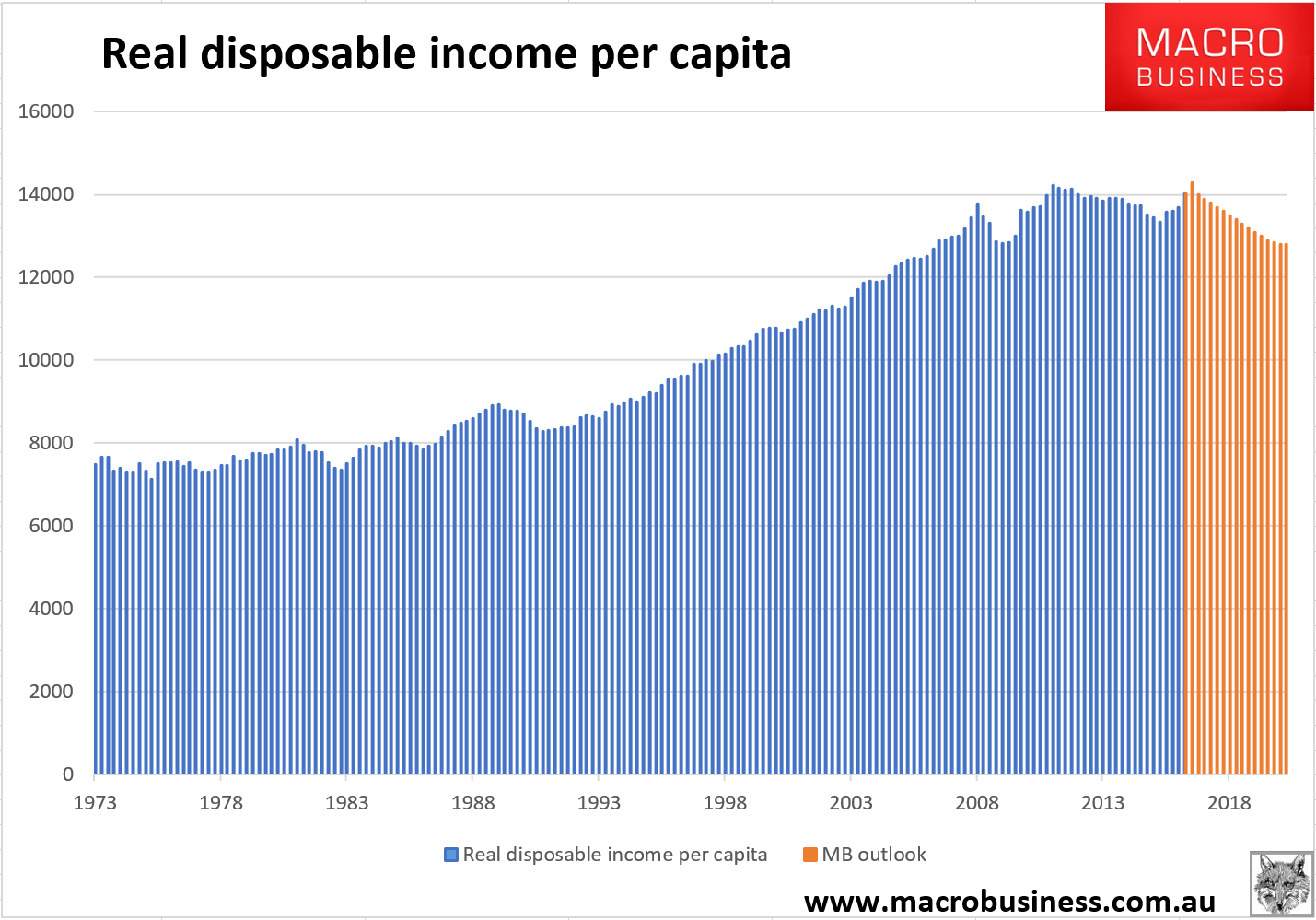 Nominal growth tanks: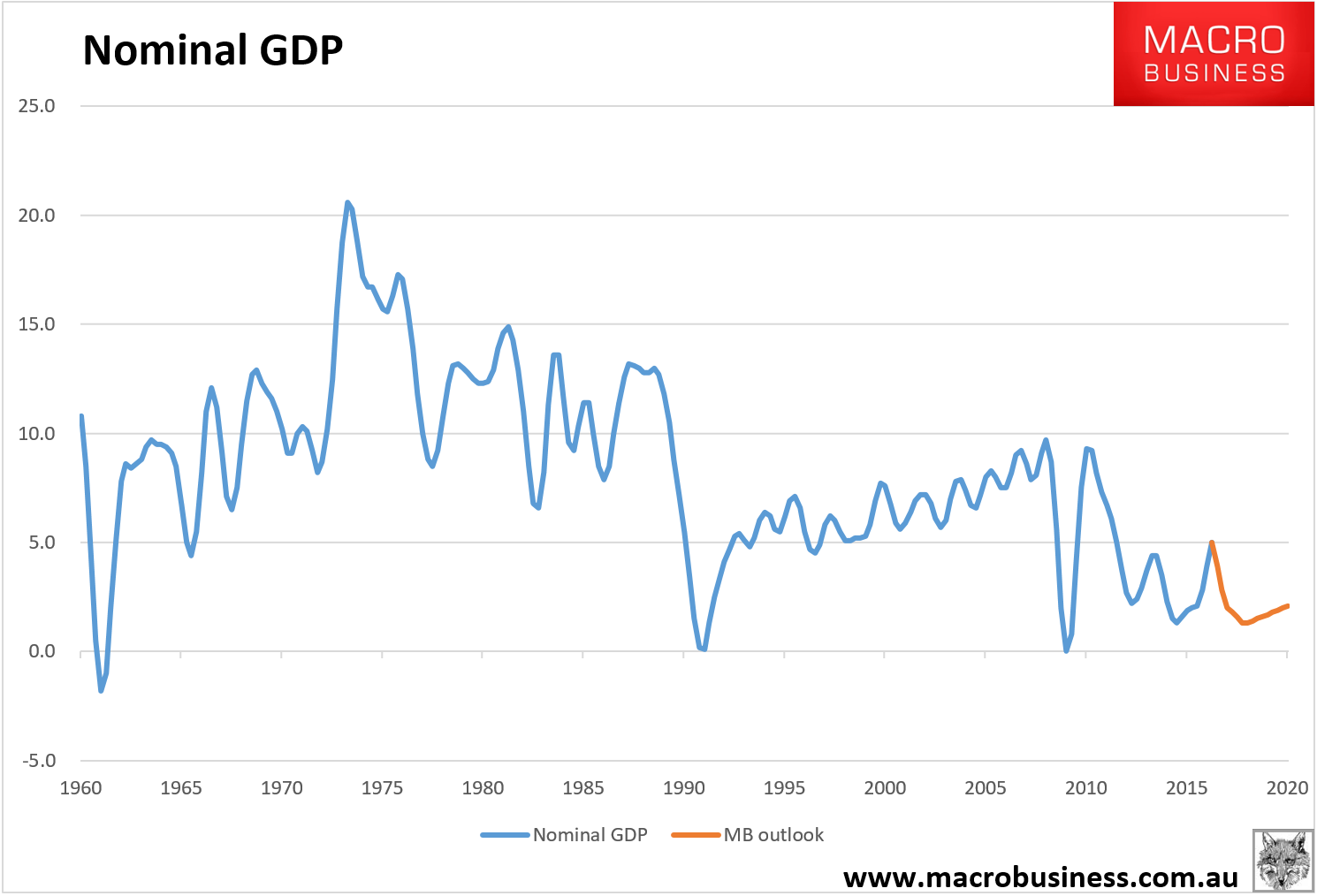 Company profits plunge: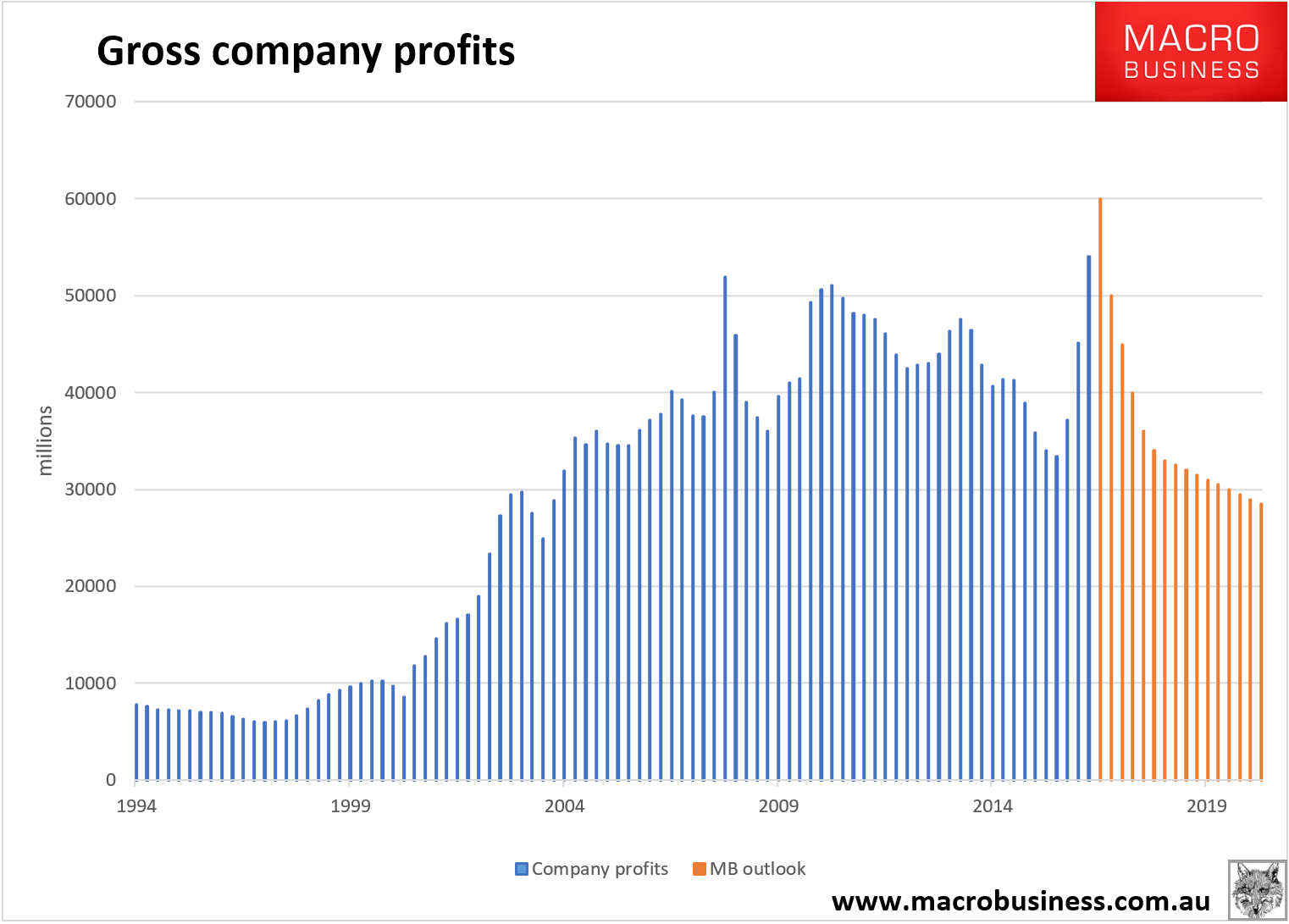 And, of course, the Budget outlook collapses: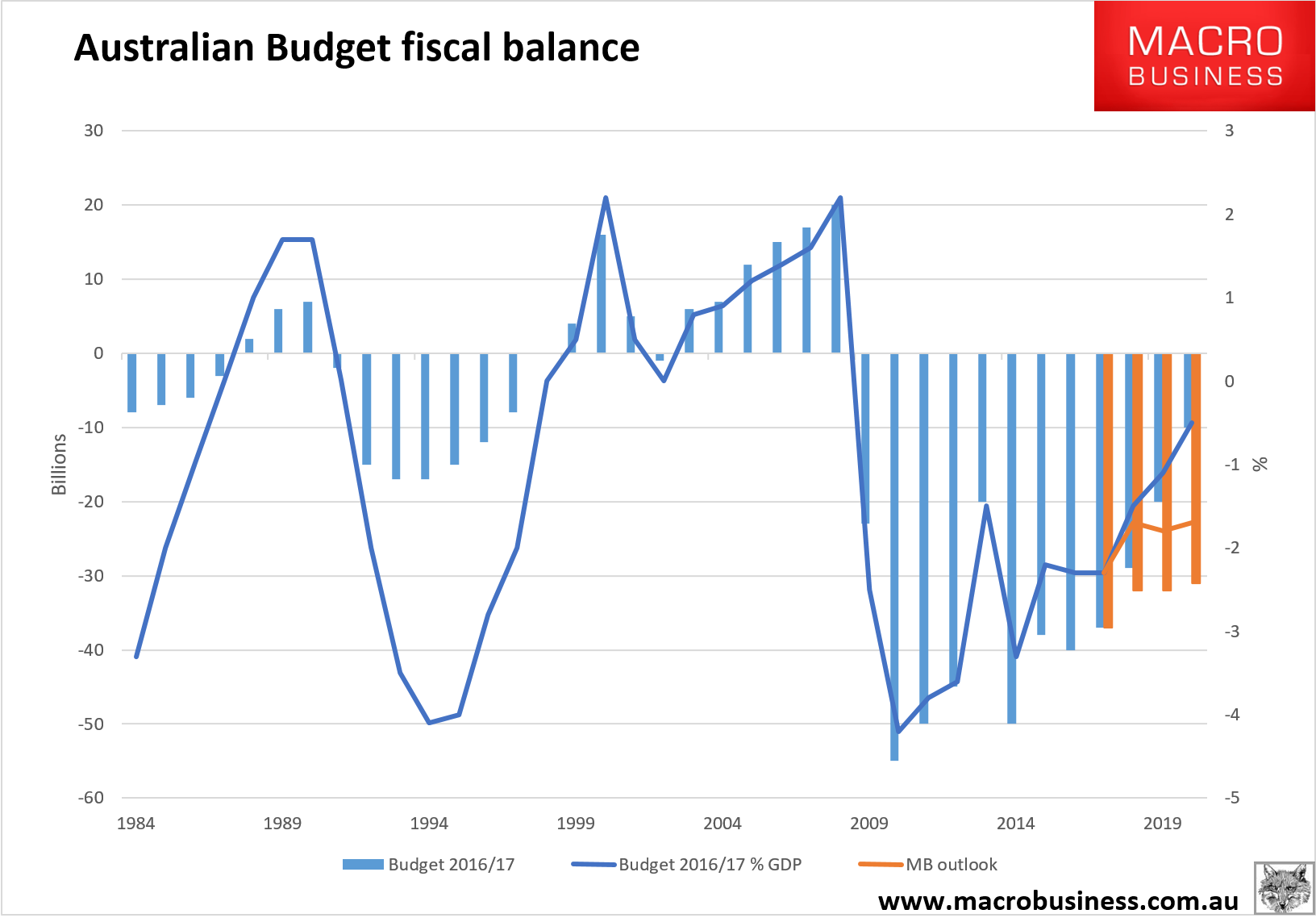 We're odds-on for an actual recession (two quarters of negative growth) now too if housing really stalls out.
Phil Lowe may want to hold rates and the government to reach surplus in 20/21 but neither is going to happen.
Not by a very long way.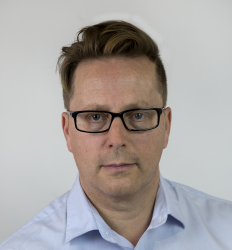 Latest posts by David Llewellyn-Smith
(see all)